Parkland High School Shooting Live Updates: Multiple Victims Reported in Florida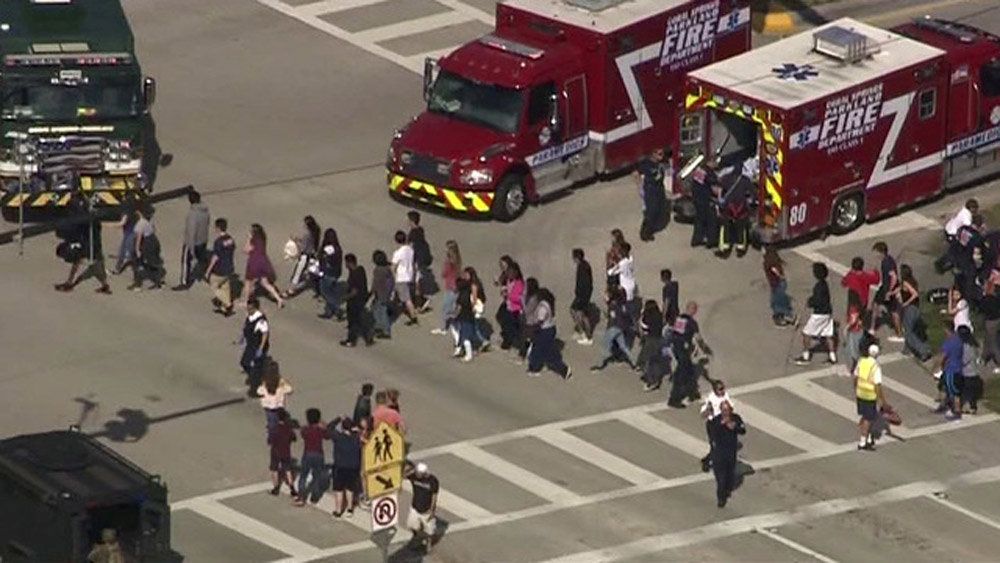 UPDATE: 7:49 p.m. EST—Marjory Stoneman Douglas High School announced on Twitter that "it will be closed Thursday, February 15 and Friday, February 16, 2018 (for the rest of this week). All school activities are also cancelled."
UPDATE: 6:27 p.m. EST—The Broward County Sheriff said via Twitter that "17 people lost their lives" after a shooting at Marjory Stoneman Douglas High School this afternoon. Nikolas Cruz, 19, remains in custody.
UPDATE: 5:50 p.m. EST—A video was given to local news station WSVN 7 showing students being evacuated from a classroom at Marjory Stoneman Douglas High School after this afternoon's shooting.
UPDATE: 5:33 p.m. EST—The Associated Press has confirmed that Nikolas Cruz is the suspected school shooter. According to the Miami Herald, Cruz was a potential threat to other students when he attended Marjory Stoneman Douglas High School. One of the high school's math teachers, Jim Gard, said Cruz was in his class last year and was not allowed on school grounds with a backpack on.
"We were told last year that he wasn't allowed on campus with a backpack on him," Gard told the Herald. "There were problems with him last year threatening students, and I guess he was asked to leave campus."
UPDATE: 5:09 p.m. EST—Broward County Sheriff Scott Israel confirmed that the suspect was not a current student, but had previously attended the school. He added that the suspect was in custody and is about 18 years old. The name of the suspect has not yet been released.
"It's catastrophic. There are really no words," Israel said.
UPDATE: 4:46 p.m. EST—The Broward County Schools Superintendent Robert Runcie has confirmed that there are "multiple fatalities," but does not have the exact count. Runcie also said that the shooter could possibly be a former student.
UPDATE: 4:28 p.m. EST—The Broward Sheriff has said that there are currently 14 victims, which have all been taken to Broward Health Medical Center and Broward Health North hospital.
"So far we have at least 14 victims. Victims have been and continue to be transported to Broward Health Medical Center and Broward Health North hospital. #StonemanShooting," the tweet read.
UPDATE: 4:25 p.m. EST—President Donald Trump has tweeted that he is sending his "prayers and condolences" to the victims and their families.
"My prayers and condolences to the families of the victims of the terrible Florida shooting. No child, teacher or anyone else should ever feel unsafe in an American school."
Melania Trump has also tweeted about the shooting, saying that her "heart is heavy" over the incident.
"My heart is heavy over the school shooting in Florida. Keeping all affected in my thoughts & prayers," tweeted the first lady.
UPDATE: 4:10 p.m. EST—
A man in a red shirt has been apprehended by authorities, according to local reports.
Students are now being evacuated from the school, according to the Broward School District.
Florida Senator Bill Nelson has said there are "many fatalities."
UPDATE: 3:49 p.m. EST—Amid an active shooting scene at a Florida high school Wednesday, reports said the FBI was aware of the situation.
"The FBI is aware of reports of an active shooter at Stoneman Douglas High School and is in contact with local law enforcement agencies," a spokesperson said. "At this time, the FBI is responding to the scene and taking appropriate action."
Police issued a "be on the lookout" warning for a white male dressed in a burgundy shirt, NBC South Florida reported.
According to reports, there are as many as 40 students and a teacher huddled in a closet inside the high school. There had not yet been any word on the extent of injuries, though initial reports said at least 20 people were injured.
Original story:
On Wednesday, police responded to shots fired at Marjory Stoneman Douglas High School in Parkland, Florida.
At least 20 people were injured, according to initial reports from local news station WSVN-TV.
The Broward Sheriff's Office sent out a tweet, calling it an "active shooter" situation.
"#BSO is working a developing incident regarding a report of active shooter located at 5901 Pine Island Rd, Parkland. Here's what we know so far: deputies are responding to reports of a shooting at Stoneman Douglas High. There are reports of victims. PIO will be on scene 3:15pm," the tweet said.
The extent of injuries remained unknown. Coral Springs Police asked people to avoid the area.
According to video from the scene, multiple people were taken out on gurneys and placed into ambulances. The footage also showed groups of children walking across Pine Island Road.
According to local news outlets, grades nine through 12 are enrolled in the school, for a total of 3,208 students.
Some students took to social media during the incident to say they were still on lockdown.
"Still locked in. I checked the local news and there are 20 victims. Long live Marjory Stoneman Douglas High," said Twitter user @TheCaptainAidan.
President Donald Trump was informed about the incident, according to reports.