Florida's highly controversial gun policy permitting some teachers to carry firearms inside the classroom went into effect on Tuesday.
This latest development is an extension of the Coach Aaron Feis Guardian Program, introduced in 2018—a scheme that enables education faculties to arm staff, security guards and now, classroom teachers. It's an opt-in program open to any school district in the state.
The program was introduced as one element of the Marjory Stoneman Douglas High School Public Safety Act, which was passed in response to the mass shooting at the school in Parkland, Florida, on February 14, 2018. The tragedy left 14 students and three members of staff dead, and 17 more injured.
One of those staff members was the school's assistant football coach, Aaron Feis, killed as he was attempting to protect students from the shooter, hence the name of the scheme—the Coach Aaron Feis Guardian Program.
The amendment lifting the prohibition on classroom teachers was signed by the state's Republican Governor, Ron DeSantis, in May 2019.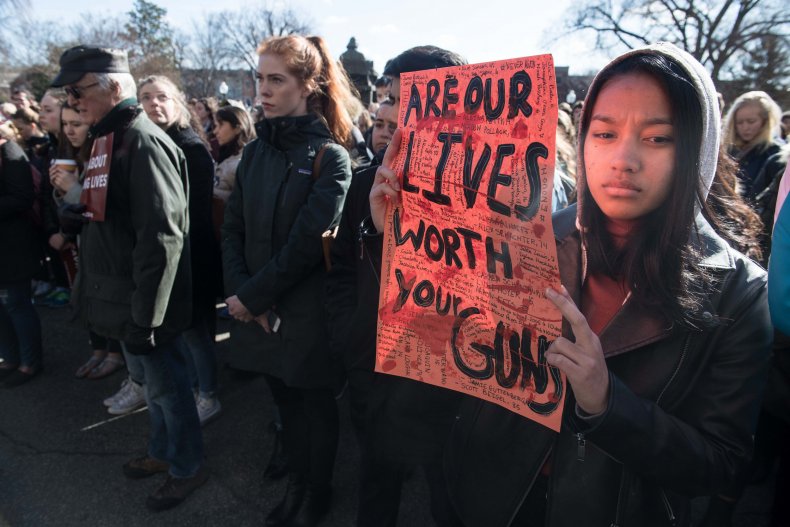 The overwhelming consensus among the survivors and relatives of school shootings that Newsweek spoke to is that arming teachers is the wrong way to solve the almost daily occurrence of mass shootings.
"The bottom line is I think it is a disaster," Fred Guttenberg told Newsweek—saying it introduces guns into the everyday reality of school violence. Guttenberg set up Orange Ribbons For Gun Safety after losing his 14-year-old daughter Jaime in the Parkland shootings.
"School shootings in this mass setting, while horrific, are rare," he said. "They're using my daughter's murder to introduce more guns into schools."
Sari Kaufman, a volunteer leader with Students Demand Action and a survivor of the Parkland shooting, told Newsweek her community was outraged by the decision to allow teachers to carry guns into schools.
"Luckily, most school districts have already refused to arm their teachers, including Marjory Stoneman Douglas High School," said Kaufman. "But it's not hard to imagine the horrible consequences that could come with arming poorly trained and poorly prepared teachers.
"I remember that during the week Florida lawmakers were voting on this bill, a police officer assigned to a high school in Texas unintentionally discharged his gun at school—if that's the type of mistake a police officer can make, how can we think it won't happen if teachers carry guns in schools?" said Kaufman.
Guttenberg says that introducing firearms into schools could result in teachers pulling out a gun if they get nervous or stronger students overpowering teachers to arm themselves. There have already been instances of firearms being left unattended. "It will lead to more dead children," Guttenberg said.
Yvonne Cech, a former Sandy Hook School Librarian and a member of the Everytown Survivor Network, came to the same conclusion: "It increases the chances that a teacher's gun will fall into the wrong hands, or that a gun will discharge unintentionally and injure a student."
Like other guardians, teachers wanting to take part will have to pass drug and psychological screenings, in addition to completing a minimum of 144 hours of training before they can be accepted into the program. Those who do can take home a one-time $500 stipend, according to the Florida Department of Education.
"The training associated with this program is wholly insufficient and does not come close to the training provided to law enforcement," Cech told Newsweek. "Teachers are trained to help our children learn and prepare them for the world. It's unfair and unsafe to expect them to carry a loaded weapon in the classroom."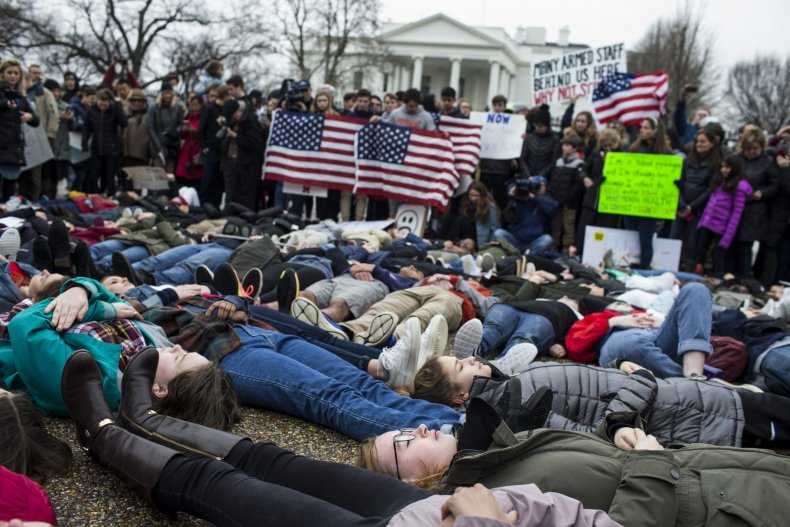 According to The Miami Herald, 1,084 "guardians" have been signed to schools in the state as of September 16. The controversies surrounding the project do not stop at the concept of staff carrying active firearms into school buildings; there have also been concerns regarding the running of the program.
Critics say the state is not keeping a close eye on the identity of individuals signed up to be guardians—a situation Democratic State Sen. Oscar Braynon, representing Florida's 35th district, told the paper was "absolutely asinine" and "counterproductive."
Indeed, there have already been a number of problems with the program as it stood before the amendment permitting classroom teachers to take part. In October 2018, one school safety assistant was arrested after he pawned his service weapon not once but twice. In other instances, parents have taken school districts to court for hiring inadequately trained individuals to carry guns within public schools.
"As a country, the idea of solving gun violence by putting in more guns has failed," said Guttenberg. Instead, he wants to see politicians introduce tougher restrictions on who can purchase guns—no one under 21, for example—and encourage sensible gun storage.
Kaufman agrees that lawmakers should focus on laws that can stop gun violence from happening in the first place—"like requiring background checks on all gun sales."
Cech emphasizes the role of counselling and earlier intervention. "School boards can and should also implement evidence-based threat assessment programs that give school officials a roadmap to evaluate and intervene when students are at risk of hurting themselves or others," she said.
"These efforts are proven to reduce the threat of gun violence in schools and would be more effective than arming teachers, without putting students at greater risk of harm."
Guttenberg does, however, see a silver lining: "I'm pleased to see in the Democratic race that gun reform is a big issue. It will force voters to choose a message around gun safety and give the future president a mandate to do something about it."
At the time of writing, 39 out of Florida's 74 school districts have signed up to the scheme but institutions in the remaining 35 districts can apply for training with a sheriff's office that has established a Guardian Program.