School Slammed For Trying to Make Girl with Cerebral Palsy Climb Rock Wall
A woman defending her daughter with cerebral palsy against school officials is receiving widespread support from Reddit users.
The woman is based in Australia and posted under the username u/TA_AITA_BadMum in the "Am I The A**hole" subreddit, asking if she was in the wrong "for refusing to let my daughter do an after school detention and threatening to pick her up?" The post has been upvoted over 13,200 times.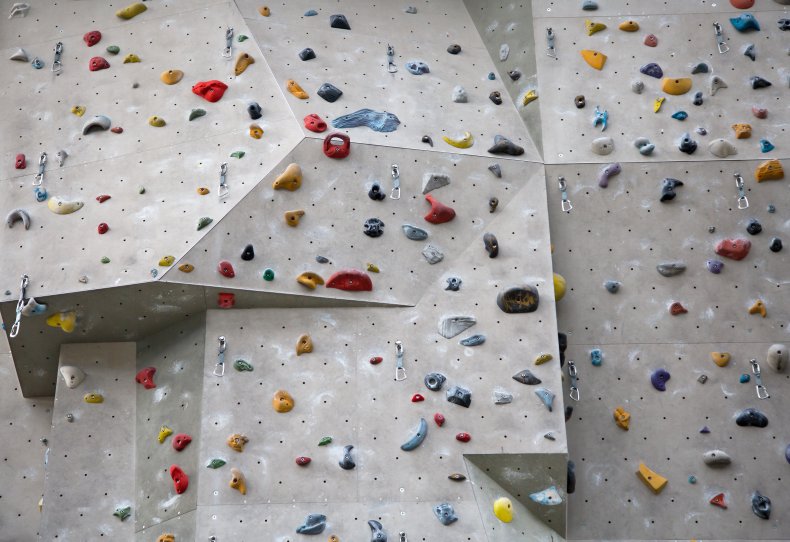 She explained that her daughter, Amanda, 13, is "able to walk independently but cannot walk for long periods of time." She also cannot walk on uneven ground without assistance, so staircases require rails and she avoids rocky or sand-based surfaces.
The teenager has an individualized education program (IEP) that lets educators know what she can and cannot physically do, such as in physical education class. Amanda takes the bus home, her mother added, though she can only take one specific route because other routes drop her off up to a mile away from the home where no footpath exists.
A Student-Teacher Altercation
Amanda reportedly had an altercation with her substitute gym teacher, which her mother found out about due to a call from the school.
The teacher allegedly told Amanda to climb a rock wall during class, to which she replied she could not and said she has cerebral palsy and an IEP. But another child reportedly also claimed to have the same condition, which made the teacher skeptical about Amanda's condition.
"The teacher didn't believe her and became insistent, standing over her so Amanda told him to 'f**k off' and wouldn't repeat anything but 'f**k off" until she was sent to the office," her mother said.
Per the school handbook, such an offense requires same-day detention. Amanda's mother said her husband was away and she, herself, had to work late, and Amanda couldn't take a different bus route due to the lack of footpath from the alternate bus stop.
Amanda's mother offered to compromise and do a week's worth of lunchtime detentions.
The school allegedly said the bus predicament "sounds like a natural consequence," adding that the principal claimed Amanda's mother was "making excuses" for her daughter.
"This isn't your average kid refusing to do something, being rude and deserving a long walk home as well as detention," the poster said. "This is a kid that could be seriously harmed if she was made to walk that far and on that road."
The school eventually agreed to two days' worth of lunch detentions, though the poster said that even her sister said she may have been too overprotective regarding the situation. The mother added that after originally grounding Amanda, she has apologized to her daughter and since "un-grounded" her.
She also gave Amanda the option to issue an apology to the teacher and school if she sees fit.
A meeting is scheduled for Monday, she added, in which she will meet with school administrators and figure out how the entire situation unraveled in the first place.
Redditor Reactions: Pride and Outrage
The way she handled the situation, as a mother of a child with cerebral palsy, was praised by Redditors.
"Your child was absolutely not in his wrong for standing up to an adult male authority figure who was using physically threatening posturing to force compliance after he ignored his legal obligation to uphold her medically necessary accommodations," said one Redditor described as disabled. "This teacher is the one who needs discipline. He is unfit to perform the duties of his job."
"The PE teacher needs to face consequences for their behavior," another user said. "I would not be talking to the principal about this because said principal seems incompetent. I would be calling the school board and reporting everyone and their mother for this behavior."
"...There are instances in which telling someone to f**k off. Repeatedly. Is necessary. This is one of those instances," another said.
Newsweek reached out to Amanda's mother for comment.
Is Cerebral Palsy Common?
The Australian Cerebral Palsy Alliance said one-on-one support groups or programs are available to children with special needs, including support from school staff at planning meetings and connections to other parents who can also provide advice and information.
Cerebral palsy is usually seen in the first 12 to 18 months of life, the alliance added, and in Australia, it is estimated that a child with the condition is born every 15 hours. On a global scale, cerebral palsy occurs in one out of every 400 births.
Being said, it's not the first time someone with Cerebral Palsy has made the news.
A 24-year-old British man with cerebral palsy was thrown off a holiday flight because his wheelchair "was too heavy" to lift off a conveyor belt.
A couple was recently accused of killing their 17-year-old son who had cerebral palsy, after he was found to be "severely underweight," and had "bedsores' across numerous areas of his body, according to police.
But, in uplifting news, a high school senior in Florida who has been a wheelchair user his whole life surprised his schoolmates when he managed to walk across the stage.