School Tells Parents It Received Violent Threats After Video Shows Teacher Praising Antifa
A high school in Sacramento, California is telling parents that it has received "threats" after an undercover video shows a teacher seemingly praising Antifa and Chinese communist Mao Zedong while saying he has a limited amount of time to turn his students into far-left "revolutionaries."
The video, taken by undercover conservative journalist James O'Keefe and his Project Veritas, shows Gabriel Gipe, described as a teacher of advanced-placement government courses at Inderkum High School, speaking to a parent of one of his students.
"I have 180 days to turn them into revolutionaries," he tells the parent as a hidden camera rolls.
"How do you do that?" the parent asks.
"Scare the f*ck out of them," the teacher says.
Gipe says he gives extra credit for students who "create an opposition" to "right-wing rednecks." When an anonymous student complained of an Antifa flag that hangs in his classroom, Gipe boasts of announcing to the class that "this flag is made to make fascists feel uncomfortable."
He also has a poster of Mao in his classroom and seemingly praises the goals of the dictator's cultural revolution, though adds that some people "were shot in the streets that probably shouldn't have been."
Gipe also says in the undercover video that students are moving "further and further left" and he encourages them to "utilize that propaganda" available via social media, though he complains it's not enough.
"Why aren't people just taking up arms ... like, against the state?" he says.
When a Project Veritas reporter later confronts him to ask about the things he told the parent on the hidden video, he's wearing a shirt with the Russian hammer and sickle and accuses the reporter of "harassment."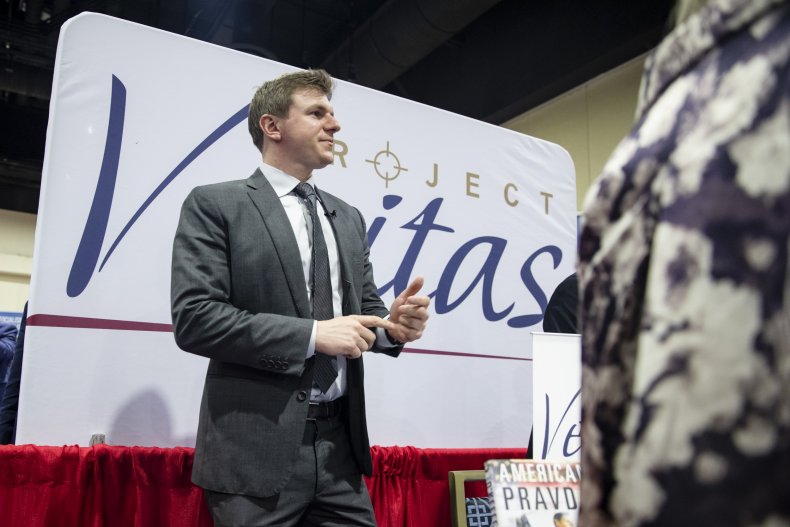 As the video was making the rounds on the Internet, the Natomas Unified School District sent an email, viewed by Newsweek, to parents saying, "Sadly, a number of emails have come in from outside our community that express hate and threats. There is a sad irony that outsiders are expressing displeasure towards the individual teacher while also using intense vulgarity, hate speech and threats of violence."
Insiders say a school board meeting was set for Wednesday to discuss the video.
The email sent to parents also notes that it will "look into this matter and take appropriate actions as necessary." It also notes that district policy dictates that "whenever civic education includes topics that may be controversial due to political beliefs or other influences, instruction shall be presented in a balanced matter that does not promote any particular viewpoint."
Newsweek has reached out to Inderkum administrators and will update this story should they respond.
Project Veritas, which calls itself a "nonprofit journalism enterprise," has produced a number of undercover videos. The group came to prominence in 2009 for videos produced at Planned Parenthood and the Association of Community Organizations for Reform Now (ACORN), where O'Keefe appeared to ask for help with illegal activities. Critics accused Project Veritas of deceptively editing the videos. ACORN was later cleared of any wrongdoing by the Attorney General of California.