An elementary school in Mississippi told parents that all kindergartners must quarantine for two weeks, effective immediately, according to a text message sent to them late Wednesday night.
"(Kossuth Elementary School) Kindergarten Parents and Students, I apologize for the short notice. This is not something we want to do, but we believe this is the right thing to do," Kossuth Elementary School Principal Charla Essary wrote in a text message that parents began receiving around 9 p.m., the Mississippi Free Press reported. "Due to positive Covid cases, it has become necessary to quarantine all kindergarten classes away from campus beginning tomorrow."
The quarantine would begin Thursday and last until September 8, Essary added.
"Teachers will begin contacting you tomorrow to let you know how we will continue to get instruction to your children," she wrote. "Again, I apologize for the inconvenience I know this will cause, but I do believe it is necessary. I pray all of you stay well, and this will soon be over."
Kossuth Elementary students began in-person classes August 5. The school is a part of the Alcorn School District (ASD) in Mississippi's Alcorn County, located in the northeast part of the state. According to an August 26 update on the district's Facebook page, ASD administrators have reported 18 active coronavirus cases, including both students and staff members, within the last two weeks.
On Wednesday alone, ASD administrators reported four positive COVID test results, including one employee at Kossuth Elementary who had been diagnosed with the virus. Close contacts of the infected people were notified, according to the Facebook post. It is unclear whether this staff member is what spurred the quarantine for all kindergarten classes at the school.
Newsweek contacted ASD for comment, but did not hear back in time for publication.
Angry Kossuth parents left several comments underneath the Facebook post, with many alleging that administrators had stopped checking students' temperatures or requiring that they adhere to physical distancing guidelines like they promised.
"Everything kossuth said they was going to do, they've done the opposite, kids eat in lunch room , the are changing classes, and having gym, and recess...," one person commented. "Not checking temps on 6 th grade in kossuth either."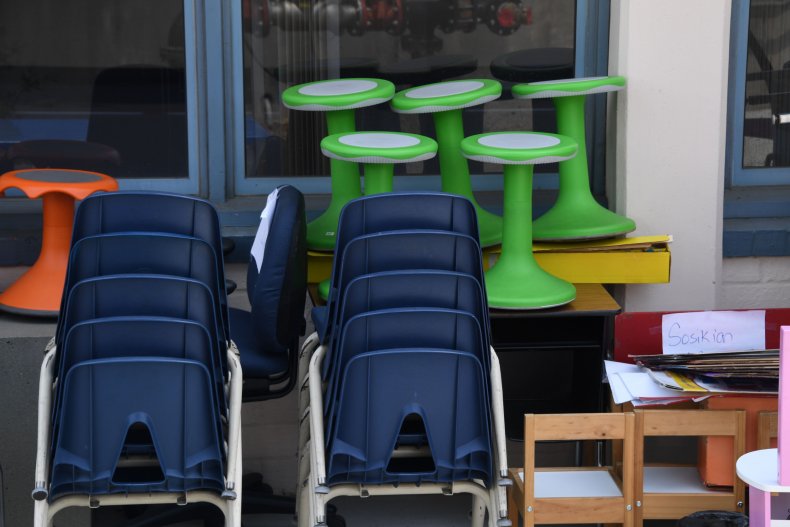 During a press conference Tuesday, State Health Officer Dr. Thomas Dobbs said that during the week of August 17 to 21, the most recently available data, Mississippi schools had identified 144 new COVID-19 cases among staff members and 292 new cases among students, requiring that thousands more quarantine because of possible exposure.
Mississippi Governor Tate Reeves said during the news conference that these numbers were "not unexpected."
"I am pleased at the number of isolations that we're seeing, the quarantines that we're seeing, and I'm pleased that there are a large number of Mississippi kids that are sitting in a classroom right now learning in a safe environment," Reeves said.