School Turns Away 5-Year-Old Girl Who Was Adopted by Same-Sex Couple
A same-sex couple is outraged after their daughter's school said she could no longer attend because of their marriage.
Jennifer and Emily Parker officially adopted Jennifer's 5-year-old niece Zoey on August 3. The girl's father died in an industrial accident in 2020, KPLC reported.
Zoey attended Bible Baptist Academy in DeQuincy, Louisiana, for pre-K and was due to start kindergarten on Monday.
But at the weekend, the Parkers were told that Zoey could no longer attend.
Emily Parker shared her outrage in a post on Facebook, writing that school officials called the couple for a meeting "TWO days before school starts to tell us that they can not educate our child due to the fact that we are a married same sex couple. Even though this isn't her first year to attend."
She told Newsweek that Zoey had attended the school for pre-K, during which she spent much of her time living with the couple. They attended her performances and celebrated her graduation, she said.
But on Saturday, they got a call from the school's principal requesting a meeting.
During the meeting, the school's pastor "mentioned he was fairly new to this school and area," Emily Parker said.
"He then jumped right in to a long explanation about how their school is a Christian-based school, that it doesn't only teach the essentials of education but also teaches about the Lord and the Bible.
"We were well aware of what this school was meant to teach our daughter. He continues by mentioning that Christians only believe in two genders and that marriage is taught to only be between a man and a woman. I was suddenly aware of where this conversation was headed. He went on to say that because Zoey's home life did not reflect that of a traditional heterosexual couple that he 'doesn't believe she is a good fit to attend this school year.'"
In a statement posted on the school's website, Bible Baptist Academy said the school is "committed to instructing and living in accordance with the teachings of Scripture."
The statement added that there "are times where our commitment to upholding our Christian values will not line up with the values of other people. This should not be interpreted that we have any hatred or malice toward them. We are just as committed to loving all people as we are to holding to Bible principles that people may not agree with or may not understand. BBA is committed to academic excellence with rich Scriptural instruction."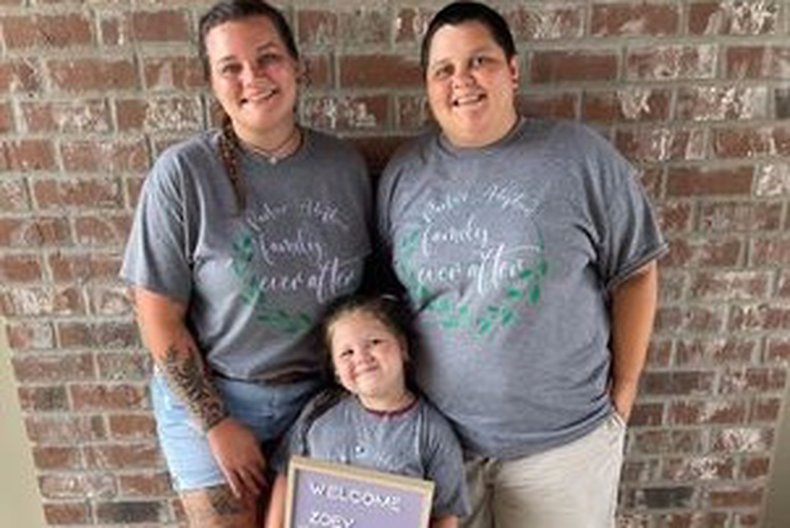 But on Facebook, Emily Parker slammed the school as a "disappointment."
"You know what you just taught my daughter? How truly judgmental your church is. How unforgiving and unrelenting you are," Emily Parker wrote. "I was angry, hurt, embarrassed but I am not anymore. Now, I am thankful. Thankful you will not mold my tiny human's brain to be anything like you. I will teach my child to love EVERYONE just like you say your God is supposed to.
"My child has lost so much. Her mother, her father, her whole life has been wrenched away before her 5th birthday. And now... her education, her friends, and her teachings of the God that she loves and I support."
She added to Newsweek: "They broke this baby's heart. They broke my wife's heart. And yeah, they broke my heart too. They also broke my trust, my faith, and my patience. We needed help from BBA. We wanted them to teach her about her God."
The response to her Facebook post was "mostly positive," she added, but some had been negative. She and her wife have kept much of it from Zoey, she said.
"We see no reason to share the hatred with her. We don't want her pity or anger. She is a little girl who just needs to go to school and be taught about love," she said.
"Many Christian schools and public schools alike reached out with open arms to accept our daughter and her mothers. We feel so blessed to have an army at our side. The community, our friends, and our family has had our backs since the moment we stepped out of BBA's building."
Newsweek reached out to Bible Baptist Academy for further comment.
Update 8/10/22, 4:50 a.m. ET: This article has been updated with additional comments from Emily Parker.