School Shooting Victim Was Given Detention for Protesting School Shootings
An Ohio school gave the victim of a school shooting detention and forced him to apologize after he joined the thousands of students nationwide who walked out of their classes to protest gun violence, according to a new report.
In February 2016, Cooper Caffrey was snacking on chicken nuggets in his Madison High School cafeteria when a 14-year-old gunman started shooting, according to The Cincinnati Enquirer. Two years later, Madison school board President David French told the teen and the 42 other students who participated in a walkout protest that they should apologize to the school's resource officer in addition to receiving detention.
Caffrey told his father, "It was like being shot all over again."
Students across the country participated in the March 14 walkout on the one-month anniversary of the shooting at Marjory Stoneman Douglas High School in Parkland, Florida, where 17 people were killed. Some protesters carried signs; Caffrey carried the trauma of his own experience.
During the shooting at Madison High School in Middletown, Caffrey watched his peers flee while he lay on the cafeteria floor bleeding, having been shot by one of his closest friends. Another student was also shot in the incident, and two more were wounded by shrapnel while running from the scene.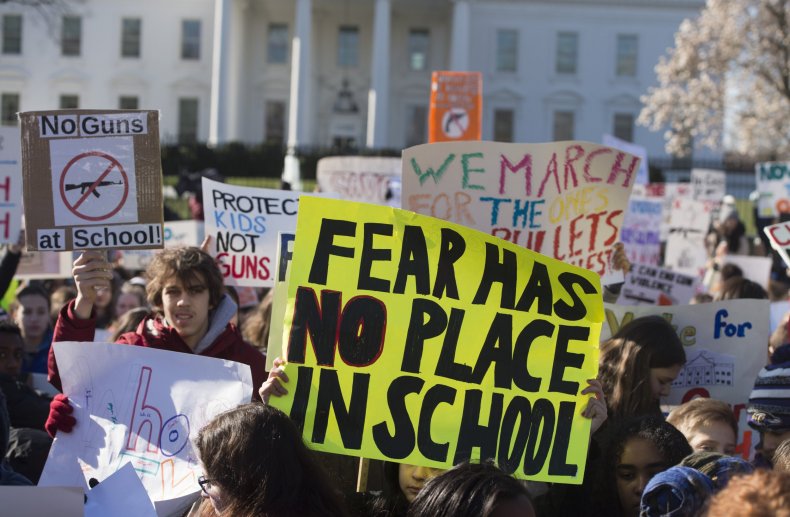 A few months later, at gunman James Austin Hancock's sentencing in June 2016, Caffrey offered Hancock his forgiveness.
"I want you to know that I forgive you," Caffrey said. "People think that's crazy and keep telling me I should be mad and I have a right to be mad, but I'm not. It hurts that my friend would choose to hurt all these people."
After the school district announced the punishment for Caffrey and the dozens of other students for the walkout, Caffrey's father, Marty Caffrey, was similarly magnanimous. He told The Cincinnati Enquirer that he was grateful for how the school cared for his son following the shooting and that he understands the difficult position school officials were put in with the demonstrations.
"We are a society of rules," one school board member said when asked about walkout punishments, the Enquirer reported.
"The whole purpose of a walkout is to protest against an establishment," Marty Caffrey wrote in a Facebook post, according to the Enquirer. "I do not expect the establishment to support the walkout."