Winter Storm Diego walloped parts of the South this weekend, leaving hundreds of thousands without power in North and South Carolina, Tennessee and Virginia.
Many schools in the region were expected to cancel classes on Monday due to the severe weather. North Carolina declared a state of emergency over the weekend in preparation for the storm. In at least one part of the state, Diego dumped 18.5 inches of snow, according to The Weather Channel.
"This is a snowstorm, not a snowfall," said North Carolina Governor Roy Cooper. "It's serious."
The following schools were expected to be closed on Monday, according to WRAL-TV:
Adamance Burlington Schools, Carolina Career College, Carter Community School, Caswell County Schools, Central Park School/Durham, Chapel Hill/Car Schools, Chatham Charter School, Chatham County Schools, Crosscheck Charter School, Durham Public Schools, East Wake Academy, Edgecombe County Schools, Endeavor Charter School, Eno River Academy, Envision Science Academy, Excelsior Classical Academy, Falls Lake Academy, Franklin County Schools, Gaston College Preparatory, Granville County Schools, Halifax County Schools, Haliwa-Saponi Tribal School, Hawbridge School, Healthy Start Academy/Durham, Henderson Collegiate, Kestrel Heights Charter, KIPP Durham, KIPP Halifax, Lee County Schools, Magellan Charter School, Maureen Joy Charter School, Mecklenburg Co. VA Schools, Nash/Rocky Mountain Schools, Orange County Schools, Oxford Preparatory School, Peak Charter Academy, Person County Schools, Reaching All Minds Academy, Rocky Mountain Prep School, Foxboro Community School, The Explores School, Triad Math and Science Academy, Vance Charter School, Vance County Schools, Voyager Academy, Warren County Schools, Weldon City Schools, Willow Oak Montessori Charter, Wilson Preparatory Academy, Woods Charter School.
More than 390,000 people were without power on Sunday due to the storm, The Weather Channel reported. Those without electricity included some 250,000 in North Carolina, 95,000 in South Carolina, 24,000 in Virginia, 20,000 in Tennessee and 17,000 in Georgia. A Duke Energy spokesperson said those numbers could continue to grow, according to the Asheville Citizen-Times.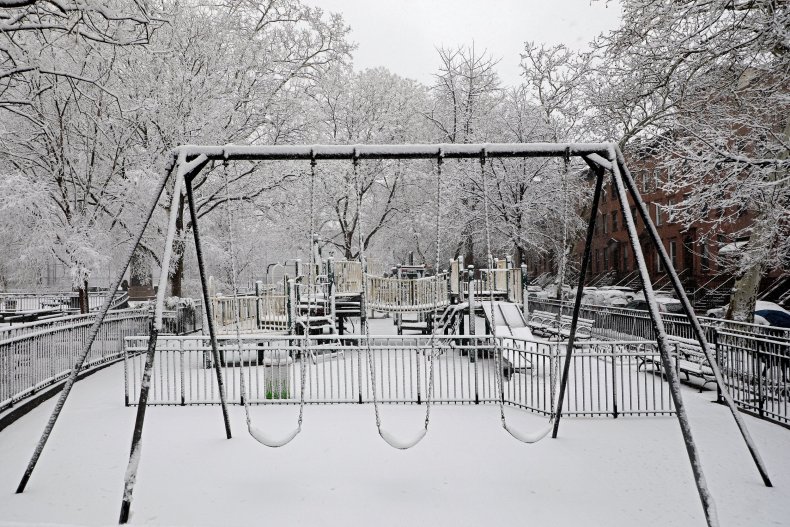 The weather also made travel near impossible in parts of the south. American Airlines canceled more than 1,000 flights, Fortune reported. The Harrisburg Fire Department in North Carolina urged residents to stay home on Sunday if at all possible.
The National Weather Service said areas were seeing frequent wind gusts over 25 mph, causing "blowing and drifting of snow" that "may contribute to downed tree limbs and power lines in areas where wet snow and ice have stuck to exposed surfaces."
"Snowfall amounts in some locations will likely exceed a foot and result in several days of difficult or impossible travel, extended power outages, and downed trees," the National Weather Service said.
Other states, like Tennessee, Kentucky and Georgia could also see accumulations of ice and snow, the service warned