Schools Closed by Winter Storm Toby: Will Boston, New York, Philadelphia Cancel Classes Ahead of Snow?
Updated | It may be the first day of spring, but the Northeast is bracing for yet another winter storm. Winter storm Toby is expected to be the fourth nor'easter to hit the region in just three weeks, likely bringing heavy snow and strong winds to certain areas Tuesday.
Winter storm warnings were in effect for Philadelphia, Boston and New York. Snowfall in those areas was expected to be the heaviest, according to The Weather Channel. In preparation for the winter weather, some schools announced they'd be closed Wednesday.
Philadelphia could potentially be on the receiving end of 18 inches of snow, according to the National Weather Service. Archdiocese of Philadelphia high schools and elementary schools announced Tuesday they would be closed the following day, according to The Philadelphia Inquirer. Philadelphia public schools had not yet announced if they would stay open.
Boston, which was walloped repeatedly by the preceding nor'easters, could get up to 11 inches of snow Wednesday, the NWS said. Most Boston schools had not yet announced closures.
New York was expected to get up to 16 inches of snow. New York City Mayor Bill de Blasio announced Tuesday public schools in the city would be closed Wednesday.
"Anyone from just north of Baltimore to Philadelphia, New York City and close to Boston may easily pick up 6 to 12 inches of snow with the storm with locally higher amounts," said AccuWeather senior storm warning meteorologist Rich Putnam.
Winter storm Toby had already brought severe conditions to portions of the south Tuesday. A tornado watch as issued for parts of Florida and Georgia, while other regions were pummeled with severe winds and hail.
A full list of school closures in Philadelphia is available at WCAU-TV.
A full list of school closures in Boston is available at WBZ-TV.
A full list of school closures in New York is available at Patch.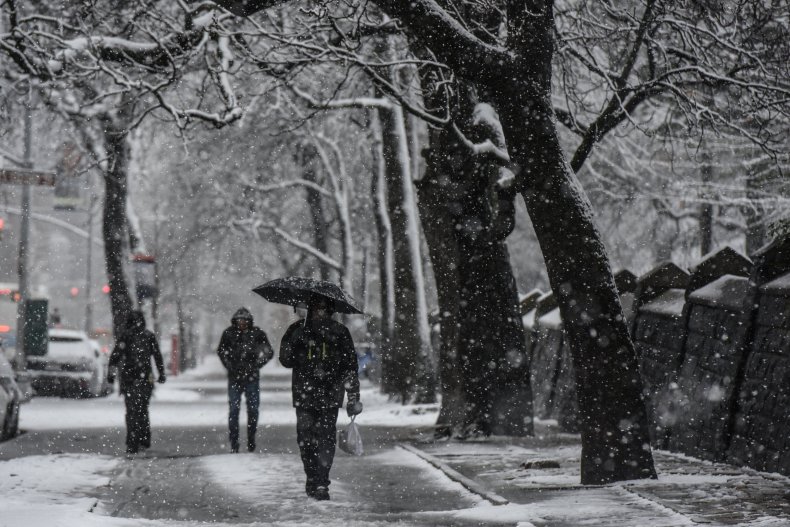 This story has been updated to include newly released closures in New York City.