Schools Flush With Emergency Relief Funds Are Only Spending A Fraction Of It
While "follow the money" has long been the simple one-sentence slogan for keeping an eye on political and other high stakes maneuvers, "follow the ESSER funds" has now become the catchphrase of those trying to track the largest influx of school funding since the financial crisis of 2008. Also puzzling to those educational advocates and financial experts looking into the spending of ESSER III money is why so little of it has yet to be used at all.
Last March, a third pandemic stimulus bill dubbed the American Rescue Plan was passed, providing the country's public school districts a third wave of funding in the form of $122 billion in Elementary and Secondary School Emergency Relief (or ESSER III) funds. An additional $2.75 billion called Emergency Assistance to Non-Public Schools (or EANS funds) was also set aside.
School recovery funding began with the Education Stabilization Fund (ESF) established by the Coronavirus Aid, Relief and Economic Security Act (CARES) in March 2020 followed by subsequent allocations arranged through the Coronavirus Response and Relief Supplemental Appropriations Act (CRRSA Act) in 2020.
In all, nearly $190 billion COVID-19 emergency funds have been distributed into the nation's schools.
The funds were designed to help schools reopen quickly and safely in the wake of the COVID-19 pandemic while addressing months of significant learning loss by students. However, students are at least 1.5 months behind in reading and three months behind in math, according to an October report by McKinsey & Company.
"The big question that needs to be raised—and more thought needs to be put into—is what's happened with the money made available?" Jim Cowen, executive director of the Collaborative for Student Success, told Newsweek. Cowen's non-profit is dedicated to raising educational standards as an integral next step in ensuring that all students are prepared to succeed at college level work.
He's also launched the EduRecovery hub, which has groups collecting and sharing ideas about how federal educational recovery funds should be spent state by state.
His concern, like that of Dan Lips, visiting fellow with the Foundation for Research on Equal Opportunity, is that the infusion of ESSER funds into schools goes directly to helping students in light of disruptions and learning declines due to the pandemic. They don't want those intentions to get lost amidst the bevy of ways money can be spent to "improve" schools, depending on who you're talking to.
Lips, who has been pushing for congressional oversight for a year, noted in an article from November that more than $150 billion in federal aid intended to safely reopen schools and support learning during the pandemic remained unspent as of September of 2021, according to the U.S. Department of Education.
Newsweek reached out to the Department of Education for comment. State and local education plans using the American Rescue Plan can be found here.
"The big picture is that there's been major learning losses, there are concerns about social emotional effects of prolonged school closures and Congress stepped in passed this unprecedented spending but very little of it's been spent," said Lips.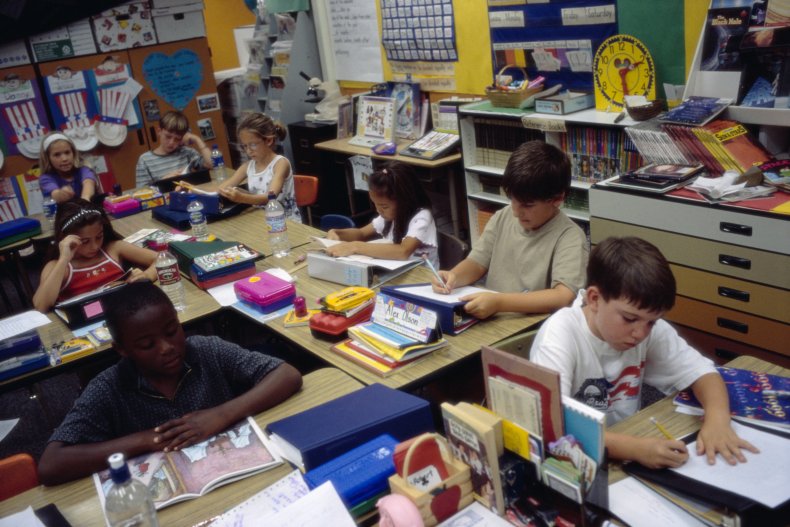 Both Cowen's and Lips' concerns follow years of hearing over and over the sad plight of America's public education due to a severe lack of funding.
The disconnect, say educational advocates and financial experts, has to do with the lack of clear guidelines and transparency when it comes to how the money should be divvied up. There's also a lack of clear measurement of its effectiveness. Some reports show that academic outcomes for students are flat or declining.
"It's unprecedented federal emergency aid ... but the money has come with so little strings and so little transparency," reiterated Lips. "There's this one time chance to address devastating effects of the pandemic but there are not enough questions about whether or how these funds are being spent."
Marguerite Roza, director of the Edunomics Lab at Georgetown University and research professor at the McCourt School of Public Policy echoed that sentiment.
"It's a huge experiment—what happens if you give money and there are very few strings attached?" Roza told Newsweek. "It's the largest ever one time infusion of funds in education from the federal government with mostly no strings attached."
ESSER and EANS funds were intended to be utilized in myriad ways ranging from hiring additional personnel to keep school areas safe and clean to investing in furniture, tabletop screens and PPE (personal protective equipment) to keep teachers, students and staff safely distanced during in-person instruction. The funds could also go to technology and remote learning.
Eventually, as the pandemic went on the Department of Education's suggestions expanded beyond its initial guidance.
And according to Roza, the ESSER funds were more than many districts could spend on COVID-related needs. While initially the Biden administration emphasized getting students back into the classroom, after schools had re-opened for in-person learning last fall districts were left with over $120 billion of ESSER funding without a focused mission to guide its spending. Most districts had submitted their plans as to how they were going to spend the money earlier in the pandemic.
"Everything has been changed since then," explained Roza. "Some spent it all, some haven't spent any." She added that some districts got a lot of money while others got none.
"No end goal, no focused objective, no common yardstick has ever been attached to this mammoth federal investment," wrote Roza in a Feb. 3rd opinion piece for The 74, a non-profit, non-partisan news site covering education in America. "The ESSER money lacks a North Star," she said.
"My question is 'Are districts up to the task for this?' Administrators and teachers are very busy and we don't do a lot of training to have staff make these kind of decisions," Roza told Newsweek.
She cited a case where she witnessed one school board approve its plan to spend the funds as part of consent agenda without really discussing or going over it in detail.
"There's a lot of pressures on districts to do a lot of things," said Roza.
Funds can be spent on improvements ranging from paying for playground upgrades to giving pay raises and putting money towards diversifying the workforce.
"For example, a playground is a one time payment so you can see why they might choose that," said Roza, noting the worry by districts that if they spend a lot on a certain program, people will expect that program to continue.
"That speaks to the diluted, broad parameters that you're allowed," said Roza. "The most fascinating thing about this money is that it really is up to each district."
Last summer, many districts in Chicago released details suggesting prioritizing investments to help students recover from the pandemic. More than half planned to allocate money to make up for lost instructional time while almost that many noted set aside money for social-emotional support for students, technology and facility upgrades.
A more recent funding overview from Chicago Public Schools of the $2.6 billion in ESSER relief mentions $734 million to be spent in operational investments to address "student re-engagement and re-openings" while $678 million will go to "programmatic" investments including equity grants to schools experiencing low or declining enrollment. Money will also go to Moving Forward Together, an initiative that includes a $525 million investment through 2023, which goes to "addressing social emotional needs, accelerate student learning, and preparing students for success beyond the pandemic through a holistic, equity-based approach."
That's while some watchdog groups say in some districts funds are going to causes beyond originally intended parameters, including diversity, equity and inclusion initiatives and anti-racism and bias professional development work.
For instance, the 2012-22 ESSER III budget detail submitted to the Milwaukee Board of School Directors showed $100,000 going to "Anti-Racism and Bias Professional Development" and virtual "Courageous Conversations" exploration. That's while $880,680 went to "maintaining its department for women and LGBTQIA+ students" for hiring a director, coordinator and planning assistant.
Still, a deeper conversation lies in the stark reality that parents continue to pull their kids out of the public schools despite the huge additional funding.
Figures from a recent study by the Center for Education Reform of the Washington Policy Center show public schools in Washington State now receive record levels of funding, even as the system has fewer students.
"...The public sees that none of the many promises made over the years to gain political support for public education funding have come true, and in the past year alone, some 41,000 families have left the system," writes the Center's director Liv Finne, in a commentary for the conservative American political media news website The Daily Signal.
As Roza simply noted, "A lot of students have left the public school system."
"I think it is interesting—there are a lot of stories embedded in it," she added while proposing other questions like: When the money runs out, are districts going to be in trouble? Will efforts they pay for work to get kids up to speed on reading and math? And how are they measuring the progress along the way?
"There's a lot of concern that the money isn't being spent the right way," noted Cowen. "If it doesn't, God help us to get this much money in the future."