Schools Need Guidance, Not Trump's Ultimatums | Opinion
In the past week, a very clear and consistent message has been repeatedly communicated by the president, the vice president, the health and human services secretary, the director of the U.S. Centers for Disease Control and Prevention and the education secretary: American schools must open fully and safely in the new academic year. It is one of the most well-coordinated and unambiguous messages delivered so far by the administration during this COVID-19 pandemic.
President Donald Trump says he is exerting extreme pressure on governors to open schools in the fall, even threatening to cut funding for those that don't comply. Education Secretary Betsy DeVos has explained that by opening "fully," the administration expects schools to allow all students who wish to be physically in the classroom to be able to come back, five full days a week.
How to accomplish this safely is squarely left up to educators and local community leaders, although additional CDC documents are expected soon. CDC Director Dr. Robert Redfield also promised that CDC will individually work with any of the (over 13,000) school districts and any of the (over 130,000) schools that need help, a wholly unrealistic commitment. The bottom-line refrain stated by Health and Human Services Secretary Alex Azar and repeated by other national leaders was that schools must open fully and "nobody should hide behind our CDC's guidance as a way to not reopen schools."
There are a number of things wrong with this picture. First, our leaders need to be more transparent about the grim state of the pandemic in the United States and should acknowledge that the science around COVID-19 transmission dynamics and children is still too limited to fully assess the risks to children, staff and families when schools reopen. Ordering that schools will be reopened safely will not make it so.
Second, signaling to schools that they may now disregard CDC school guidance that is too difficult or expensive is in conflict with the goal of maximizing safety and is turning the public health guidance process on its head. When schools do reopen, their best plan for reducing the risk of COVID-19 cases and transmission in children, lowering the risk of spread to teachers, staff and parents, and diminishing the chance that the reopening will contribute to increased cases, hospitalizations and mortality in a community is to follow CDC guidance closely. The CDC is best placed to know what mitigation measures will keep schools safe in the largest, most confounding novel pandemic of our lifetimes.
Administration officials did not acknowledge that reopening schools safely in the context of the current U.S. outbreak carries risks and uncertainties. Thirty-six states are now experiencing an increase in cases, and over 30 states now have test positivity rates higher than 5 percent, a sharp rise from last month. On July 6, Arizona surpassed New York's April peak in terms of its one-week average of daily reported coronavirus cases per capita. Florida is not far behind. These and other statistics revealing the dangers of the current U.S. COVID-19 epidemic received little attention during the White House–organized school events.
CDC guidance has recommended that in areas with substantial community transmission of COVID-19, schools should coordinate with local public health officials and should consider extended dismissals of more than two weeks. Practically speaking, this should mean that schools would be wise to wait to open until a community has controlled the disease to the point where there is no longer substantial community transmission.
During their televised school event, administration officials also neglected to discuss the uncertainties that remain around the science of COVID-19 in schools. We do know children are at far lower risk of serious or lethal infection than adults and that children haven't been observed to be the main drivers of COVID-19 pandemic. But we don't have a clear scientific understanding yet of the rate at which kids will spread infection to one another in school settings or an understanding of how frequently they will spread COVID-19 to teachers and staff at school or to their parents or grandparents at home.
A number of countries have opened schools without reporting major outbreaks, though the prevalence of COVID-19 was much lower in many of those countries where schools reopened, as compared to the more substantial community transmission in many of our states. In Israel, there was substantial spread of disease in schools when they opened, with possible larger implications for the country. Israel's top public health adviser resigned, saying she disagreed with the COVID-19 reopening plans of the government and believed that rapid reopening of schools in May was a main contributor to the current wave of disease Israel is now experiencing.
We need to be clear with families and teachers that it is not possible to eliminate all risks from schools. It is possible to make schools safer, but not completely safe from disease. The "all schools must open fully" refrain left little room for nuance or scientific uncertainty.
National leaders at recent White House school events made clear that educators and local community leaders will bear ultimate responsibility for keeping schools safe. This is why schools, rather than ignore CDC guidance, should make an effort to adhere to it if at all possible.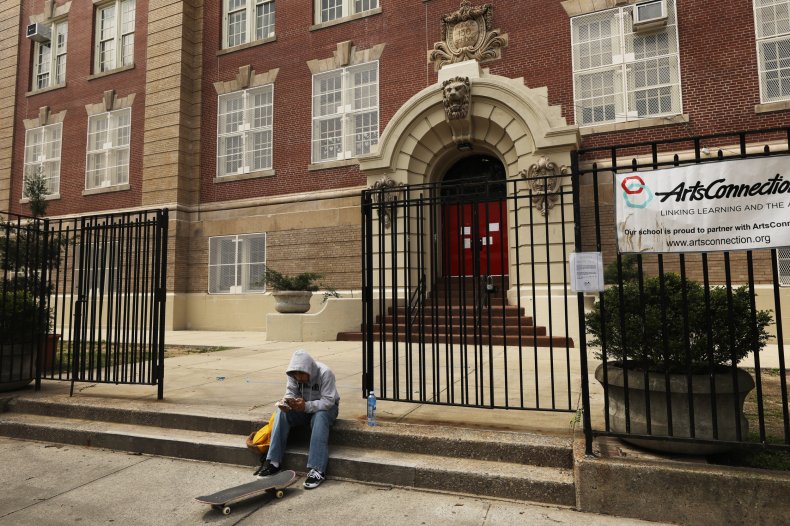 According to CDC guidance, schools at "highest risk" are those that entertain full-sized, in-person classes where students are not spaced apart. CDC guidance recommends 6 feet of physical distance between students, staggered pick-up and drop-off times, increased cleaning and disinfection, ventilation, facial coverings and other safety measures that are sensible, considering both what we know and don't know about transmission of the virus.
Complying with many of the guidelines may indeed be both onerous and expensive, but that is what will make us safer. And it may be the case that many schools cannot successfully implement adequate measures without resorting to hybrid approaches to learning or even, in some cases, relying entirely on distance learning for now. But unfortunately, we cannot wish away the increased risks for schools that ignore CDC guidance.
It is unfair to exhort schools to fully open for all students five days a week—with no excuses tolerated—while putting the burden of deciding which CDC guidance to forgo in their hands. A substantial number of teachers have expressed concerns about their safety in returning to schools, and disregard for CDC reopening guidance will likely only deepen their concerns. Education leaders are experts in education, not in infection control, HVAC systems, physical plant architecture, contact tracing, aerosol transport dynamics and disease transmission. They need to rely on CDC guidance to know how to make schools safe and adequate funding to support necessary measures. Instead, the administration has communicated that CDC guidance prepared specifically for schools by CDC public health experts can and should be disregarded if it stands in the way of opening on time. This is bewildering and wrong.
We agree with Azar's statement that "reopening schools safely may be the single most important thing that we can do to support families during this pandemic." Returning children to school buildings in order to better learn and be nourished socially, mentally and nutritionally should be a top national priority. This goal is more important than reopening bars, large indoor restaurants, casinos and other large indoor venues. The administration should be encouraging schools to follow CDC guidance and giving them the technical assistance and funding needed to do so.
Anita Cicero is the deputy director and Tom Inglesby is the director of the Johns Hopkins Center for Health Security.
The views expressed in this article are the authors' own.