Schumer Asks McConnell Why He's 'So Afraid of Witnesses' if House's Impeachment Case Is 'So Weak'
After a long speech from Senate Majority Leader McConnell to the senate about Wednesday's impeachment of President Donald Trump, Senate Minority Leader Charles Schumer asked McConnell why he's "afraid" of calling witnesses for the upcoming Senate trial.
McConnell said during his speech that the House's impeachment of the president was the "most rushed, least thorough and most unfair impeachment inquiry in modern history." He also called it "rigged."
"Moments like this are why the United States Senate exists," McConnell added. "The moment the Framers feared has arrived. A political faction in the lower chamber have succumbed to partisan rage."
He added in closing that they must "put this right" and "rise to the occasion."
"It could not be clearer which outcome would serve the stabilizing, institution-preserving, fever-breaking role for which the United States Senate was created and which outcome would betray it," McConnell said. "The Senate's duty is clear. When the time comes, we must fulfill it."
In Schumer's rebuttal, he said that the McConnell "is plotting the most rushed, least thorough and most unfair impeachment trial in modern history."
"He did not advance an argument in defense of the president's conduct on the merits," Schumer added, calling this a "damning reflection on the state of the president's defense."
"Is the president's case so weak that none of the president's men can defend him under oath? If the House's case is so weak, why is Leader McConnell so afraid of witnesses and documents?" Schumer asked.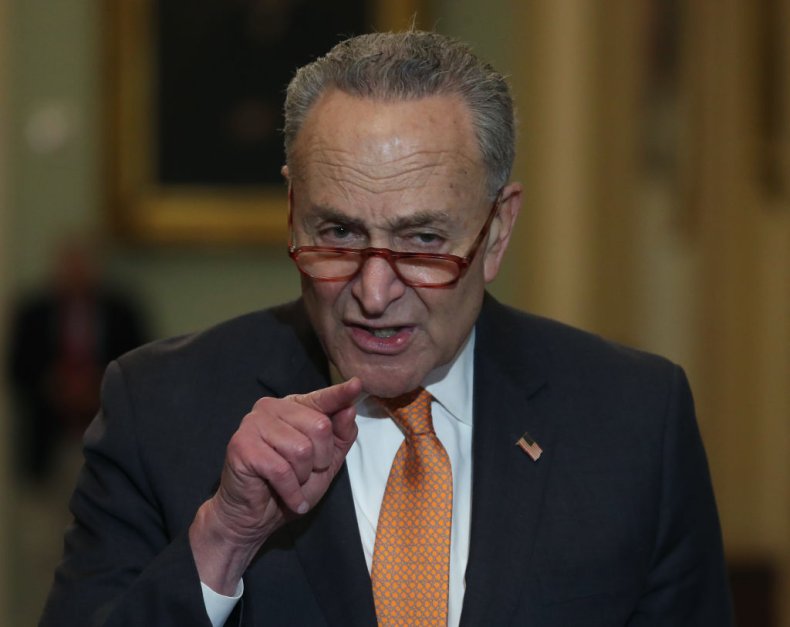 He added that the articles of impeachment passed Wednesday by the House suggests that the president had done a "grave injury to our democracy."
"If the Republicans proceed with the Majority Leader's scheme to sweep these charges under the rug and permit the President to ignore Congress, they will be creating a new precedent that will be long remembered as one of the Senate's darkest chapters," he added.
On Thursday, McConnell and Schumer are set to meet to hammer out the parameters of the upcoming Senate trial of President Trump.
Schumer and the Democratic caucus are asking for a minimum of four witnesses to be called—their list includes former national security adviser John Bolton and acting White House chief of staff Mick Mulvaney, according to The Hill. Schumer also allegedly wants to pass a single resolution that will govern how the Senate will handle specific witnesses and process instead of two separate resolutions, as was done during the Clinton impeachment trial.
McConnell has said he does not wish to have witness testimony as a part of the trial, according to The Hill.
To ask for witness testimony, 51 senators would have to support Schumer's movement.