Schumer Capitol Attack Presser Bombed by Pro-Trump Heckler Threatening to Invade His House
Senate Minority Leader Chuck Schumer's outdoors Tuesday press conference was interrupted by a heckler who yelled that pro-Trump protesters would go to both his home and the house of House Speaker Nancy Pelosi.
Schumer was in the midst of delivering comments in the aftermath of the Capitol riot on a New York City sidewalk, calling for those who participated in the Wednesday riot at the U.S. Capitol building to be placed on a no-fly list. On Tuesday, the U.S. Department of Justice announced they were launching an investigation into the riot at the Capitol building which left 5 people dead.
Many lawmakers have called for Trump's removal from office, believing him to be responsible for the riot. As Schumer made his Tuesday statements, he was approached by an individual wearing a face mask who began shouting insults.
Referencing U.S. demonstrations in 2020 against racism and police culture, the heckler said that Schumer "told the police to stand down in Kenosha, Portland, Seattle, Chicago, Boston, New York, Los Angeles and San Francisco. And you know what? These Trump supporters are gonna go to your house. They're gonna go to Pelosi's house. They'll destroy her vineyards and I will be right there to support them."
The heckler said that reports of Schumer hiding underneath his desk during the riot made them "sexually excited."
"That's how much I loathe you," the individual added. "That's how much I'm glad what they did."
A member of Schumer's staff attempted to move the individual away from the press conference only to be described by the heckler as a "racist cracker."
Newsweek reached out to Senator Schumer's office for comment.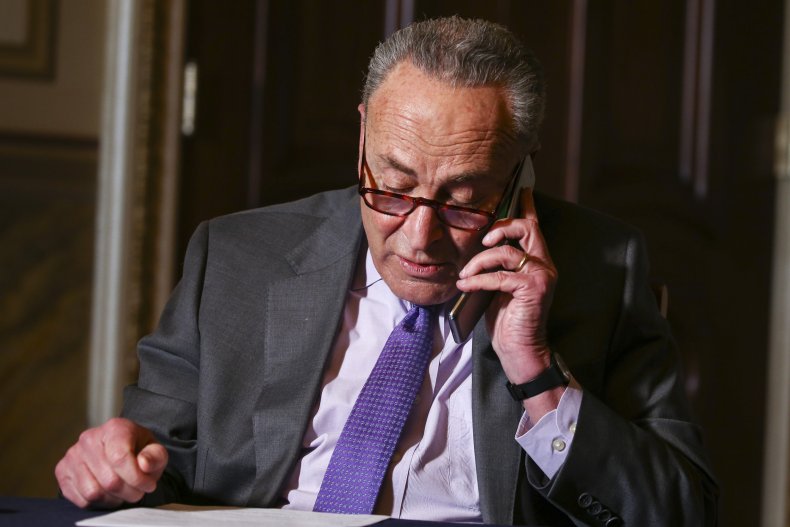 Authorities announced Tuesday that a wide-ranging investigation into the identities of rioters at the Capitol was underway. "Regardless of if it was just a trespass in the Capitol or if someone planted a pipe bomb," Acting U.S. Attorney Michael Sherwin said at a press conference, "you will be charged and you will be found."
Sherwin said prosecutors consider the probe as a "significant counterterrorism or counterintelligence investigation." According to Sherwin, investigators will be looking at both travel and communication records in their search for suspects.
In a Tuesday statement, the Committee on Oversight and Reform said the riot was "not a peaceful protest that got out of hand. This was an attempted coup to derail our Constitutional process and intimidate our duly elected leaders through violence."
Many lawmakers have blamed Trump for inciting the riot by claiming that the election was stolen from him via widespread voter fraud perpetrated by Democrats. During a speech at a Stop the Steal rally on Wednesday, Trump encouraged thousands of his supporters to walk to the Capitol during the Congressional certification of President-elect Joe Biden's victory in the Electoral College.
Trump denied that his words had any place in causing the riot, telling reporters on Tuesday that "people" thought his remarks were "totally appropriate."