Schumer Defends Call for Senate Impeachment Trial Witnesses Despite Opposition Under Clinton: 'Totally Different Situation'
Senate Minority Leader Chuck Schumer (D-NY) on Monday went on the defensive to justify why his demand for the testimonies of four specific witnesses to members of the upper chamber during its impending impeachment trial of President Donald Trump is warranted, despite opposing witnesses during the impeachment of President Bill Clinton two decades ago.
A decision by Senate Majority Leader Mitch McConnell (R-NY) not to let lawmakers hear from the likes of acting White House Chief of Staff Mick Mulvaney, Mulvaney Senior Adviser Robert Blair, former National security Adviser John Bolton and Office of Management and Budget official Michael Duffey, Schumer said, would amount to a "cover-up."
"The witnesses in '99 had already given grand jury testimony. We knew what they were to say," the New York Democrat told reporters of his prior anti-witness stance. "The four witnesses we called have not been heard from. That is the difference. And it's a difference that is totally overwhelming... There's no analogy."
A rejection by either the White House or McConnell to not hear from the witnesses, Schumer continued, would suggest their testimony may contain damning evidence as to why the hundreds of millions of dollars in U.S. foreign military aid was withheld from Ukraine. And although House Democrats chose not to take legal action to compel the witnesses' cooperation with their impeachment inquiry, Schumer rejected the notion by Republicans that the fact-finding phase of the impeachment process is complete.
"There is no reason on God's green Earth why they shouldn't be called and testified—unless you're afraid what they might say," Schumer said. "A trial is a place for witnesses."
In 1999, however, Schumer presented a much different tone when it came to whether Monica Lewinsky and others should testify during the chamber's impeachment trial for Clinton. He stood by his previous decision to oppose Lewinsky and the involvement of others, saying Monday they'd already heard the deposition the former White House intern provided to jurors and that the sexual nature of her testimony would not have been conducive for all viewers watching the proceedings play out on TV.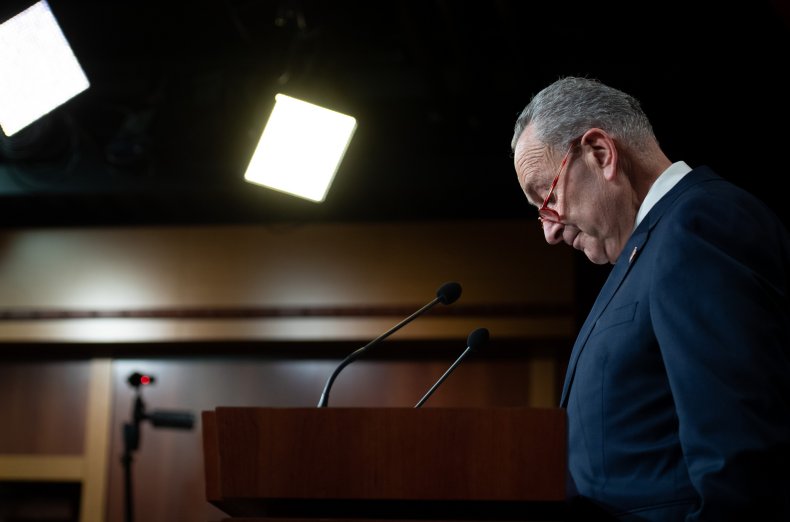 "There were all the obvious reasons why they did not want a witness like Monica Lewinsky testifying in public," Schumer elaborated. "It related to what the questions might be about, that the whole nation—including children—would be watching. It's a totally different situation."
But Schumer's opinion on witness testimony during a trial isn't the only to have changed. Despite his current opposition, McConnell advocated for witnesses in a 1999 interview with Larry King Live, CNN reported Monday.
Schumer's pitch for the four current and former administration officials to testify came the day after he sent a letter to McConnell further outlining why these additional witnesses should be subpoenaed. With the House planning vote on impeachment later this week, the Senate will begin a trial after returning in January from Christmas recess to determine whether to convict or acquit Trump. But given its political makeup, the GOP-controlled Senate will undoubtedly choose not to oust the president from office.
With the looming trial, it also means that McConnell and Schumer must begin to negotiate regarding potential witnesses and exactly how the proceedings will occur. Schumer—or any member, for that matter—could force a floor vote on the desired witnesses, where only a simple majority would be needed to compel their participation.
However, Schumer did not signal he was prepared to take such action, and it's unclear whether some moderate Republicans would provide needed support.
"If Leader McConnell doesn't hold a full and fair trial," Schumer said, "the American people will rightly ask: 'What are you Leader McConnell and what is President Trump hiding?'"