Democratic Leader Schumer Fires First Salvo at Trump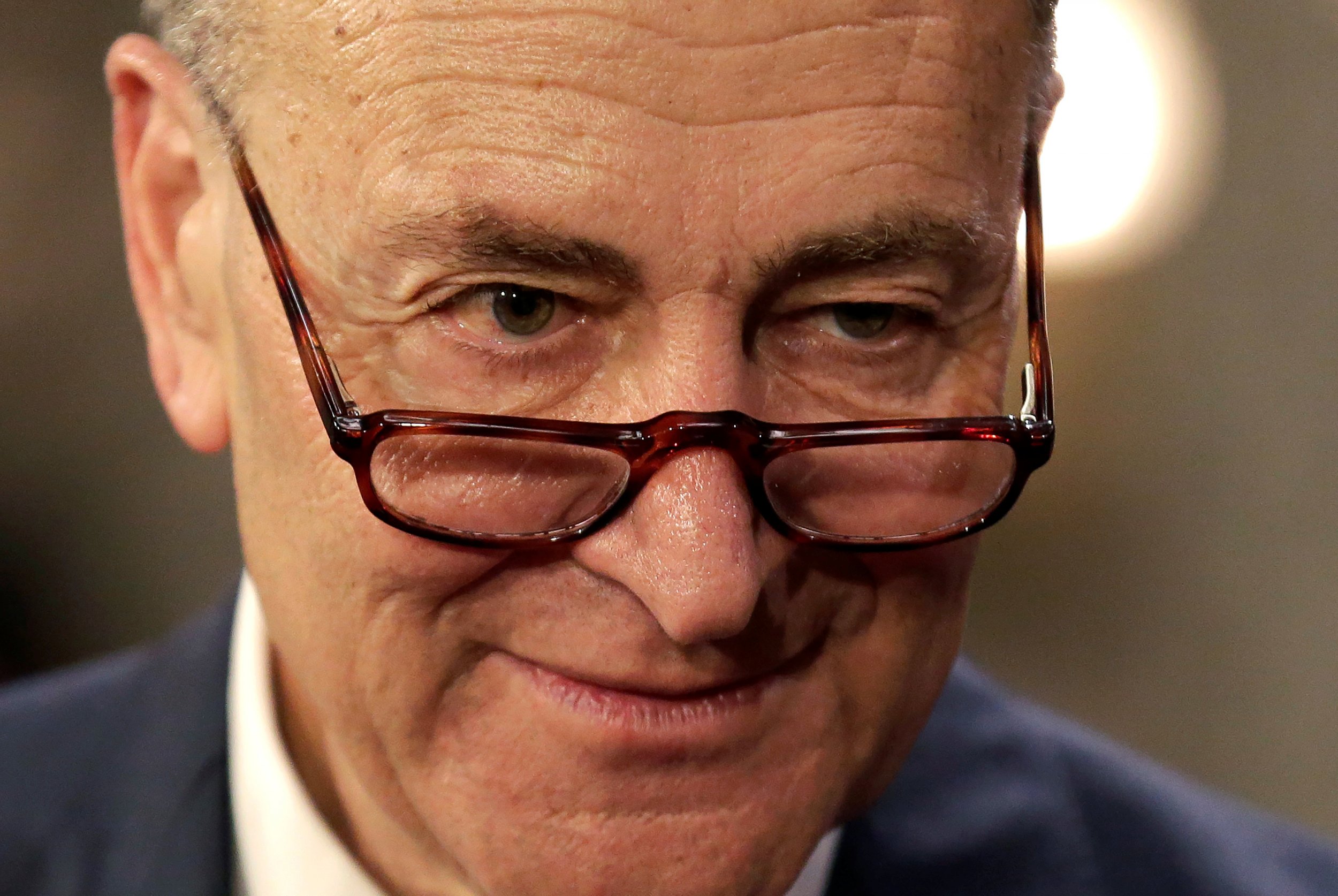 The most powerful Democrat in Washington issued a stern warning to President-elect Donald Trump as Congress returned to work on Tuesday. Senator Chuck Schumer's combative remarks on the Senate floor, his inaugural speech as minority leader, signal there will be little in the way of bipartisan cooperation under President Trump.
The veteran lawmaker from New York said Democrats were prepared to work with the new president and the Republican-controlled Congress on legislation that bolsters the middle class—such as new infrastructure investments and trade protections—but expressed skepticism that Trump actually intends to pursue such policies. He spent the majority of his remarks challenging the president-elect to lay out substantive proposals to meet all his vague, larger-than-life campaign promises.
Related: Rebranding the Democratic Party in the Donald Trump era
"Throughout the campaign, the president-elect said he could push [gross domestic product] growth to 5 or 6 percent," Schumer noted. "What does he think he can achieve in a year, two years, four years? What policies does he propose to achieve those goals?"
He continued: "Trump also said a great many things about rebuilding our infrastructure. A program of tax credits isn't going to get the job done, no matter how large. We need significant, direct spending. How does the president-elect plan to get that done?"
The Trump transition process offers little reason to think the Republican real estate tycoon will live up to the populist pledges he made as a candidate, the Democratic leader suggested. "The bottom line is, the president-elect ran as a change agent.… But since the election, he seems to have forgotten that," said Schumer, pointing to the billionaires, financiers and corporate executives that populate Trump's incoming Cabinet.
"If President-elect Trump lets the hard-right members of Congress and his Cabinet run the show, if he attempts to adopt their timeworn policies—which benefit the elites, the special interests, corporate America, not the working man and woman—his presidency will not succeed," Schumer warned darkly.
Democrats, of course, are already preparing to ensure that it will not succeed, starting with a fight over Republicans' attempts to undo the Affordable Care Act, otherwise known as Obamacare. Schumer on Tuesday promised to hold Trump accountable for his promises to retain several popular parts of Obamacare, including requiring insurers to cover people with pre-existing health conditions. "It's not acceptable to repeal the law, throw our health care system into chaos, and then leave the hard work for another day," he said, alluding to Republicans' plan to repeal the 2010 law as soon as Trump is in the White House but to delay it going into effect until a new health care plan can be hashed out. "What is your plan to make sure all Americans can get affordable health care?"
While Republicans plan to use a parliamentary maneuver to pass the health care measure in the Senate with a simple majority vote, they will need Democratic support to pass replacement programs. That's because most legislation in the Senate can be filibustered, which takes 60 votes to overcome. With just 52 Republicans in the chamber, the majority party will still need to win over eight Democrats to move major portions of its agenda. And that gives Schumer and the rest of the Senate minority considerable leverage. President Obama, himself, plans to meet with Senate and House Democrats Wednesday at the Capitol, to plot strategy for opposing the Obamacare repeal.
Republicans urged Democrats to give Trump a chance to settle into office before declaring political war. Senate Majority Whip John Cornyn spoke after Schumer on the Senate floor and joked that his colleague had "already declared the Trump presidency over" less than three weeks before he's even sworn in. And Cornyn suggested lawmakers on both sides of the aisle start the new year and the new Congress with a bit of humility. The 2016 election "wasn't exactly a ringing affirmation of either political party," he observed. "The American people wanted a change. And they spoke up loud and clear demanding a change."