Senate Majority Leader Chuck Schumer, a New York Democrat, described the most recent sexual assault allegation against New York's Governor Andrew Cuomo as "nauseating," saying all of the harassment allegations are "very troubling." But the prominent New York lawmaker stopped short of calling on Cuomo to resign as state Democratic leaders have done.
A sixth allegation of sexual harassment by an unidentified female staffer in Cuomo's administration came to light on Wednesday, as first reported by the Times Union. The governor allegedly groped the woman after she was asked to come to the executive mansion in Albany to assist with something on his cellphone. Police in Albany said Thursday that the accusation had been reported and that it may have risen "to the level of a crime," according to The New York Times.
"First, the allegations of these women are very, very troubling," Schumer said Thursday during an interview with ABC News' The View. "The one last night was particularly nauseating. They all must be looked into. I've always strongly been against sexual harassment. It cannot, cannot be tolerated,and it's been with us too long, and in too many instances."
Schumer said he supports a full independent investigation into the allegations, but he did not say Cuomo should resign. The New York senator expressed confidence in the state's Attorney General Letitia James, who is spearheading the investigation.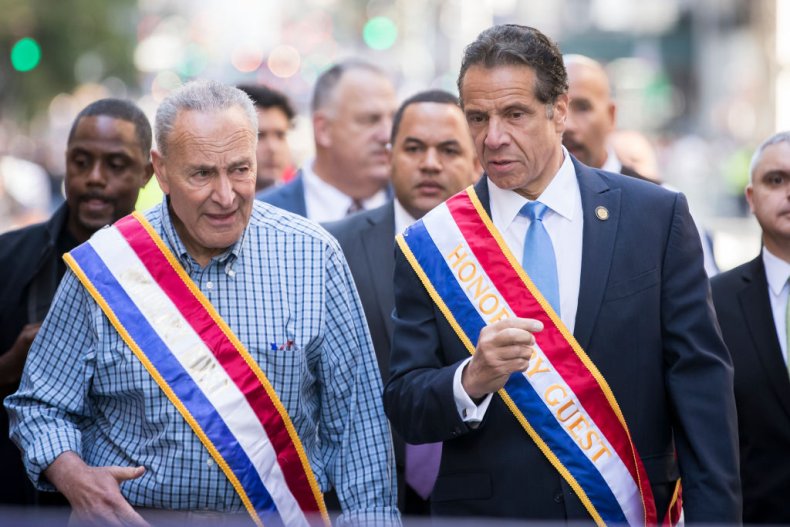 "I believe she will turn over every stone," the top Senate Democrat said. "She has subpoena power both for documents and for individuals, can subpoena anybody to come before her, and I believe an answer to your question, knowing her, that there will be no outside interference, no political interference. I have a lot of faith in her."
Newsweek reached out to Cuomo's press office for comment but did not immediately receive a response.
The governor has said he will cooperate with the investigation but has rebuffed calls to resign. "There is no way I resign," Cuomo said Sunday during a conference call with journalists. "Let's do the attorney general investigation. Let's do the findings and then we go from there. But I'm not going to be distracted by this either."
But two top New York state Democrats urged the governor to resign on Sunday.
"Everyday there is another account that is drawing away from the business of government," State Senate Majority Leader Andrea Stewart-Cousins said in a statement. "We need to govern without daily distractions. For the good of the state, Governor Cuomo must resign."
House Assembly Speaker Carl Heastie voiced similar concerns to Stewart-Cousins.
"We have many challenges to address, and I think it is time for the governor to seriously consider whether he can effectively meet the needs of the people of New York," Heastie said.
Meanwhile, Cuomo is simultaneously facing significant backlash after it came to light that his administration covered up the extent of deaths in New York nursing homes during the COVID-19 pandemic. In the spring of 2020, Cuomo ordered nursing home facilities to accept COVID-19 patients, even as some warned that they were unprepared to do so. After thousands of nursing home patients became sick and died, Cuomo's administration reported inaccurate data about the death toll.