Schumer and His Security Detail Fled from Capitol Rioters, Video Used in Impeachment Trial Shows
New footage unveiled by the House impeachment managers shows just how close rioters came to members on Congress on January 6.
Videos exhibited to senators during former President Donald Trump's second impeachment trial shows then-Senate Minority Leader Chuck Schumer and his security detail turning around and running in the opposite direction after encountering the pro-Trump mob that stormed the building.
"Leader Schumer walking up a ramp, going up the ramp with his detail. He'll soon go out of view," Representative Eric Swalwell, one of the nine impeachment managers, told the Senate as they watched the never-before-seen security footage. "Seconds later, they return and run back down the hallway and officers immediately shut the door and use their bodies to keep them safe."
Swalwell called it a "near miss with the mob."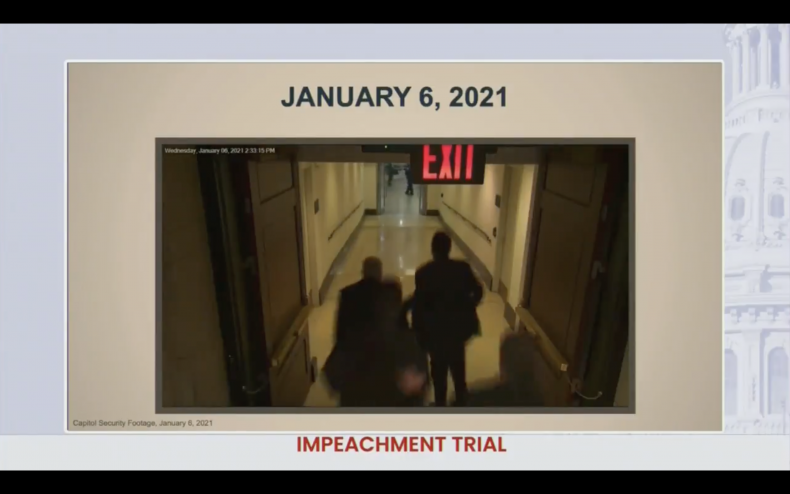 The footage was among a number of security videos House Democrats played for the first time on Wednesday that showed how close rioters were from elected officials. Former Vice President Mike Pence, Utah Senator Mitt Romney and multiple staffers for House Speaker Nancy Pelosi were also shown being escorted away from the chamber as well as a conference room connected to Pelosi's office as insurrectionists stormed the Capitol.
The footage of Pence's evacuation shows the then–vice president, who many rioters had been angry with for refusing to overturn the results of the election, moving quickly down the stairs with his family as insurrectionists looked for him.
"During the assault on the Capitol, extremists reportedly coordinated online and discussed how they could hunt down the vice president," Representative Stacey Plaskett, another impeachment manager, said. "Journalists in the Capitol reported they heard rioters say they were looking for Pence in order to execute him."
"As the rioters reached the top of the stairs, they were within 100 feet of where the vice president was sheltering with his family, and they were just feet away from one of the doors to this chamber," she added.
Romney was also seen being directed away from the crowd by Capitol Police officer Eugene Goodman, who was hailed a hero after he lured the mob away from the doors of the Senate chambers that day.
On the second day of the impeachment trial, Swalwell remarked that lawmakers removed congressional pins during the siege, "Out of fear that they would be seen or taken by the mob." In the video presented, lawmakers could be heard telling each other, "take your pins off."
Newsweek reached out to Schumer's office for comment but did not hear back before publication.