Schumer to McConnell: 'Get Out of the Way' in Heated Remarks Over Debt Ceiling
Senate Majority Leader Chuck Schumer is growing increasingly frustrated by his Republican colleagues' refusal to provide an easier path for raising the federal debt ceiling ahead of a crucial deadline this month.
"Ask Mitch McConnell: The bottom line is, it's very simple, it's on his shoulders," a visibly frustrated Schumer told reporters on Tuesday while speaking about the GOP Senate minority leader's role in the standoff. "It's up to him—all he has to do is get out of the way."
The New York Democrat reiterated his point, saying, "The best way to get this done is just for Republicans to get out of the way."
Republicans and Democrats have been stalemated over raising the debt limit before the federal government approaches what would be a first-ever debt default. Democrats, who hold a razor-thin majority in the Senate, have been trying to get around a GOP filibuster that would require a bipartisan vote.
But McConnell and his minority Republicans have blocked those attempts, insisting instead they take a lengthier—potentially weeks-long process—to do so. The Democrats can raise the debt limit through a budgeting process known as "reconciliation" that will require only 50 votes.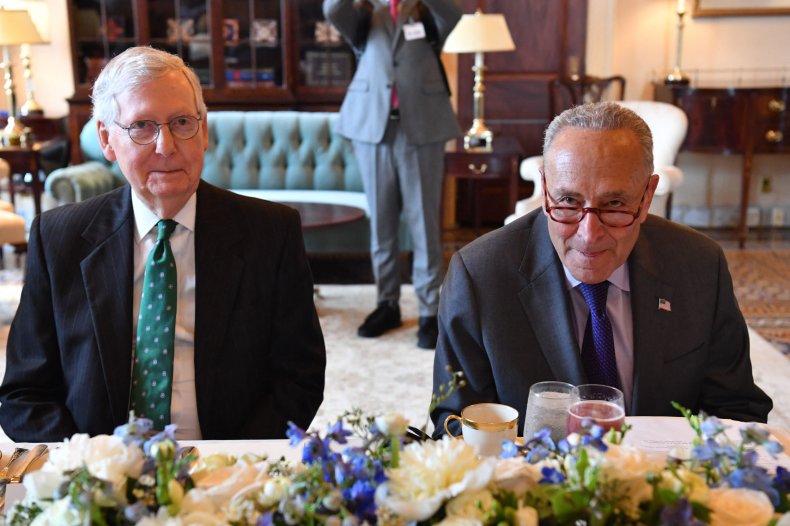 "Reconciliation is a drawn-out, convoluted and risky process, with default and downgrade hovering over us," Schumer told reporters. "The best way to do it is the way we said. That's what we're telling Leader McConnell and the American people we need to do."
McConnell, a Kentucky Republican, has argued that Democrats are trying to pass trillions in new spending through an infrastructure bill and a massive expansion of the social safety net—both key pieces of President Joe Biden's agenda. So Republicans won't willingly clear any hurdles, although McConnell doesn't support a debt ceiling crisis.
"There's plenty of time to do the job this month, and I hope our friends on the other side will step up and take care of it," McConnell told reporters Tuesday.
Biden has similarly called on McConnell and Senate Republicans to "get out of the way" and let Democrats lift the debt ceiling to prevent a potential economic catastrophe.
"If you don't want to help save the country, get out of the way so you don't destroy it," Biden said in a public address Monday. "They need to stop playing Russian roulette with the American economy."
The House, where the majority Democrats face a smaller hurdle, already has agreed to raise the debt limit. But the Senate has rejected multiple votes to allow Democrats to have a simple margin for approval.
McConnell noted that no GOP senators could object during a vote, which would sidestep the 60-vote threshold set by the filibuster rule. "We've been pointing out for two months how they ought to do it," he said Tuesday.
McConnell wrote in a letter to Biden on Monday that Democrats are trying to use bipartisanship as a "light switch" for raising the debt limit while following a Democrats-only path toward massive spending legislation.
"We have no list of demands. For two and a half months, we have simply warned that since your party wishes to govern alone, it must handle the debt limit alone, as well," he wrote.