Chuck Schumer Compares Mitch McConnell to Nixon in Watergate for Saying Mueller Report is 'Case Closed'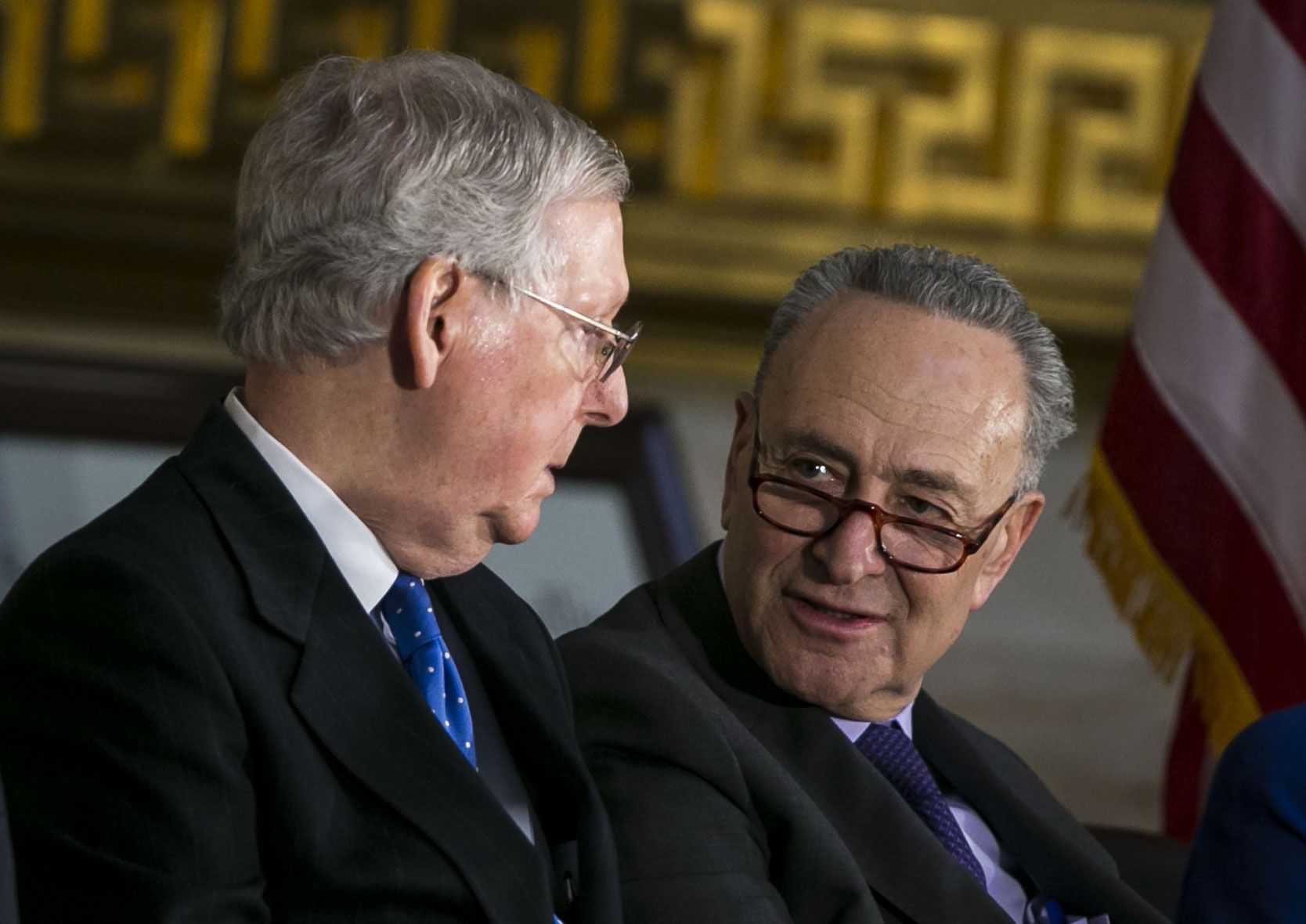 Senate Minority Leader Chuck Schumer, a New York Democrat, took issue Tuesday with Majority Leader Mitch McConnell, a Kentucky Republican, saying it is "case closed" when it comes to special counsel Robert Mueller's report and his investigation into Russian election interference.
"Our leader says let's move on. It's sort of like Richard Nixon saying let's move on at the height of the investigation of his wrongdoing," Schumer said from the Senate floor. "Of course he wants to move on. He wants to cover up. He wants to silence one of the most serious issues we face—whether a foreign power can manipulate our elections, the wellspring of our democracy."
Moments before, McConnell made a lengthy floor speech of his own, in which he denounced Democrats' demands to have special counsel Robert Mueller testify and their various congressional investigations into the Trump administration. He accused them of being in "denial" because Mueller concluded there was no conspiracy between the Trump campaign and Russia.
"The special counsel's finding is clear. Case closed. Case closed," the majority leader said. "This ought to be good news for everyone, but my Democratic colleagues seem to be publicly working through the five stages of grief. First stage is denial."
McConnell also urged Democrats to "end this Groundhog Day spectacle" and to "stop endlessly relitigating a two-and-a-half-year-old election result."
His comments come as tensions between the White House and House Democrats have escalated in recent weeks, with legal battles likely to ensue over current and former officials not cooperating with congressional subpoenas and investigations.
Representative Jerrold Nadler, the Democratic chairman of the House Judiciary Committee, will initiate contempt proceedings against Attorney General William Barr Wednesday for his failure to provide the unredacted Mueller report and its underlying evidence to Congress, which the chairman says is necessary to view for the committee's investigation into potential obstruction by Trump.
Mueller's report detailed several instances where Trump directed officials to carry out acts that could have hindered the 22-month-long probe but said that officials largely did not carry out such directives. The special counsel did not conclude whether the president committed obstruction, saying he could not say for certain that "the President clearly did not commit obstruction of justice." In his floor speech, McConnell did not make an explicit defense of Trump on the obstruction allegations levied by Democrats, instead sticking to Mueller's conclusion that Trump's presidential campaign did not conspire with the Russian government.
In a stinging rebuke to the president, several hundred former federal prosecutors said Monday that if it were not for the Justice Department's policy to not indict sitting presidents, Trump would have been charged with obstruction.
On Monday, Treasury Secretary Steven Mnuchin refused to hand over Trump's personal and business tax returns demanded by the House Ways and Means Committee, despite law stating the Treasury Department "shall" provide them to such a congressional inquiry. And former White House counsel Don McGahn, at the behest of the White House, refused to cooperate Tuesday with Nadler's subpoena for documents and testimony.
Trump has also personally sued the House Oversight Committee for subpoenaing his financial documents from an accounting firm, and the Trump Organization has sued Deutsche Bank and Capitol One in an attempt to prevent them from complying with congressional subpoenas to turn over financial documents.