Schumer and McConnell Trade Shots on Senate Floor Over Debt Ceiling Hike
Senate Majority Leader. Chuck Schumer and Senate Minority Leader Mitch McConnell took aim at one another during their remarks on the Senate floor Wednesday as members of Congress rush to find common ground on the debt ceiling.
Senate Democrats are attempting to pass a bill that would raise the federal debt limit through December 2022, but lack of support from Republicans has left officials scrambling to avoid a partial government shutdown come Thursday at midnight.
On Wednesday, Schumer called it "Republican stupidity" that would cause a debt default.
"To paraphrase the economist Austan Goolsbee who just met with our caucus this morning: Throughout history, there have certainly been governments that have defaulted on their debt, but never has been a default caused by pure stupidity, In this case, Republican stupidity," Schumer said.
"Over the past week, our caucus has tried to find a workable solution to avoid default on our sovereign debt, but the Republicans have stymied us at every opportunity," he added.
On Monday, Senate Republicans blocked a measure to suspend the debt ceiling. The vote of 48 to 50 did not gather the 60 votes needed to advance the measure.
"Democrats have offered Republicans multiple, entirely reasonable ways to get out of the mess they have created, but instead of stepping aside and letting the responsible party address the debt limit, Republicans have chosen to actively obstruct," Schumer contended.
"We're just asking Republicans to get out of the way. Get out of the way and let us do what they say they wanted us to do: Raise the debt ceiling without their votes," he added.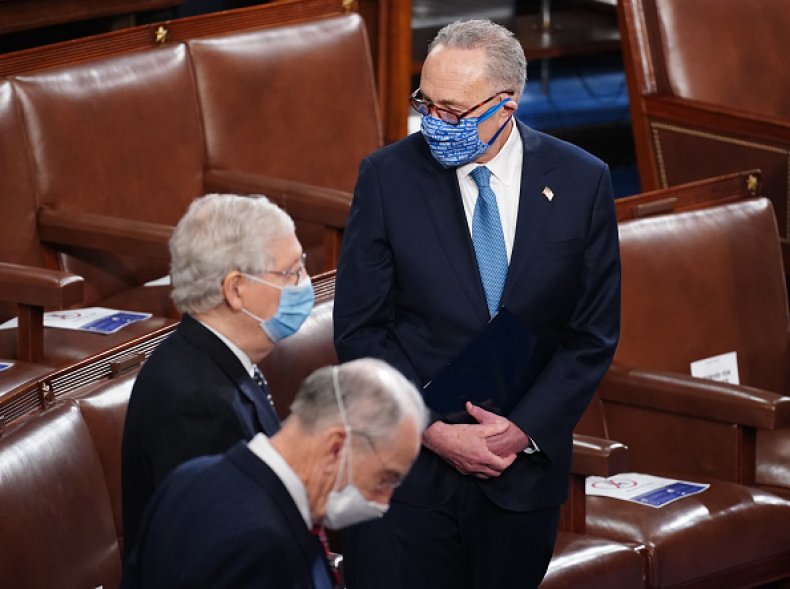 McConnell quickly fired back in his own statements on the Senate floor, calling the Democrat proposal "silly, magical thinking."
"The American people continue to hear about a steady stream of really bad ideas that Washington Democrats are packing into their next reckless taxing and spending spree," the minority leader said.
"Democrats want to jack up America's tax rates, drain money from people's pockets, spend it on socialism and then say the whole thing nets out to zero dollars?" he added. "This might be the best encapsulation of Washington Democrat thinking I've ever heard."
McConnell vowed that Democrats would not receive any Republican votes on raising the debt ceiling.
He has argued that Democrats should be responsible for raising the debt limit on their own to offset the cost of the not-yet-passed social spending bill that includes many of President Joe Biden's legislative agenda.
But raising the debt limit is typically a bipartisan objective and Democrats have called out McConnell for being inconsistent, pointing to their cooperation in working with Republicans under the Trump administration to raise the debt limit on multiple occasions.