Pelosi, Schumer Respond to Trump Border Address: 'We Don't Govern by Temper Tantrum'
House Speaker Nancy Pelosi and Senate Minority Leader Chuck Schumer delivered a pointed rebuttal to President Donald Trump's Oval Office address on the government shutdown over his demand for $5 billion to build a wall along the U.S. southern border Tuesday evening.
During his speech, the president stressed that there was a security crisis along the border, as well as "a humanitarian crisis, a crisis of the heart and a crisis of the soul." The choice to fund a wall, he said, was "a choice between right and wrong, justice and injustice. This is about whether we fulfill our sacred duty to the American citizens we serve."
Pelosi and Schumer disagreed with Trump's portrayal of the facts, and his actions.
"Sadly, much of what we have heard from President Trump throughout this senseless shutdown has been full of misinformation and even malice," Pelosi said, using a teleprompter. "The president has chosen fear. We want to start with the facts."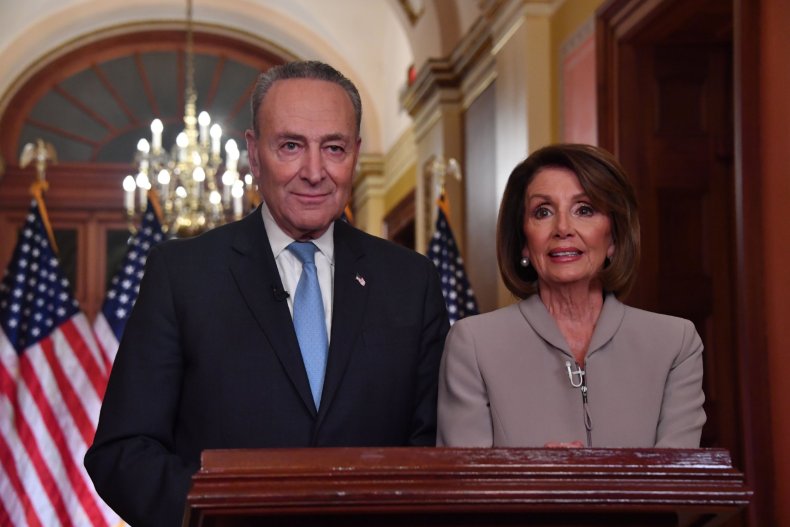 Pelosi focused on Democratic efforts to reopen the government and the president's choice to thwart such efforts. "The president is rejecting these bipartisan bills, which would reopen government over his obsession with forcing American taxpayers to waste billions of dollars on an expensive and ineffective wall, a wall he always promised Mexico would pay for," she said.
Trump did not mention the 800,000 federal workers who are furloughed during the shutdown or 400,000 more who are working without pay during his speech, and Pelosi chose to shine a light on that omission.
"The fact is, President Trump has chosen to hold hostage critical services for the health, safety and well-being of the American people and withhold the paychecks of 800,000 innocent workers across the nation—many of them veterans," she said.
Schumer criticized the president's behavior around the border wall."We don't govern by temper tantrum," he said. "No president should pound the table and demand he gets his way or else the government shuts down, hurting millions of Americans who are treated as leverage."
Both Pelosi and Schumer emphasized that they support increased funding and security for the southern U.S. border, but through advances in technology and increases in personnel, not a wall.
Pelosi and Schumer have met with the president regularly in an attempt to find some common ground and reopen the government, which is now in its third week of a shutdown. But the president, they said, was not willing to budge on his demand for a wall on the border, and they've reached an impasse.
The next meeting between the leaders will take place on Wednesday afternoon.
Friday marks the first day federal workers will fail to receive their regularly scheduled paychecks.