Schumer Promises to Bring Up Vote on Build Back Better Bill Despite Manchin's Opposition
Senate Majority Leader Chuck Schumer has vowed to bring President Joe Biden's $1.7 trillion social and climate spending package to the floor for a vote despite a critical Democratic senator saying he is opposed to the bill.
In a letter to colleagues sent Monday morning, Schumer took a jab at West Virginia's Joe Manchin, who said on Sunday that he can't vote for the legislation.
"Senators should be aware that the Senate will, in fact, consider the Build Back Better Act very early in the new year so that every Member of this body has the opportunity to make their position known on the Senate floor, not just on television," Schumer wrote. "We are going to vote on a revised version of the House-passed Build Back Better Act — and we will keep voting on it until we get something done."
Democrats are aiming to pass the bill via reconciliation, a legislative process that allows them to bypass the Senate filibuster rule. But the party needs every single member of its 50-member caucus to support the legislation in order to pass it and send it to Biden's desk.
Manchin, a key vote in the evenly divided chamber, made headlines Sunday when he dropped a bombshell on Fox News.
"I cannot vote to continue with this piece of legislation. I just can't," the senator said. "I've tried everything humanly possible. I can't get there. This is a no."
Schumer had originally aimed to get Build Back Better passed before the holiday break.
"This session has also led to moments of deep discontent and frustration," he said Monday. "That frustration was evident in the past week as nearly all of us were disappointed by the decision to delay floor consideration of the Build Back Better Act because Senator Manchin could not come to an agreement with the president."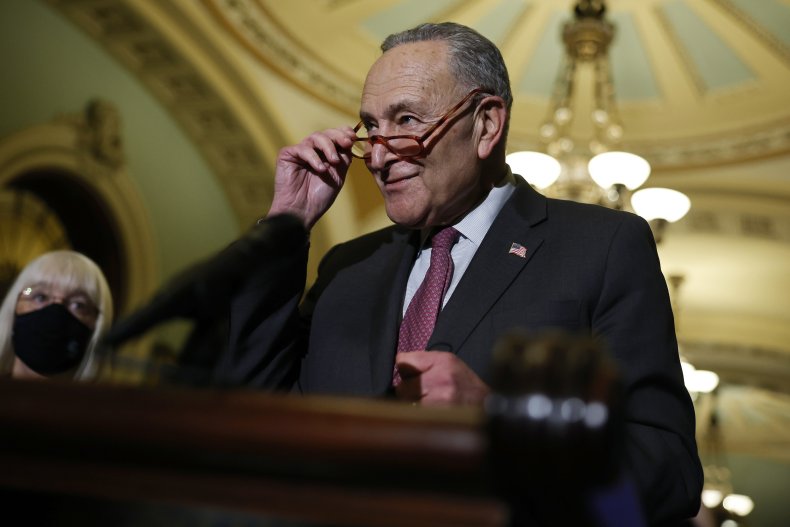 Manchin had discussed the bill with Biden several times early last week, with the White House describing the conversations as "constructive." Manchin's spokesperson called one of the discussions "productive."
But after Manchin's appearance on Fox News, the administration put out a critical statement, citing the senator's "inexplicable reversal."
"On Tuesday of this week, Senator Manchin came to the White House and submitted—to the President, in person, directly—a written outline for a Build Back Better bill that was the same size and scope as the President's framework, and covered many of the same priorities," press secretary Jen Psaki said in the statement.
She continued, "While that framework was missing key priorities, we believed it could lead to a compromise acceptable to all. Senator Manchin promised to continue conversations in the days ahead, and to work with us to reach that common ground. If his comments on FOX and written statement indicate an end to that effort, they represent a sudden and inexplicable reversal in his position, and a breach of his commitments to the President and the Senator's colleagues in the House and Senate."
Psaki added, "Just as Senator Manchin reversed his position on Build Back Better this morning, we will continue to press him to see if he will reverse his position yet again, to honor his prior commitments and be true to his word."
Update 12/20/21, 9:50 a.m. ET: This story was updated with more information and background.