Following a weekly Democratic caucus lunch on Tuesday, Senate Majority Leader Chuck Schumer refuted a claim made earlier in the day by West Virginia Senator Joe Manchin about a recent lack of discussions over the stalled Build Back Better Act (BBB).
Manchin told reporters Tuesday morning he has not held discussions with the White House or Schumer recently about President Joe Biden's Build Back Better plan. He said, "There [are] no negotiations going on at this time."
Later in the day though, Schumer said he had spoken with his fellow Democrat about BBB.
"I talked to Senator Manchin numerous times during the break," Schumer said in a response to a journalist's question about Manchin's earlier statement. "Most of the discussions were on voting rights, but we did touch on BBB. And I believe the Biden administration will be having discussions with Manchin with his cooperation and participation on BBB as we move forward."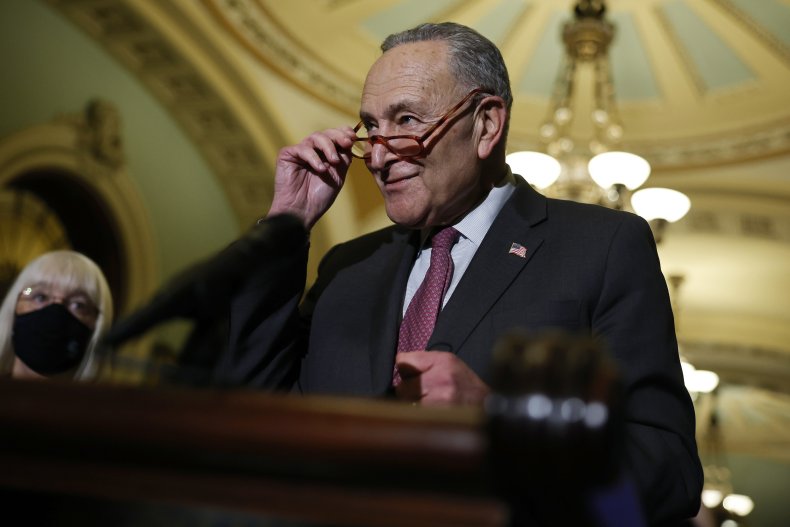 Manchin also said to the press on Tuesday that he was reluctant about changing filibuster rules, saying a move to create a nuclear option is a "heavy lift." Such a change would bypass Republican support and push the Democrats' agenda.
Schumer was also asked about those remarks.
"Manchin has said all along he wants to deal with Republicans, and we've all been very patient," Schumer replied. "Manchin, of course, would prefer to deal with Republicans, but I believe he knows that we will not get any Republican cooperation. And we're continuing to have talks as to how we can do this. In changing the rules, there are certain things he won't go for, but there are certain things he's talking about."
Manchin's opposition to the Build Back Better bill last month prevented Senate Democrats from passing the $1.75 trillion legislation before the end of the year. That version of the bill was already trimmed down considerably from the original $3.5 trillion price tag, and now members of his party look to get Manchin to support an even smaller version in the near future.
"I have always said, 'If I can't go back home and explain it, I can't vote for it,'" Manchin said in a December 19 statement about his decision. "Despite my best efforts, I cannot explain the sweeping Build Back Better Act in West Virginia and I cannot vote to move forward on this mammoth piece of legislation."
On Tuesday, Manchin indicated he would be open to renegotiating the bill. He said, "I've never turned down talks with anybody."
Newsweek contacted Manchin for comment but did not hear back in time for publication.
Update 01/04/22 4:30 p.m. ET: This story has been updated to include more background information.