Schumer Says Cuomo Lost New Yorkers' Confidence, Pelosi Dodges Calls for His Resignation
Senate Minority Leader Chuck Schumer, a New York Democrat, reiterated his call for New York Governor Andrew Cuomo to resign on Sunday as Speaker of the House Nancy Pelosi, a California Democrat, stopped short of doing so—instead urging the governor to determine whether he can still govern effectively.
Cuomo, a Democrat, is facing significant pressure to resign—as he simultaneously faces the threat of impeachment—after multiple female staffers came forward with allegations that he sexually harassed or assaulted them while they served in his administration. That scandal came as the New York governor was already under investigation for covering up the extent of the death toll from the pandemic in nursing homes, after his administration ordered the facilities to accept COVID-19 positive patients last spring.
"I salute the brave women who came forward with serious allegations of misconduct, of abuse. And there are multiple serious, credible allegations of abuse so that Governor Cuomo has lost the confidence of his governing partners and of so many New Yorkers. So for the good of the state he should resign," Schumer said Sunday during an interview with MSNBC.
The top Senate Democrat previously called for Cuomo to step down on Friday in a joint statement with New York's other Senator Kyrsten Gillibrand, who is also a Democrat.
Meanwhile, Pelosi declined to go as far as her Democratic Senate colleague, although she reiterated that the allegations are "credible and serious" during an interview with ABC News' This Week.
The House Speaker said she supports the ongoing independent investigation being conducted by New York Attorney General Letitia James.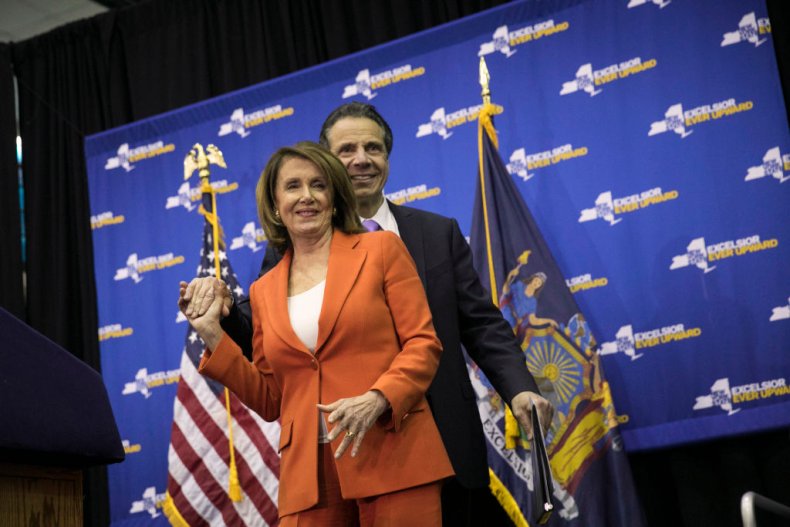 "I do think the women deserve to hear the result of this investigation as does the governor. But again no—no tolerance [for sexual harassment]. No tolerance," Pelosi said.
The top House Democrat said Cuomo "should look inside his heart—he loves New York—to see if he can govern effectively."
Many of New York's state and federal lawmakers—Democrats and Republicans—have called on the governor to resign in the wake of the twin scandals. New York City Mayor Bill De Blasio, a Democrat who has long had a combative relationship with Cuomo, strongly criticized the governor in a Sunday morning interview with CBS News' Face the Nation. De Blasio said that he was certain Cuomo had intentionally covered up the nursing home deaths in New York.
"Everything was about his political future," the New York City mayor said. "It was not about what people needed."
Last Thursday, 59 New York state Democratic lawmakers released a joint statement calling on Cuomo to step down. But Cuomo rejected the calls from his own political party to resign in a Friday press call with reporters. The governor called Democratic critics "reckless and dangerous" for pressuring him to step down.
"I did not do what has been alleged, period," he said.
During a similar call last Sunday with journalists, Cuomo called resigning "anti-democratic."
"The premise of resigning because of allegations is actually anti-democratic," Cuomo said. "And we've always done the exact opposite. You know, the system is based on due process and the credibility of the allegation. Anybody has the ability to make an allegation in democracy, and that's great, but it's in the credibility of the allegation."
Newsweek reached out to Cuomo's press office for comment, but did not immediately receive a response.