Schumer Says Infrastructure Deal Will Be Finalized Sunday After Rare Saturday Session
Senate Majority Leader Chuck Schumer has announced that a nearly $1 trillion bipartisan infrastructure deal will be finalized Sunday after lawmakers were unable to wrap up the legislation following a rare Saturday session.
Negotiations for the bill spilled over into the weekend after two senators predicted that the final text could be ready Friday. A bipartisan group of 22 lawmakers continued to work on the deal as the Senate convened around at 11 a.m. Saturday to wait for the final text.
About 11 hours later, Schumer said the bill won't be ready until Sunday and instructed the senators to reconvene around noon.
"The bipartisan group of senators has still not finalized the legislative text of their substitute amendment. The staffs are still working and say they will have the final legislative text ready tomorrow," the New York Democrat said in the evening, adding that he's prepared to give the group "a little bit more time."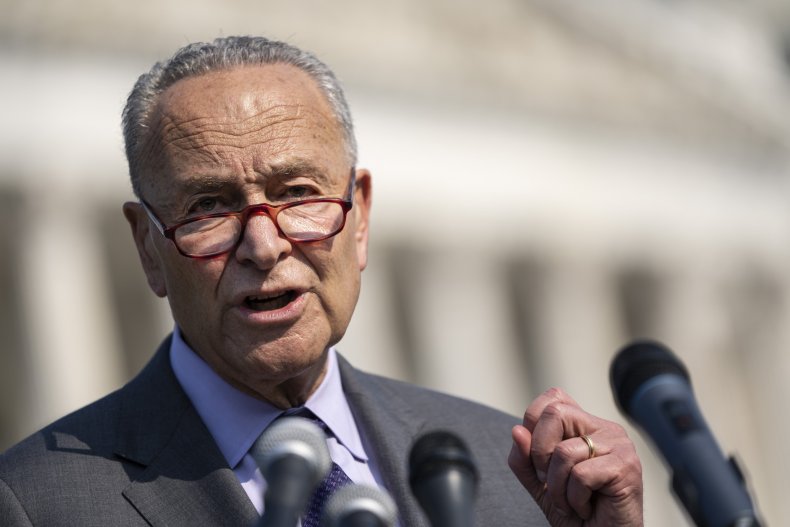 Schumer warned the lawmakers that he would keep them in Congress until the bill is unveiled and a vote is held, despite a looming August recess. "The longer it takes to finish, the longer we will be here, but we're going to get the job done," he said.
Senator Mark Warner, a Democratic member of the bipartisan group, defended the delay in releasing the final paperwork Saturday, noting that lawmakers have been attempting to pass such a complicated piece of legislation for years.
We're on the "last couple pieces of legislative language," he said. "There's been some of the sense of, well, infrastructure, that shouldn't be hard to do. If it wasn't hard to do, why has it taken 30 years to get to this moment?"
After a month of negotiations and delays, the Senate picked up its pace this week, voting 67-32 Wednesday to begin formal consideration of the bill. 17 Republicans joined all 50 Democrats in support of advancing the measure.
Lawmakers announced earlier this week they had reached an agreement on the "major issues" of the legislation, which includes $110 billion for roads and bridges, $39 billion for public transport, $66 billion for passenger and freight rail, $55 billion for water infrastructure and $66 billion to expand broadband access.
The White House has estimated that the infrastructure plan would create about 2 million jobs a year on average over the next decade.
Schumer said that the Senate will "turn to the budget resolution with reconciliation instructions" upon completion of the bipartisan deal.
Newsweek reached out to Schumer's office for further comment.