Schumer Steps in to Advance Jackson Nomination After Senate Panel Deadlocks
The Senate Judiciary Committee deadlocked Monday on Ketanji Brown Jackson's nomination to the Supreme Court, but Senate Majority Leader Chuck Schumer took a step to advance her nomination.
After four days of public hearings last month, the panel was split 11 to 11 on whether to advance Jackson's historic nomination. All Republican members of the committee voted against Jackson.
Schumer wasted no time in filing a motion to discharge her nomination from the committee to the full Senate on Monday afternoon. The additional procedural measure needs a simple majority in order to succeed.
The chamber is expected to hold a final vote on Jackson later this week. Democrats can confirm the judge to the Supreme Court without Republican support as long as the party remains united. After Senator Joe Manchin announced he intends to back Jackson, all eyes will be on Arizona Democrat Kyrsten Sinema.
Jackson also has at least one Republican vote: Senator Susan Collins of Maine announced last month she would support Jackson, stating the nominee has "sterling academic and professional credentials." If confirmed, Jackson will be the first Black woman to serve on the high court in its 233-year history.
Opposition for Jackson's nomination ticked up slightly after her confirmation hearings, one poll found, but support for her remains high: 47 percent of voters back her nomination compared with 26 percent of respondents who are against putting Jackson on the Supreme Court.
Jackson faced questions on her judicial philosophy, prior rulings and her work as a public defender during two marathon days of inquiry.
Republicans on the committee pressed Jackson on her sentencing in child pornography cases, painting the judge as being too lenient towards offenders. Jackson pushed back on their statements, telling the panel "nothing could be further from the truth."
Senate Judiciary Chairman Dick Durbin accused some GOP members of appealing to the "QAnon crowd" during their allotted time in the hearings.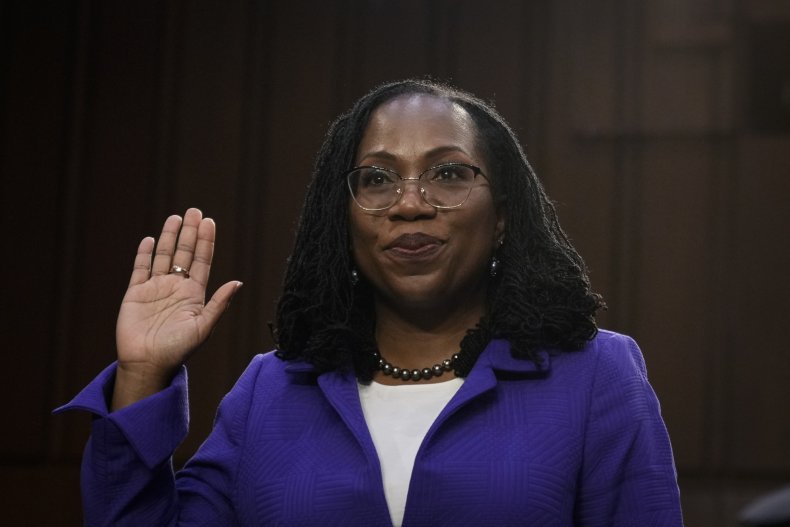 Several Republicans have already indicated they will vote against Jackson, citing either her sentencing in child pornography cases or her judicial philosophy. Unlike other justices, Jackson didn't describe herself as simply an "originalist" or "textualist" and said there's no one label for her approach.
Jackson said if she's appointed to a lifetime position on the bench, she will make decisions with independence and neutrality.
She's already pledged to bow out of a highly anticipated case involving Harvard University and affirmative action due to her status as a Harvard alum. When it comes to the landmark abortion case Roe v. Wade, which some Republican-led states are looking to overturn, Jackson said it was settled law.
"I know that my role as a judge is a limited one—that the Constitution empowers me only to decide cases and controversies that are properly presented," he told lawmakers on the Senate Judiciary Committee. "And I know that my judicial role is further constrained by careful adherence to precedent."