Schumer Threatens to Fire Sergeant at Arms Once Dems Control Senate Following Capitol Breach
One of Senator Chuck Schumer's first orders of business, once Democrats take control of the Senate, is to fire Sergeant at Arms Michael Stenger.
Schumer told Newsweek in a statement of his plans on Thursday, saying that he would fire Stenger later this month once Democrats have a majority if he doesn't resign first. A day earlier, the Senate was evacuated when rioters wearing Trump gear stormed the Capitol and entered the building.
Stenger took over the position as the chief law enforcement and executive officer of the Senate on April 16, 2018. His job is to not only enforce the rules of the Senate but to maintain security in the Capitol and Senate office buildings.
With Jon Ossoff and Raphael Warnock's victory on Tuesday, there will be a 50-50 split in the Senate when President-elect Joe Biden takes office. This gives Democrats control because in the event of a tie vote, Vice President-elect Kamala Harris will cast the deciding vote. Schumer, who is the minority leader of the Senate, announced on Wednesday he would take over as majority leader.
"America is experiencing one of the greatest crises we have ever had in our history and the Senate Democratic Majority is committed to delivering the bold change and help that Americans need and demand," Schumer said in a press conference. "Senate Democrats know America is hurting. Help is on the way."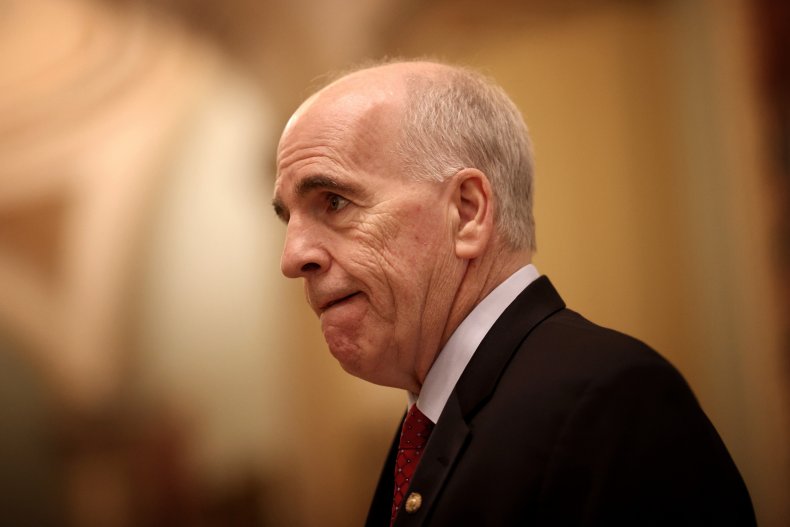 During a Thursday press conference, Senator Lindsey Graham backed Schumer's call for Stenger to resign and called for everyone involved with keeping the Capitol safe to face the consequences for their failures. Had they been in the military, Graham said they would have been relieved of their commands and "most likely court-martialed."
The Republican senator from South Carolina lambasted the lack of security at the Capitol, saying he was "embarrassed and disgusted" that "domestic terrorists" could take over the building 20 years after the terrorist attacks on September 11, 2001.
"They could have blown the building up. They could have killed us. They could have destroyed the government. They should have been challenged. Warning shots should have been fired and lethal force should have been used," Graham told reporters on Thursday. "Those backpacks could have had bombs, chemical agents, weapons. We dodged a major bullet yesterday. If this is not a wake-up call I do not know what is."
Graham, as so many others have, noted the difference between how security prepared for Black Lives Matter rallies and the rally that took place on Wednesday. Photos from a BLM rally showed rows of law enforcement lining the steps of the Capitol and legislators questioned why those same precautions were not taken on Wednesday.
Speaker of the House Nancy Pelosi told reporters during her weekly press conference that House Sergeant at Arms Paul Irving informed her he was submitting his resignation. She also called for the chief of US Capitol Police to resign, as well.