Schumer Vows $2,000 Stimulus Checks Will Be First Priority When Democrats Gain Senate Control
Delivering more substantial coronavirus relief payments to qualified Americans could be among lawmakers' top priorities next term, if Democrats secure control of the U.S. Senate.
As the likelihood of a Democratic majority in the congressional chamber becomes increasingly plausible, Senate Minority Leader Chuck Schumer outlined the party's plans to provide additional support to members of the public, many of whom continue to face economic challenges during the COVID-19 pandemic, on Wednesday.
"America is experiencing one of the greatest crises we have ever had in our history, and the Senate Democratic majority is committed to delivering the bold change and help that Americans need and demand," Schumer said in remarks given at a televised press conference, which celebrated the anticipated outcomes of Georgia's runoff elections.
Referencing the state's Democratic senatorial candidates, Jon Ossoff and Raphael Warnock, he noted that their expected introductions to the U.S. Senate roster "will be very good for the American people."
"Senate Democrats know America is hurting. Help is on the way, and we have two new senators coming to help," the New York congressman continued. "One of the first things that I want to do when our new senators are seated is deliver the $2,000 checks to the American families."
President-elect Joe Biden similarly indicated that $2,000 relief payments would be issued under a Democratic Senate majority on Monday.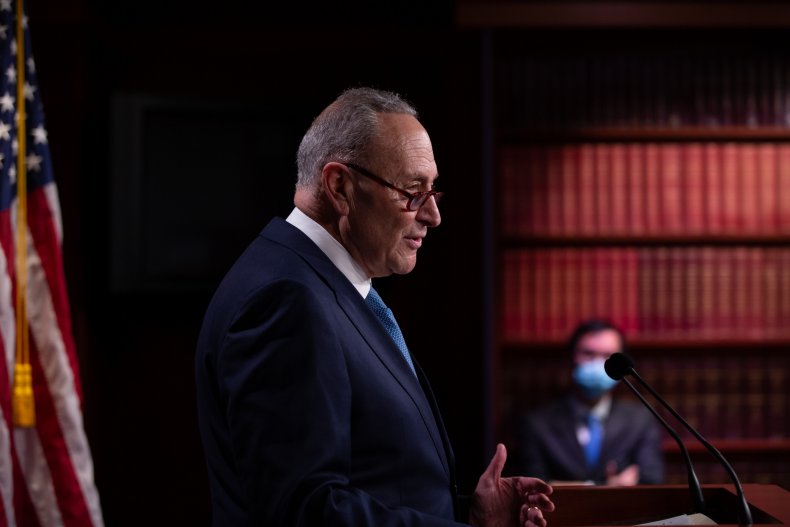 Ossoff and Warnock challenged incumbent Republican Senators David Perdue and Kelly Loeffler in Georgia's extended congressional races, which both moved to runoffs after November's general election. The runoff elections took place on Tuesday, and Warnock's historic victory against Loeffler was declared soon after polls closed. Warnock will become Georgia's first Black senator and the first Black Democratic official ever elected to the U.S. Senate from a southern state.
As election workers continued to count ballots cast in the contest between Ossoff and Perdue on Wednesday, the Democrat held a narrow lead over his Republican opponent. Although sources had not formally called the race, Ossoff declared victory Wednesday morning.
Congressional leaders discussed the possibility of $2,000 stimulus checks before finalizing details of the most recent COVID-19 relief package. Senate Democrats were prepared to issue payments of that size to eligible individuals, after sitting president Donald Trump pressured lawmakers to do so. However, Senate Majority Leader Mitch McConnell, a Republican, rejected the proposal.
Following the stimulus payments issued as part of the Coronavirus Aid, Relief, and Economic Security (CARES) Act last spring, Congress ultimately agreed to distribute checks for up to $600 to Americans who meet certain criteria in late December.
Newsweek reached out to Schumer's office for further comment but did not receive a reply in time for publication.