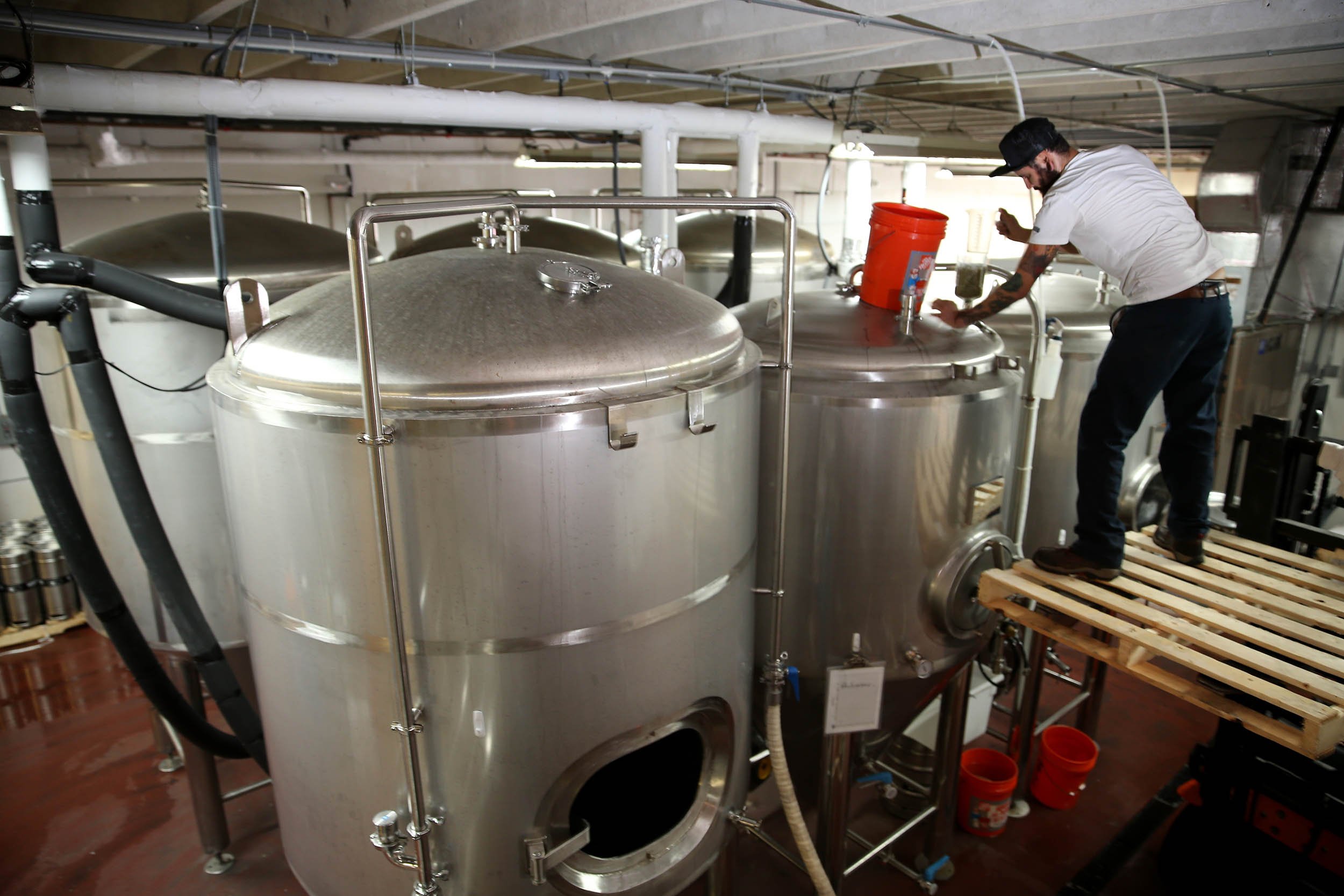 Am I drinking someone's spit?
On the evening of May 29, approximately 100 beer enthusiasts packed into an event hall at the laboriously cool Wythe Hotel in Brooklyn, New York's Williamsburg section for a World Science Festival presentation on the history of beer (which, of course, included several samples to illustrate key talking points).
The presenters included Patrick E. McGovern, scientific director of the Biomolecular Archaeology Laboratory for Cuisine, Fermented Beverages and Health at the University of Pennsylvania Museum, and Sam Calagione, founder of Dogfish Head Craft Brewed Ales. McGovern has been called the "Indiana Jones of Ancient Ales, Wines, and Extreme Beverages." The moniker comes from McGovern's unique academic work: He has effectively launched the field of molecular archaeology—a combination of history and the physical sciences—and done extensive research into how people ate and drank a very long time ago. Calagione is also known as a pioneer, working often with McGovern to re-create versions of historic brews at Dogfish.
Modern booze, it turns out, is increasingly approached with lab coats and graduated cylinders. There has been a well-documented intensification of interest in science-y food of late—especially with the rise of molecular gastronomy, in which physics and chemistry are used to challenge the conventional shapes and textures of foods. Similarly, more and more people want to explore the science underlying alcohol.
The beer anthropologists explained that the first alcoholic beverages date back to approximately 7000 B.C. in Jiahu, a Neolithic village in China's Henan province. To understand what went into an ancient Jiahu drink, McGovern used analytical tools such as gas chromatography, which effectively vaporizes chemical samples to help identify them. He discovered that the imbibers chewed foodstuffs such as hawthorn fruit, wild grapes, rice and honey, then spit them into a clay vessel, where the wet mix would ferment. Saliva, as it turns out, works somewhat like the malting process: Enzymes break down these ingredients' starches into simpler sugars, enabling the yeast to convert the mix into alcohol.
Hence the worrisome spit question: We were drinking Dogfish Head's Chateau Jiahu, said to be modeled after this ancient grog. And Calagione, after discussing the archaeology of the Jiahu site, launched into an anecdote about the time in 2009 when he enlisted Dogfish employees to chew corn and spit it in buckets to make chicha—a maize-based beer from Latin America that also relies upon mastication. He then served the beverage at the company-owned pub in Rehoboth Beach, Delaware.
"Everybody who bought a pint had to sign a disclaimer," he says, laughing.
As if sensing discomfort from some who had just taken deep draughts of their Jiahu samples, McGovern adds that "we used gelatinized rice malt" rather than human saliva.
McGovern and Calagione are not alone in exploring suds scientifically. "There is a broad interest in experimental and innovative styles of beer in the U.S. today," Julia Herz, craft beer program director at the Brewers Association, a trade group for independent producers, tells Newsweek. "In addition to that, historic beer styles are also being resurrected, with New World producers paying attention to what the Old World producers used to make."
Last summer, for example, the Cleveland-based Great Lakes Brewing Co. teamed up with archaeologists from the University of Chicago to re-create a Sumerian brew, malting barley on top of the brewhouse "in keeping with the archaeological evidence" recovered from excavated pottery, according to The New York Times.
Other enthusiasts, like Rachel Meyer and Selena Ahmed, find inspiration in the natural sciences. Meyer and Ahmed are highly trained lab and field botanists who started the Shoots and Roots Bitters company, which makes craft bitters using production techniques learned in their scientific day jobs.
On the Saturday evening following the beer workshop, the two women led a class in a lab room where the tables are topped with plastic tubes and pungent piles of powdered herbs and spices, from cardamom to ginger to green peppercorn.
"I'm here because I wanted to take my research on plants and communicate that to as many people as possible in the funest way possible," Meyer begins.
"Booze!" an audience member blurts.
Meyer's goal was to help nonscientists appreciate plant biodiversity through bitters, a bitter or bittersweet liquor containing plant extracts. "The Danube," for example, is a Shoots and Roots Bitters elixir featuring black currant, celery and paprika. It's "an ode to phytonutrients," Ahmed says. "All of these plants have a high amount of antioxidants and anti-inflammatory compounds."
"It's very medicinal, as it's expected to be," Meyer says, alluding to bitters' origin, which McGovern says was more than 2,000 years ago, as a disease-fighting tonic in the days before modern medicine.
When the time comes for attendees to make their own bitters, Meyer and Ahmed instruct them to add whatever they wish from the tabletop plant parts to their 50-milliliter plastic tubes—so long as their mix doesn't exceed 10 milliliters. Once they finish, a volunteer pours 40 milliliters of vodka into their tubes. The containers are then placed in an ultrasonic liquid processor—a machine that basically uses sound waves to dissolve particles in liquid—for several moments so that the plant chemicals diffuse through the alcohol. This is the standard Shoots and Roots technique, and one more often used in laboratories than kitchens.
After ultrasonic liquid processing, participants then pour the tea-colored liquid through a funnel into a glass medicine jar, yielding a pungent, finished product.
While data aren't available specifically for spirits distilled with science in mind, industry insiders say drinkers are making infused botanicals a priority in their beverages, especially bitters.
Bill Owens, founder and president of the American Distilling Institute, an industry trade group, tells Newsweek there weren't any indie bitters companies operating in the U.S. five years ago in his database. Today, however, there are between 20 and 30.
"It's a very hot category" of alcohol, he says.
Owens says there has been so much interest in infusing liquor that the institute offered a workshop on the technique at the organization's last conference, in April. The workshop was so packed that Owens could have offered another class section, he says.
For McGovern, this type of attention on craft brewing and distilling reflects not just a demand for better beverages. Rather, he sees this as a fundamental shift in the mindset of diners and drinkers away from mere consumption and toward conscientious consumption.
"It just broadens the whole notion of what it is to eat and drink. It's just a revolution at many different levels," McGovern says of these developments in the spirits world. "Humans want to experience whatever they can."