The Science and Data Behind COVID-19 Booster Shots Explained
Federal health officials have announced that vaccinated Americans will need COVID-19 booster shots less than a year after receiving their initial immunizations against the virus.
Originally, some officials had repeatedly said that booster shots would not be needed for the time being, but on Wednesday, the U.S. Department of Human and Health Services said it was prepared to begin offering booster shots to everyone beginning September 20.
The agency pointed to growing scientific evidence that has suggested that vaccine efficacy against infection may decrease overtime.
During a Wednesday press briefing, Dr. Rochelle Walensky, director the Centers of Disease Control and Prevention cited two studies—one completed in New York and another from the Mayo clinic.
In the New York study, researchers examined COVID-19 tests and linked the results to individuals' vaccination status based on state data. They found that across more than 10 million New Yorkers of all ages, vaccine effectiveness declined from 92 percent to 80 percent among those who received one of the two available mRNA vaccines, Pfizer and Moderna.
Similar results were found in the Mayo Clinic analysis. The study found that effectiveness against infection fell from 76 percent to 42 percent among those who received the Pfizer vaccine and from 86 percent to 76 percent among those who received the Moderna vaccine.
Although both studies indicated the vaccines are highly effective at protecting people from severe illness and hospitalization, Walensky noted that they showed evidence of waning immunity.
International reports from Israel have also suggested there has been an increased risk of severe disease among those who were vaccinated earlier.
"We are watching the experience of other countries carefully in concern that we, too, will see what Israel is seeing, which is worsening infections over time," Walensky said on Wednesday.
"Given this body of evidence, we are concerned that the current strong protection against severe infection, hospitalization and death could decrease in the months ahead, especially among those who are at higher risk, or who were vaccinated earlier during the phases of our vaccination rollout," she concluded.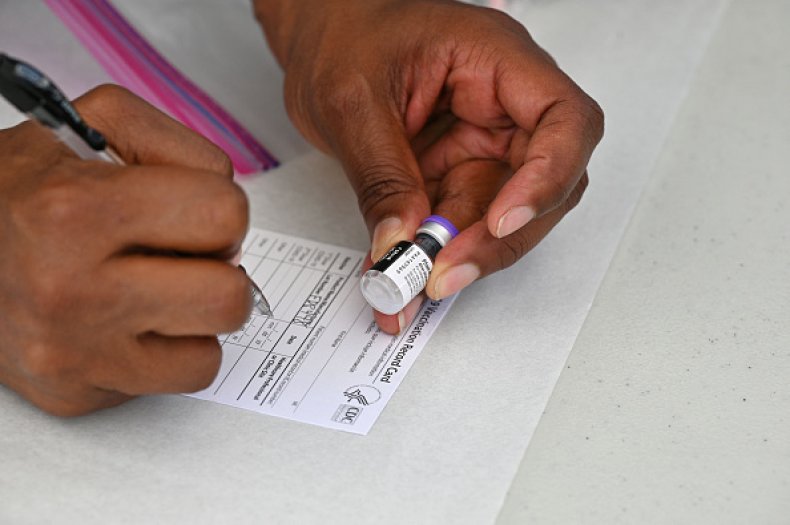 It was not only data that indicated declining levels of efficacy that have led public health officials to recommend booster shots, but also studies which have suggested booster shots could provide "dramatic" levels of protection.
During the briefing, Dr. Anthony Fauci, the director of the National Institutes of Health, pointed to studies that showed third shots of the Pfizer and Moderna vaccine boosted levels of antibodies that fight COVID-19 10-fold, which he called "remarkable."
"High levels of antibodies may be required to protect against Delta, and as I showed you on this former slide, a booster mRNA immunization increases antibody titers by multiple folds" Fauci said.
Walensky said the decision on booster shots was made in an effort to "stay ahed of the virus" and plan for greater protection as more data suggests decreasing vaccine efficacy.
"We are starting to see waning immunity, with regard to symptomatic infection, not severe infection but symptomatic infection," she said.
She added, "In the context of all these studies, different cohorts, different settings across the country and our international colleagues, we've made the decision to plan for these booster doses."
Officials are recommending that vaccinated people get their booster shots eight months after receiving their second dose of an mRNA vaccine, noting that it is at the six-month mark where increases in mild and moderate infection pop up among vaccinated people.