'Science Is Not Burger King': Madison Cawthorn Tries Defining What Woman Is
Representative Madison Cawthorn took to the House floor Monday to deliver his definition of what a woman is. In an 80-second speech, the North Carolina Republican accused his liberal colleagues of waging a "war on biology."
"You might amend a bill, but you will never amend biology. Science is not Burger King. You can't just have it your way," he said.
His remarks came as the Senate Judiciary Committee is considering the Supreme Court nomination of Judge Ketanji Brown Jackson. Jackson was asked during her recent confirmation hearings by Republican Senator Marsha Blackburn to provide a definition for the word woman. "Can I provide a definition?" Jackson replied. "I can't.... Not in this context. I'm not a biologist."
Blackburn's questioning hit on the current hot-button issue of gender politics. Conservative leaders have recently railed against the NCAA over its stance on transgender athletes after swimmer Lia Thomas dominated the competition this year. And Florida Governor Ron DeSantis just signed controversial legislation, which critics call the "Don't Say Gay" bill, that would prohibit certain instruction on sexual orientation and gender identity in kindergarten through at least third grade.
On Monday, Cawthorn offered his thoughts on the subject.
"I never imagined that one of my sacred duties in this hallowed chamber would be explaining to the House speaker the difference between a man and a woman," he said. "Take notes, Madame Speaker, I'm about to define what a woman is for you: XX chromosomes, no tallywhacker. It's so simple."
The comments were quickly seized on by Katie Dean, a Democrat running against Cawthorn this November.
"Today, Madison Cawthorn said that the definition of a woman includes the term 'no tallywhacker' and that 'science is not Burger King.' If Congress won't expel him, I will defeat him," Dean wrote on Twitter.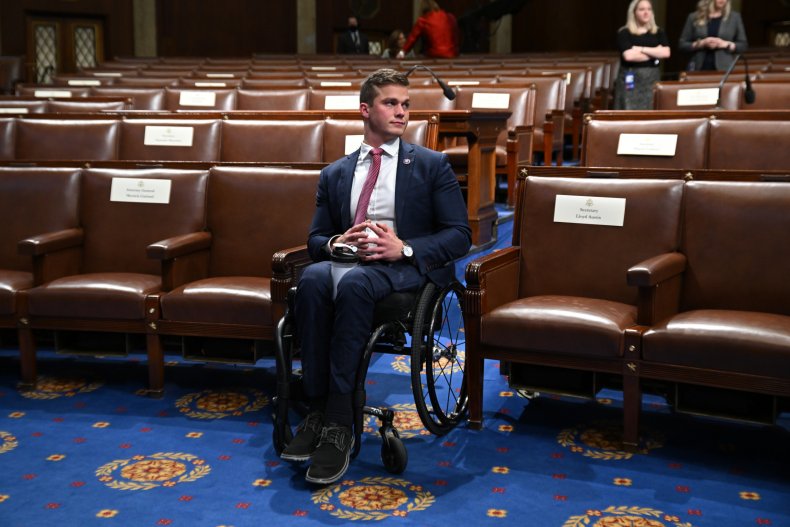 Cawthorn was recently criticized by leaders of his party after he claimed to have been invited by his GOP colleagues in Washington, D.C., to do cocaine and participate in orgies.
House Minority Leader Kevin McCarthy publicly said Cawthorn had lost his trust because of the remarks, which was a stronger condemnation than he had for GOP Representative Marjorie Taylor Greene after she attended a white nationalist event.
"My comments on a recent podcast appearance calling out corruption have been used by the left and the media to disparage my Republican colleagues and falsely insinuate their involvement in illicit activities," Cawthorn later said in a statement.
Newsweek reached out to Pelosi's office for comment on Cawthorn's floor speech but did not hear back before publication.