Eerie Prediction About Turkey Earthquake Goes Viral
A self-described researcher's prediction has gone viral after a devastating 7.8 magnitude earthquake hit southern Turkey and northern Syria early on Monday.
"Sooner or later there will be a ~M 7.5 #earthquake in this region (South-Central Turkey, Jordan, Syria, Lebanon)," Frank Hoogerbeets wrote on Twitter on Friday.
In the aftermath of the quake, his tweet has gone viral, amassing more than 23 million views and 25,000 retweets. One user noted that Hoogerbeets had "accurately predicted the exact area and almost the exact magnitude" of the temblor.
Hoogerbeets' Twitter bio says he is a researcher with the Solar System Geometry Survey, which on its website describes itself as a research institute "for monitoring geometry between celestial bodies related to seismic activity."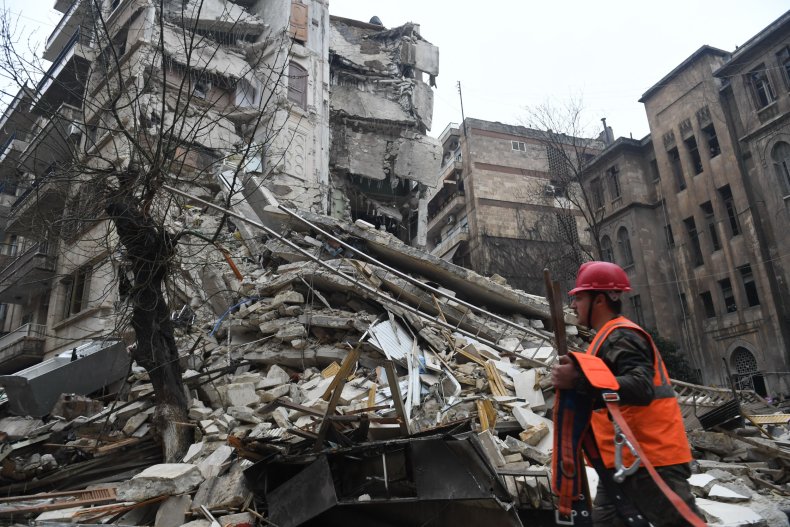 He does not have a science degree, but is an enthusiast, he told FOX40 in 2015, while making a prediction about a major earthquake in California that did not come true.
The U.S. Geological Survey (USGS) says there is no way to predict the time and date of an earthquake. According to the USGS website, neither the USGS nor any other scientists have ever predicted a major earthquake.
"Earthquakes are not a predictable phenomenon. No one can accurately predict the location, magnitude, and timing of an earthquake," William Barnhart, assistant coordinator of the USGS Earthquake Hazards Program, told Newsweek.
"Statements on social media that an earthquake would happen in the effected region of Turkey were timely given that they were coincidentally made prior to a large earthquake sequence, and the statements were accurate in suggesting that a large earthquake could happen in this region someday because this is a seismically active region with known hazard for large, damaging earthquakes."
Barnhart added that there is "no currently accepted scientific merit to the suggestion that earthquakes occur in response to planetary alignments or other solar system phenomenon."
Hoogerbeets tweeted on Monday: "My heart goes out to everyone affected by the major earthquake in Central Turkey. As I stated earlier, sooner or later this would happen in this region, similar to the years 115 and 526. These earthquakes are always preceded by critical planetary geometry, as we had on 4-5 Feb."
Monday's quake struck at a depth of 11 miles near the city of Gaziantep in southern Turkey, toppling buildings in an area extending from the Syrian cities of Aleppo and Hama to Turkey's Diyarbakir.
Dozens of aftershocks continued to rock the region, which sits on top of major fault lines and is frequently shaken by earthquakes.
More than 1,400 people have been killed, but hundreds more were still believed to be trapped under rubble, and the toll is expected to rise as rescue workers search mounds of wreckage in cities and towns.
Posts on social media highlighted the devastation, including images showing that Gaziantep Castle, a fortress dating back to the Roman Empire, had been leveled by the earthquake.
Update 2/6/23, 7:40 a.m. ET: This article has been updated with additional information throughout.
Update 2/6/23, 9:50 a.m. ET: This article has been updated with comments from William Barnhart.