Scientist Behind Sweden's Coronavirus Strategy Says Lockdown 'Obviously' Would Have Reduced Death Toll in the Short Term
Novel coronavirus cases continue to soar in Sweden, which now has more than 28,500 cases, including more than 3,500 deaths, as of Friday, according to the latest figures from Johns Hopkins University.
Despite the country's high number of deaths per capita, compared with other countries in the Scandinavian region where lockdowns have been imposed, the chief epidemiologist of the Public Health Agency of Sweden, Dr. Anders Tegnell, who has been leading the country's COVID-19 response, has defended Sweden's controversial decision not to impose a lockdown.
Speaking to Newsweek, Tegnell admitted that a lockdown would have helped reduce the number of cases and deaths in Sweden in the short term, but said the decision might pay dividends in the long run. "Obviously yes, it would have helped in the short term. But for the long term, we don't know," he said.
But the country isn't likely to introduce a lockdown any time soon. "We are looking at what we will do in the summer. And we will give advice on how people need to adapt at the end of this month," Tegnell told Newsweek.
Could this mean stricter measures may potentially be introduced? "No, not necessarily. It depends on the development of the epidemic in Sweden. They might be stricter in some ways and loosen up in other ways. But it needs to be adapted looking at people going on holiday and traveling," he said.
Instead of a lockdown, Sweden aimed to develop "herd immunity," hoping that an increased number of people exposed to the virus will help to prevent a second wave of infections.
Towards the end of last month, Tegnell claimed up to 20 percent of residents in Stockholm, the capital of Sweden, have been infected with the virus, noting "We believe that we have an immunity level, if I remember rightly, somewhere between 15-20 percent of the population in Stockholm.
"This is not complete herd immunity but it will definitely affect the reproduction rate and slow down the spread (of a second wave)," he told CNBC at the time.
But earlier this month, he admitted the country's death toll was a "horrifying" number, having reached just under 3,000 at the time.
A number of scientists and academics in Sweden have spoken out against the government's lax response to the pandemic.
The country's death toll is far greater than that of its Scandinavian neighbors including Denmark (537 deaths), Finland (293 deaths) and Norway (232 deaths), as of Friday, according to the latest from Johns Hopkins University.
Speaking to Newsweek, Marcus Carlsson, a mathematician and senior lecturer at Lund University who has been closely following the outbreak, said: "Five times more people (and counting) have died per capita in Sweden than in surrounding countries including Denmark, Norway and Finland. So if we [Sweden] had done a lockdown, four out of five people would have been saved, which amounts to around 2,400 people at the moment."
"They [the public health agency] jeopardized the Swedish population to a large extent and no one can say that this [anti-lockdown] strategy went well," Carlsson added, who recently launched a Facebook page and YouTube channel created by a number of researchers and medical doctors in Sweden with the aim of spreading knowledge about all aspects of the COVID19 pandemic.
Even though Sweden did very little to stop the outbreak, with many hospital workers reportedly working without appropriate protective equipment, the death toll did not reach the worst-case scenario of 50,000 deaths some projection models predicted.
"But make no mistake, this conclusion is Sweden specific and is not to say that if Great Britain had done less, the same amount would have died. This gives a very dangerous message to other countries," potentially suggesting that they should "copy our model," which is risking lives on a global level, Carlsson warned.
Speaking to Newsweek, Dr. Christopher Plumberg, a theoretical physicist at Lund University, said: "It is now unfortunately far too late to achieve an equal effect if Sweden were to implement a strict lockdown today as opposed to doing it a month or two ago."
"Additionally, there is a recent report suggesting only 7.5 percent of Stockholm residents have developed antibodies as of late April, despite it being Sweden's coronavirus epicenter. This is a far cry from the 60 percent that is reportedly required to achieve herd immunity, and stands in stark contrast to Anders Tegnell's estimation in late April that herd immunity could be reached in Stockholm in only a matter of weeks," he added.
Another major oversight in the country's COVID-19 response has been the impact of the asymptomatic spread of the virus. For some time, the country has worked under the assumption that there were few to no asymptomatic cases in the country.
The lack of testing has contributed to this oversight on asymptomatic spread in Sweden. When asked whether enough testing is being done in the country, Tegnell told Newsweek: "I'm well aware there are asymptomatic cases...how common they are and how important they are to the disease, nobody knows."
Speaking to Newsweek, Dr. Anders Jansson, Senior Consultant MD at the Department of Clinical Physiology at Danderyd Hospital in Stockholm, said: "There are several reports stating that asymptomatic and/or pre-symptomatic spread (spread from people that have not yet developed symptoms but later will) is of great importance for the pandemic spread. Estimates vary between different countries probably due to how closely the symptomatic spread has been controlled. In countries with relatively good control of symptomatic spread, asymptomatic/pre-symptomatic spread has been estimated to be responsible for more than 40 percent of COVID cases."
"Even before there was local spread in Sweden there were reports of it actually occurring. Dr. Tegnell, on the other hand, assured the Swedish public that such spread was of no importance to the spread of the epidemic and based his strategy completely on that false assumption. We never quarantined any of the people returning from the Italian Alps [which were among the first cases in the country]," Jansson said.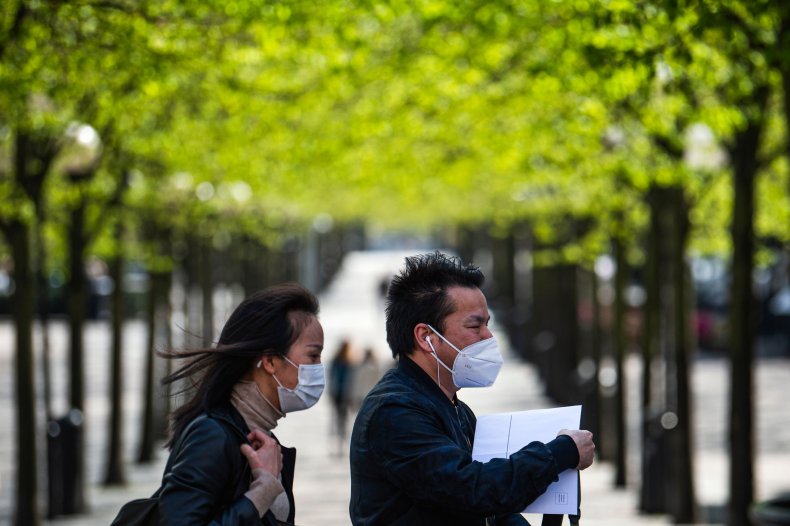 However, people returning from high risk areas (as long as they did not develop symptoms), "were told to go straight back to work even if they worked in an elderly care home, an ICU [intensive care unit] department or a hematology department where their patients are at an extremely high risk of dying if they are infected. There was no advice given not to visit older relatives," Jansson told Newsweek.
Nearly 90 percent of the current death toll is among the elderly population. At least 3,109 deaths have been reported among those aged 70 and above, according to the latest figures from the Public Health Agency of Sweden.
However, the country claims to have seen much improvement in recent weeks, with "a slow fall in the number of cases in elderly homes, because they have taken a lot of precautionary measures in elderly homes, which is obviously something we were expecting to be happening all the time," Tegnell told Newsweek.
"There has been a progression because we have worked really hard with the elderly long term facilities in improving the hygiene procedures in them. And that seems to have had an effect already with the falling number of cases and deaths in those facilities," he said.
However Jansson notes: "What is even more astonishing is that there is still not any advice against exposed people going to work in health care or elderly care...there is not even any advice to wear any protective gear in that situation either, not even a face mask," Jansson told Newsweek.
Back in March, more than 2,000 advanced researchers and academics, including Carlsson and Plumberg, signed an open letter urging the government to implement stronger measures in response to the outbreak.
The novel coronavirus, which was first detected in Wuhan, China, has infected more than 4.4 million people across the globe. More than 303,300 have died, while over 1.6 million have reportedly recovered from infection, as of Friday, according to the latest figures from Johns Hopkins University.
The graphic below, provided by Statista, illustrates countries with the most confirmed COVID-19 cases.