Democrats Introduce Bill Protecting Scientists' Research From Trump-Era Political Interference
Democrats in the Senate and House introduced legislation to protect scientists from political bias and special interests, particularly amid allegations against the Trump administration of attacks on the research community.
Senator Brian Schatz of Hawaii and New York Representative Paul Tonko, both Democrats, introduced legislation Wednesday to "establish scientific integrity policies" in federal agencies that conduct and oversee scientific research that influences U.S. health and science policies. The goal of the Scientific Integrity Act, according to the bill's sponsors, is to ensure Americans trust the science behind public policy decisions, and to address what they see as recent Trump-led distortions of scientific research on topics such as climate change and reproductive health.
In emailed responses to Newsweek Thursday, Schatz expressed concern over reports Trump will create a White House panel attempting to undermine government research on the climate. "And the person he will choose to lead this panel is the same man who compared climate science to Nazi propaganda."
In a statement released Wednesday, Schatz and Tonko said this legislation has been a "longstanding concern that has taken on newfound urgency under President Trump." The lawmakers cite Trump for "burying reports on public health risks" over the past two years, but reiterated in statements to Newsweek the legislation is also intended to keep scientific research independent of any and all future administrations "regardless of who is in the White House."
"This may not be the first time science has been under attack in the United States—climate denial has been alive and well for some time now—but from a historical perspective, we are in one of the worst moments, if not the worst moment, for science," Schatz told Newsweek Thursday afternoon in an email. Particularly government science. Our bill is one of many ways that we can answer the call of our times and stand up for science. As Thomas Jefferson put it, information is the currency of democracy. And government science is some of the most important information we can have in times like these."
"[W]e know the Trump Administration has taken direct steps to block, distort or obscure federal science reports—they even reportedly banned scientists at CDC from using the terms "evidence-based" or "science-based" in their budget documents last year! Science simply shouldn't be politicized regardless of party," congressman Tonko added in a statement to Newsweek.
The bill would require all federal agencies where research dictates policy, such as the Centers for Disease Control and Prevention, to establish a Scientific Integrity Officer and prevent "dishonesty, fraud, deceit, misrepresentation, coercive manipulation" that alters scientific research. Perhaps most importantly, the bill would "affirm that science dictates policy and that scientific research should be free from the pressure of politics, ideology, or financial influence."
The legislation aims to prevent lobbying groups and special interests—either on behalf of politicians or market forces—from "intimidating, coercing or retaliating" against federal employees involved in scientific research tied to policy-making.
Trump once again made clear his climate-change skepticism when he recently shared a statement from Peter Moore—who is formerly of Green Peace, though the organization has distanced itself from him for decades—proclaiming on Fox News that the climate crisis is "not only fake news, it's fake science."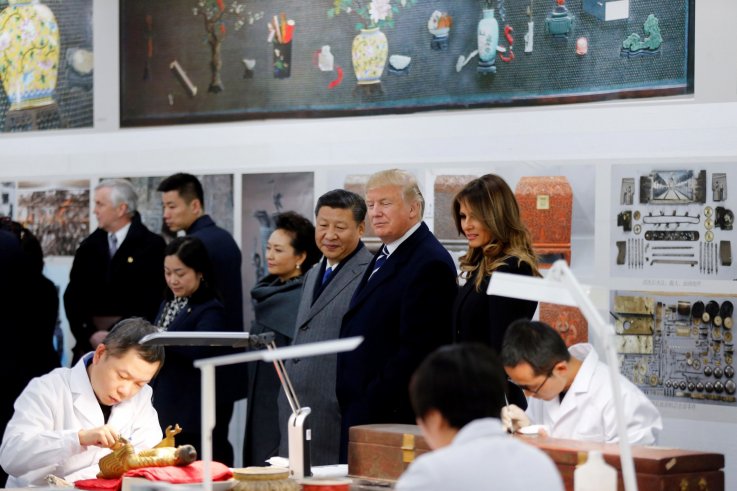 "Independent, rigorous scientific research is one of the most powerful tools we have for advancing the public interest and keeping the American people safe," said Tonko, in a statement issued Wednesday. "President Trump's multiagency assault on environmental standards has hinged on efforts to distort, bury and even rewrite credible public scientific findings, including his absurd denial of the growing climate crisis and efforts to cover up evidence that the American people are being exposed to dangerous toxins. Protecting the integrity of that science is one of the most important ways we can hold this President and his administration accountable. Distorting or suppressing public science undermines our ability to protect the health and safety of the American people."
The bill also addresses the academic peer-review process of publishing research and prevents conflicts of interest in professional organizations or boards that could influence or repress certain studies.
The bill notes that nothing in the bill would have any effect on copyright law.
"These are challenging and unprecedented times for science. And while it's not the first time it has been under attack, this time feels worse. That's why we need to answer the call of our times and stand up for science," Schatz said in a Wednesday statement. "Our bill would protect government science from political interference. It would make data and findings off-limits for political appointees and managers, and make sure scientists follow careful processes for review."
This article has been updated to include comments from Senator Brian Schatz of Hawaii.
Democrats Introduce Bill Protecting Scientists' Research From Trump-Era Political Interference | Tech & Science