Scientists, activists and religious leaders ranging from Pope Francis to filmmaker Spike Lee are highlighting lockdown reductions in air pollution and nature "coming alive" as part of a larger call to permanently change industrial and economic behavior after COVID-19.
Pope Francis said last week that the deadly worldwide coronavirus pandemic is one of "nature's responses" to humans' mistreatment of Planet Earth, telling a Catholic U.K. publication that "God always forgives, but Nature never forgives." This sentiment was echoed by environmental researchers, politicians and activists who are urging world leaders to permanently reduce carbon emissions, air pollution and fossil fuel burning in order to "flatten the curve" of climate change. COVID-19, which has caused the deaths of more than 107,000 people worldwide, has placed much of the industrialized world into lockdown, simultaneously clearing up blue skies in India and improving air quality in the northeastern United States as it wreaks havoc on global health care systems.
"The blissful sight of blue skies and the joy of breathing clean air provides just the contrast to illustrate what we are doing to ourselves the rest of the time," Dr. Shashi Tharoor told The Guardian Saturday.
Evidence of smog lifting in New Delhi, pandas finally mating in China, and air pollution dropping above New York, New Jersey and Maryland have circulated news reports globally, but climate researchers and scientists warn there must be permanent reductions in pollution, transportation and industry to continue these changes post-pandemic.
NASA satellite data showed a 30 percent drop in nitrogen dioxide above the northeastern U.S., as tens of millions of vehicles were kept off the roads and fossil fuels typically burned for transportation purposes were largely halted. In the northern region of India, a country which placed its 1.4 billion people on lockdown and kept New Delhi's 11 million registered vehicles off the roads, Air Quality Index levels improved to their best in decades.
A pair of separate studies published in the online scientific journal Nature this month on rebuilding damaged ocean ecosystems and global warming, respectively, saw researchers seeking to "flatten the curve" of climate change similar to the reversal sought in stemming new COVID-19 cases.
"Our research shows that rapid action to reduce greenhouse gas emissions this decade will effectively flatten the curve of species at risk. Similar to the COVID-19 pandemic, early action to limit the risk pays off in a big way. It does not eliminate all risk from climate change, but reduces the number of species and ecosystems exposed by a massive amount," study co-author Christopher Trisos, of the University of Cape Town told The Guardian last week.
Former Vice President Al Gore, who founded The Climate Reality Project, told HBO host Bill Maher Friday there is a clear connection between COVID-19 and climate change, saying both have served as a wake-up call that government leaders can't simply dismiss dire warnings from scientists. American filmmaker Spike Lee echoed the thoughts of Pope Francis, telling SiriusXM's The Joe Madison Show Friday that the coronavirus lockdown is "changing everything."
"But you know why, the reason -- how pollution is clearing up. Skies are clear. Animals are coming out. I mean you know, the Earth was angry at us. People may think I'm crazy that I believe it in my heart and soul. That we had gone too far and Earth said, 'Hold up, we gotta change this.' We were killing this planet," Lee said.
Sunita Narain, director of the Center for Science Environment and a vocal critic of New Delhi's car pollution issues said there needs to be an "all the time" change in transit behavior. "I don't want people to say 'Oh, environmentalists are celebrating this lockdown:' we are not. This is not the solution. But whatever the new normal is post-COVID-19, we have to make sure we take this breath of fresh air and think about the serious efforts we need to deal with pollution in Delhi."
Professor Katharine Hayhoe, a climate scientist, posted a widely shared Twitter thread last month addressing how data showing drops in monthly or even annual reductions in CO2 emissions means little in comparison to the "cumulative" damage done to the atmosphere and environment.
"As the pandemic passes, carbon emissions will most likely bounce right back up again, and possibly then some, as industry does its best to make up for lost productivity, income, and wages. So any slowdown is temporary at best," she concluded.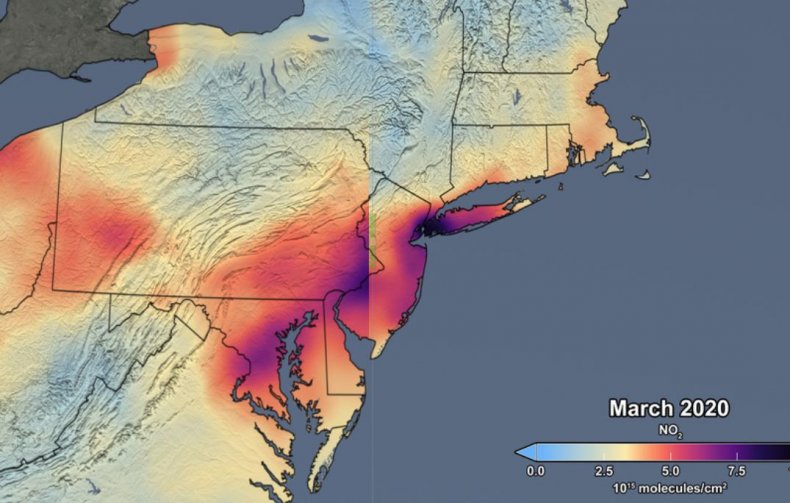 Microsoft founder and philanthropist Bill Gates said during a Ted Talk at the end of March that he sees hope in the international scientific community and private sector businesses working together to solve both the climate and coronavirus crises. "That idea of innovation and science and the world working together — that is totally common between these two problems, and so I don't think this has to be a huge setback for climate. In the science side and data sharing side, you see this great cooperation going on."