Experimental Drug Vistusertib Could Shrinks Tumors in 50% of Ovarian Cancer Patients, Study Suggests
Scientists say they have created a new drug that can attack ovarian and lung cancers in patients for whom other treatments have failed.
The U.K.-based researchers used a new drug along with chemotherapy medication known as paclitaxel on 25 women with high-grade, serous ovarian cancer, and 40 participants with squamous non-small cell lung cancer. The cancers had spread across the bodies of each participant, who did not respond to standard treatment.
Over half of patients with ovarian cancer and over a third with lung cancer saw their tumors shrink, according to the study, which was published in the Annals of Oncology.
The cocktail also stopped the cancer growing for almost six months, which is unexpected for patients with advanced-stage cancers who were unresponsive to currently available treatments, including chemotherapy, the authors said.
Read more: Most common childhood cancer is likely caused by lack of exposure to infections, major study finds
The research was led by scientists at The Institute of Cancer Research (ICR) and The Royal Marsden NHS Foundation Trust, as well as teams in nine institutions across the U.K.
It built on previous research by the ICR that showed ovarian cancer cells resistant to treatment generally have higher levels of a molecule called p-S6K, which aids the growth of the disease. The scientists hypothesized the cancer could use this molecule to render chemotherapy ineffective.
Vistusertib attacks proteins called mTOR1 and 2, which turn on the p-S6K protein. Combined with paclitaxel chemotherapy, the scientists were able to block cancer cells from harnessing p-S6K. That is why the patients' tumors shrunk, the study suggests.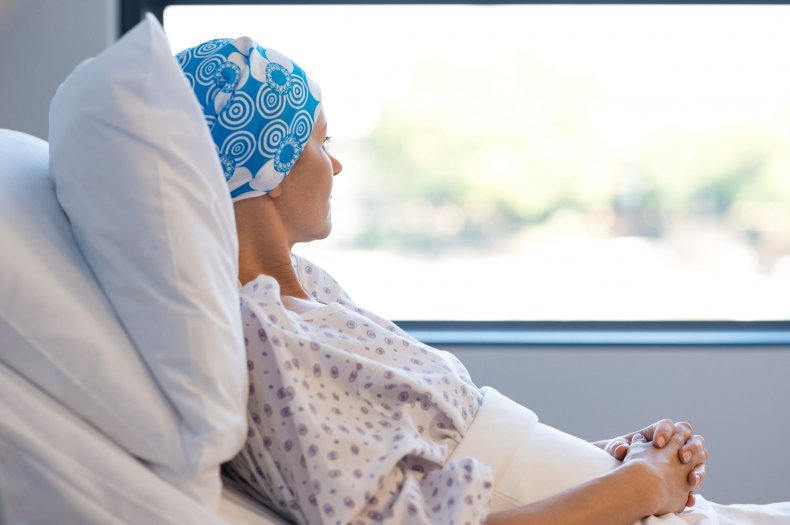 Dr. Susana Banerjee, consultant medical oncologist at The Royal Marsden NHS Foundation Trust and team leader in gynecological cancers at ICR, who is leading the phase II trial, commented in a statement: "Effective treatment options for women with relapsed ovarian cancer are limited, so these results are very encouraging.
Commenting on the next stage of the research, she said: "In the larger phase II trial we've recruited 140 women with relapsed ovarian cancer across the U.K. to standard chemotherapy (paclitaxel) or paclitaxel in combination with vistusertib. We need to wait for these results, expected later this year, to see how effective this approach is compared to chemotherapy alone."
Professor Udai Banerji​, author of the study and deputy director of the Drug Development Unit at The ICR and Royal Marsden, acknowledged in an interview with Newsweek the cohort of patients was small, "however anything more than 20 patients usually gives one a rough idea [of the effectiveness of a treatment]."
Dr. Dean A. Fennell, professor and consultant in thoracic medical oncology at the University of Leicester, who was not involved in the study, told Newsweek the study presents an "exciting result."
He was particularly surprised by the magnitude of the response triggered by vistusertib combined with paclitaxel, which is closely related to standard chemotherapy.
However, Fennell said the study tripped up in that there was no predictive link between mutations and response to treatment. "In other words, there was no sign of who might benefit the most with treatment," he explained.
He continued: "This combination of vistusertib and paclitaxel appears promising in lung cancer. Confirmatory studies will be essential and if positive would broaden our armamentarium for fighting this cancer."
This article has been updated with comment from Professor Udai Banerji​.