Scientists Want to Know How Much You're Really Drinking During Coronavrius Lockdown
Scientists have launched a global survey to find out exactly how much people are drinking, following reports that both the sale of alcohol has risen during the coronavirus pandemic.
The purpose of the study is to give a snapshot of consumers' drinking habits before and during lockdown. Volunteers are being asked to complete weekly questionnaires documenting their experience in isolation, including stress and boredom levels, as well as a survey tracking their alcohol intake.
"It is unprecedented to have so many millions of people across the world effectively locked away from their jobs, friends, and families," Dr. Matt Parker, Senior Lecturer in Neuroscience at the University of Portsmouth in the U.K., said in a statement. "How people cope with this is varied, but there is a lot of anecdotal evidence of people responding by drinking more alcohol worldwide."
In the U.S. alone, alcohol sales jumped 55 percent in the week ending March 21 as states including New York and California introduced stay-at-home orders to curb the spread of COVID-19.
According to data from the market research company Nielsen, sales of spirits were up 75 percent, beer 66 percent, and wine 42 percent on the same dates in 2019.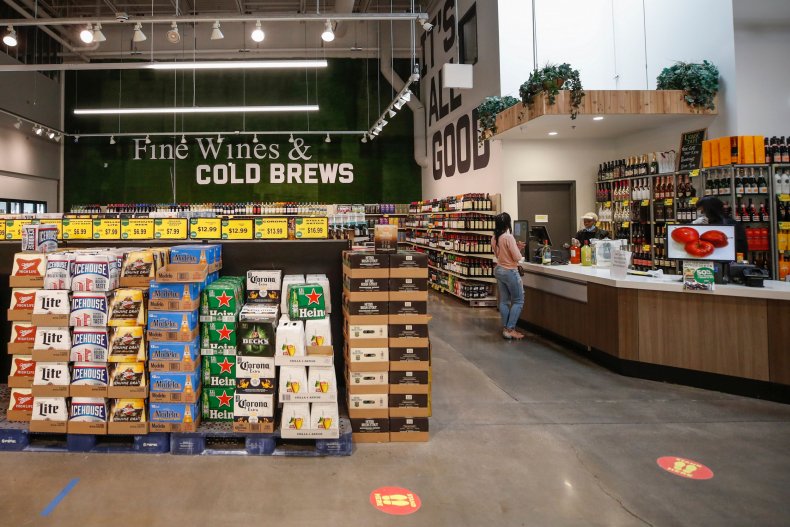 Researchers at the University of Portsmouth say a surge in alcohol consumption driven by stress and boredom during the pandemic could cause a second health crisis.
Dr. Parker explained the public health effects of long-term isolation and alcohol use is unknown. However, alcohol misuse has been linked to a number of health conditions and is one of the leading causes of preventable mortality, accounting for around 3 million deaths a year.
According to the U.S. Centers for Disease Control and Prevention (CDC), heavy drinking is associated with an increased risk of liver disease, heart disease, stroke and depression, among other things. Even light drinking has been linked to cancer and all-cause mortality.
"Drinking alcohol generally in terms of our health is ok if it is done in moderation," Parker said in an interview with the BBC. " In fact, drinking some beers and wines—ones that are high in polyphenols and antioxidants—can actually be quite good for our immune system.
"The problem is if people overindulge in alcohol, this can have negative effects on our immune system but also our mental and other types of physical health."
Stress, he explained, is a strong catalyst for hazardous drinking. Studies have shown that people with longer working hours are more likely to turn to alcohol, for example. There is also evidence that alcohol consumption may impair our response to stress and increase levels of stress hormones.
"This period of isolation might lead to a spike in alcohol misuse and potentially, development of addiction in at-risk individuals or relapse in recovered addicted patients, therefore placing further strain on drug and alcohol services, and the health service in general, during and after the pandemic," said Parker.
While the incentive to drink may be heightened amid a pandemic, experts advise people minimize their intake of alcohol to reduce their vulnerability to the disease. This month the World Health Organization (WHO) released a statement urging governments to restrict alcohol consumption.
According to the WHO: "Alcohol consumption is associated with a range of communicable and noncommunicable diseases and mental health disorders, which can make a person more vulnerable to COVID-19.
"In particular, alcohol compromises the body's immune system and increases the risk of adverse health outcomes. Therefore, people should minimize their alcohol consumption at any time, and particularly during the COVID-19 pandemic."
Parker and colleagues say they have had around 350 people respond to their survey and hope more will volunteer. To complete, participants must be of legal drinking age and not teetotalers.
The below infographic from Statista shows the number of confirmed cases of COVID-19 in the U.S. as of April 16, 2020 at 6 a.m. EST.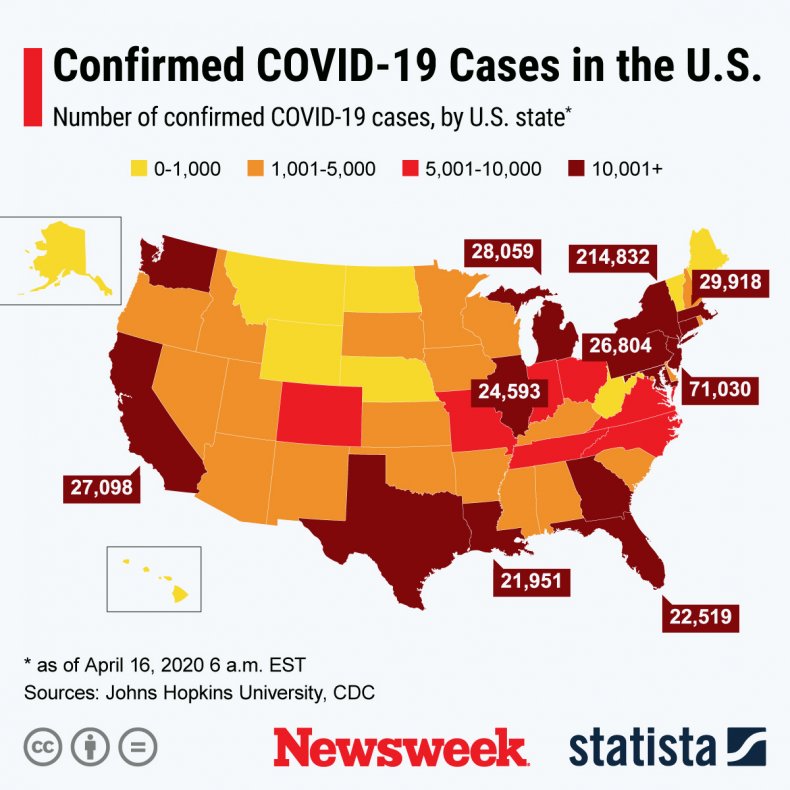 Centers for Disease Control and Prevention Advice on Using Face Coverings to Slow Spread of COVID-19
CDC recommends wearing a cloth face covering in public where social distancing measures are difficult to maintain.
A simple cloth face covering can help slow the spread of the virus by those infected and by those who do not exhibit symptoms.
Cloth face coverings can be fashioned from household items. Guides are offered by the CDC. (https://www.cdc.gov/coronavirus/2019-ncov/prevent-getting-sick/diy-cloth-face-coverings.html)
Cloth face coverings should be washed regularly. A washing machine will suffice.
Practice safe removal of face coverings by not touching eyes, nose, and mouth, and wash hands immediately after removing the covering.
World Health Organization advice for avoiding spread of coronavirus disease (COVID-19)
Hygiene advice
Clean hands frequently with soap and water, or alcohol-based hand rub.
Wash hands after coughing or sneezing; when caring for the sick; before, during and after food preparation; before eating; after using the toilet; when hands are visibly dirty; and after handling animals or waste.
Maintain at least 1 meter (3 feet) distance from anyone who is coughing or sneezing.
Avoid touching your hands, nose and mouth. Do not spit in public.
Cover your mouth and nose with a tissue or bent elbow when coughing or sneezing. Discard the tissue immediately and clean your hands.
Medical advice
Avoid close contact with others if you have any symptoms.
Stay at home if you feel unwell, even with mild symptoms such as headache and runny nose, to avoid potential spread of the disease to medical facilities and other people.
If you develop serious symptoms (fever, cough, difficulty breathing) seek medical care early and contact local health authorities in advance.
Note any recent contact with others and travel details to provide to authorities who can trace and prevent spread of the disease.
Stay up to date on COVID-19 developments issued by health authorities and follow their guidance.
Mask and glove usage
Healthy individuals only need to wear a mask if taking care of a sick person.
Wear a mask if you are coughing or sneezing.
Masks are effective when used in combination with frequent hand cleaning.
Do not touch the mask while wearing it. Clean hands if you touch the mask.
Learn how to properly put on, remove and dispose of masks. Clean hands after disposing of the mask.
Do not reuse single-use masks.
Regularly washing bare hands is more effective against catching COVID-19 than wearing rubber gloves.
The COVID-19 virus can still be picked up on rubber gloves and transmitted by touching your face.