Scientists Have Been 'Abysmal' With COVID Forecasts, British Official Says
Sir Iain Duncan Smith, or IDS as he is so often referred to, has spent 28 years in Britain's Parliament. In that time, he's served as Conservative Party leader, been a vocal campaigner for Brexit and was the architect of the controversial Universal Credit scheme, a social security payment in the U.K. that critics have slammed for driving thousands of low-income families into poverty and one which millions have come to rely on during the pandemic.
In an exclusive interview with Newsweek International, he talks about his criticism of the scientists advising the U.K government over the COVID-19 pandemic, his belief that the West has underestimated the threat posed by a "bullying China", his defense of changes to Britain's welfare state, his time as party leader and his criticism of some government policies aimed at stopping the spread of the virus.
"There is no government in the free world that hasn't been challenged by this and hasn't had to make decisions which people disagree about," Sir Iain says about the U.K. government's handling of COVID-19. "If there's is a country that has perfectly handled it, I'd like to know which one it is."
As the U.K. is hit by a second wave of the virus, he is urging caution and balance, rather than a knee jerk reaction leading to wholesale restrictions on people's freedoms. In a bid to stop the spread of the virus, Boris Johnson's government has imposed restrictions in a three-tiered system, with people not allowed to meet other households in groups larger than six. It has also imposed more stringent measures in areas like Liverpool.
Sir Iain has harsh words for the government's Scientific Advisory Group for Emergencies (SAGE), which advises the Johnson administration, for what he thinks is a lack of balance and perspective.
He says: "When you are in a group like that [SAGE] you begin to suffer from groupthink. You almost go to the lowest denominator because you don't want to be the one that stands out and says 'well, I don't agree, we should be doing something completely different' because no one will ever remember the person who said do more but they will remember the person that said do less if there is a problem. Early on, SAGE was much more balanced, now it has become quite uniform. My concern is, to what degree are we really getting a balanced set of views about what's happening as the forecasting has been abysmal in SAGE from start to finish."
It's a stark contrast to those who think that the government should be listening to the scientists or experts. He criticizes much of the modeling that has predicted the spread of the virus and on which government policies have been based, saying none of the models are absolute.
"We've grown up over the last decade or so believing that science is an absolute, people say listen to the scientists because they know, Sir Iain says. "But what we're learning from all of this is that they know no more than economists do, There are different scientists [with] very different views and a very different sense of what these figures tell us and our problem, therefore, is we need to get a sense of that wider balance, how you deal with what the balancing counterpoints are in all of this. I don't think that's happening in SAGE right now."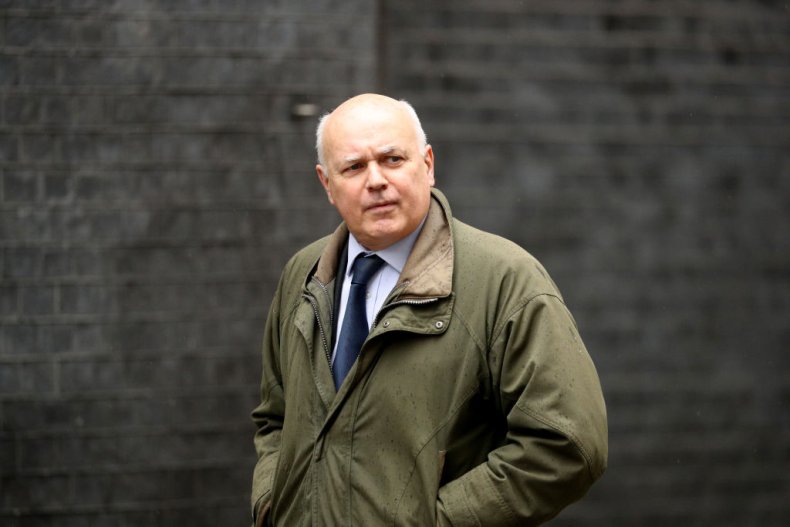 The U.K. has the highest death toll in Europe and the worst affected economy of any G7 country. Does that mean the government has failed on both fronts in finding a balance between protecting lives and the economy?
"There's no two countries that gather it [the data] in the same way so we have to be slightly careful," he says. "In Germany, as I understand it, unless it's absolutely specific on your death certificate that it was COVID that killed you, you don't go down as a COVID death. One of the problems in places like that U.K. is, if you've had COVID and you die within the same period, then you're down as a COVID death. You might have died of a heart attack or cancer, but if you have had COVID, then you're in the COVID figures and I think our problem is we need to figure out who exactly died of COVID."
Through all the tragedies of COVID, hundred of thousands of people have lost their jobs and millions of others are temporarily off work, supported by the government's furlough scheme to pay wages. This has put immense strain on one of IDS's lasting legacies - Universal Credit.
In 2010, the Conservative Party announced a major overhaul to social security payments, replacing six benefits for working-age people with a Universal Credit payment. The policy announcement was made by Sir Iain, who was work and pensions secretary under then-Prime Minister David Cameron. The scheme has been criticized by charities and recipients for making people wait for five weeks and in some cases longer for their first payment, pushing low-income families into destitution and poverty.
A report by the foodbank charity The Trussell Trust said that "rather than acting as a service to ensure people do not face destitution, the evidence suggests that for people on the very lowest incomes ... the poor functioning of Universal Credit can actually push people into a tide of bills, debts and, ultimately, lead them to a food bank. People are falling through the cracks in a system not made to hold them."
The unpopularity of Universal Credit played a major role in why in 2019, 150,000 people signed a petition opposing his knighthood nomination. Yet Sir Iain thinks the Universal Credit scheme is far better than its predecessors.
"99% of people are getting their payments on time and in full," he says.
He also praises the scheme for being a godsend during the pandemic, with two million people applying for Universal Credit after the government announced lockdown restrictions. What does he make of claims that the wait for the first Universal Credit payment is crippling low-income families?
"It was originally designed as a four-week wait to mirror work but we also introduced interim payments so somebody is clearly in a position where they need time to build to that then you can give them the two-week break, you can start their payments on a two-week process, you can give them alternative payment arrangements," he says. "So, we organized huge flexibility into that and those have been used during this period. They've made a lot of advanced payments and interim payments."
Sir Iain's path to the Conservative Party leadership is an unothodox one. The well-trodden path to power usually includes attending public school, the universities of Oxford or Cambridge, and then a career in the City or as an advisor within the party before becoming an elected MP and eventually party leader.
Sir Iain attended a Merchant Navy training school on the Isle of Anglesey until he was 18. He went on to attend the Royal Military Academy, Sandhurst, before being commissioned into the Scots Guards as second lieutenant. It led him to become an MP, a minister then as an outsider in the 2001 Conservative Party leadership election. After receiving the backing of former Prime Minister Margaret Thatcher and having a view of Europe (anti-integration) more in-line with party members than his rivals, he won.
It was ultimately doomed to failure, lasting little more than two years after losing the support of many backbenches and a scandal about his wife's salary for some dubious work. He resigned in 2003.
"I don't regret anything," he says, while adding that he remains as focused and as motivated as ever on issues of poverty, alcohol abuse, debt and educational failure through his Centre For Social Justice, issues he says he was given unique insight into while serving as party leader. But it is his military service and experience of conflicy, that saw him serve in Northern Ireland and Zimbabwe, that informs his view that we've underestimated the threat posed by China to human rights and the global order.
"They [Chinese authorities] got away with their behavior in Tibet by bullying countries to stop them asking questions or talking about it," he says. "They've then been dealing with the Uighur [Muslim community] in a much much deeper way, in an appalling manner because they believe they can get away with it and if you ask questions about it, they bully you, as in Australia they start threatening and take out sanctions, they don't really care."
He has called for a boycotting of the Beijing Winter Olympics, currently due to take place in 2022, over China's human rights record. But some of the problems around race are much closer to home.
A recent poll by racism campaign group Hope Not Hate, showed that almost half of Conservative Party members believed that Islam is a threat to the British way of life, with 44 percent believing that Islamist terror reflected the widespread hostility of British Muslims.* Over half, 58 percent, believe the conspiracy theory that "there are no-go areas in Britain where Sharia law dominates and non-Muslims cannot enter". Party members have been found to have called for Muslims to be thrown off bridges and sterilized.
"If it came to my notice, I would immediately report it to them (the party) and people who show those ghastly signs need to be got rid of from the party, it's as simple as that," he says.
Yet the party continues to face criticism for being too slow to act over members or failing to take action at all. The Department for Health and Social Care has been contacted for comment.
*Study methodology and notes