Scientists Issue Transgender Teen Suicide Alert After Startling Study
Transgender and nonbinary teens are at much higher risk of suicidal thoughts and suicide attempts than their cisgender peers, according to researchers in Canada.
The study, carried out by the University of Ottawa, reveals that suicide is the second-leading cause of death of adolescents and young adults aged between 15 and 24 in Canada.
The research also shows that sexual-minority youth are at increased risk of mental health issues, suicidal thoughts and suicide attempts.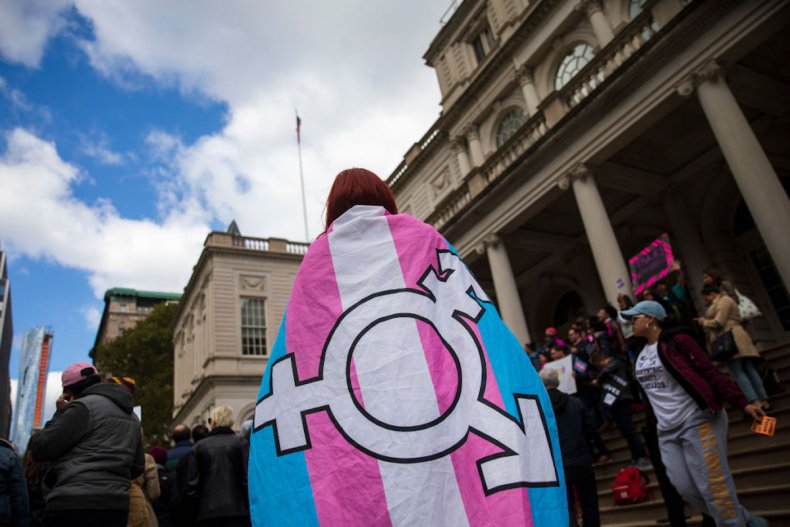 Cisgender describes a person whose gender identity corresponds to their sex assigned at birth. The word "cisgender" is the antonym of "transgender."
"Sexual minorities" mean individuals attracted to the same gender or multiple genders and people who identify themselves as lesbian, gay, bisexual or queer.
The scientists pointed out that the association between suicidality and being a sexual- or gender-minority could be partially explained by bullying or cyberbullying experienced by those teens.
"The transition from adolescence to adulthood is a very stressful time for all young people, but particularly for gender and sexual minority teens," said Dr. Ian Colman, a psychiatrist and epidemiologist at the University of Ottawa's Epidemiology and Public Health School.
"These findings, showing dramatic increases in suicide risk, should sound a clarion call that additional support is needed."
Colman and his co-authors analyzed data from the 2019 Canadian Health Survey on Children and Youth.
The researchers decided to investigate this issue considering the comparable small amount of scientific data on transgender and nonbinary teenagers' suicidal thoughts and attempts.
They examined data of 6,800 adolescents aged between 15 and 17.
At 99.4 percent, the vast majority were cisgender, whereas 0.6 percent were transgender.
Nearly 8 in 10 (78.6 percent) of respondents were heterosexual, while 14.7 percent were attracted to multiple genders. Just 4.3 percent were unsure of their feelings.
Around 14 percent of all teenagers said they had experienced suicidal thoughts within the previous year. Nearly 7 percent had previously attempted suicide.
However, transgender youths were five times more likely to think about suicide and 7.6 times more likely to have ever attempted suicide than their cisgender peers.
"A really concerning finding is that more than half of all transgender youth reported seriously considering suicide in the previous 12 months," said Fae Johnstone, executive director and co-owner of Wisdom2Action, a Canadian NGO specializing in equity and diversity.
"This is a crisis and it shows just how much more needs to be done to support transgender young people."
Johnstone, one of the study's co-authors, underlined the importance to awareness and prevention initiatives.
The NGO activist said: "Suicide prevention programs specifically targeted to transgender, nonbinary and sexual minority adolescents, as well as gender-affirming care for transgender adolescents may help reduce the burden of suicidality among this group.
"Given that these associations were partially mediated through the experience of bullying, systemic change in the form of primary prevention programs aimed at public awareness and promoting inclusivity may lead to a reduction of the experience of minority stress among sexual minority and transgender youth, reducing their risk of poor mental health and suicidality."
June is the unofficial Pride Month. All around the world, various events are taking place to celebrate the freedom of sexual identity, but also to make aware of the daily-life difficulties of the LGBTQ (lesbian, gay, bisexual, transgender, and queer/questioning) community.
If you have thoughts of suicide, confidential help is available for free at the National Suicide Prevention Lifeline. Call 1-800-273-8255. The line is available 24 hours every day. Beginning July 16, dial 988 on your phone to be automatically connected to the Lifeline.
This story was provided to Newsweek by Zenger News.