Scientists Push For Christmas Lockdown as U.K. COVID Death Toll Spikes
British Prime Minister Boris Johnson is facing mounting pressure from his scientific advisers to impose a second England-wide lockdown by Christmas after the U.K. recorded its highest daily COVID-19 death toll since May.
Official data recorded 22,885 new cases and 367 deaths on Tuesday with total deaths involving the virus in the U.K. now reaching 61,000, amid fears the second wave could be more deadly than the first.
New projections from the government's Scientific Advisory Group for Emergencies (Sage) suggest the death toll will peak at a lower level than in the first wave but remain high for weeks or even months. Downing Street has not denied the projection, first reported by The Telegraph, that a longer peak could result in more fatalities than in the spring.
A government spokesperson tells Newsweek: "The latest figures are concerning, which is why we have introduced stronger measures to curb the spread of the virus in the areas where it is most prevalent. We have consistently taken advice from a wide range of scientific and medical experts to inform government decision-making throughout the pandemic. It is vital that everyone continues to play their part by following these rules, so we can save lives and protect the NHS."
Chief scientific adviser Sir Patrick Vallance is now said to be pushing the prime minister to take more drastic action and impose nationwide restrictions by mid-December. Vallance is now projecting some 25,000 people will be in hospital with the virus by the end of next month - more than at the first peak, The Sun reports.
Last month Vallance projected the country could see 200 deaths a day by mid-November - with that number already surpassed weeks ahead of his original expectation. Health officials now expect the death toll to reach 500 a day "within weeks".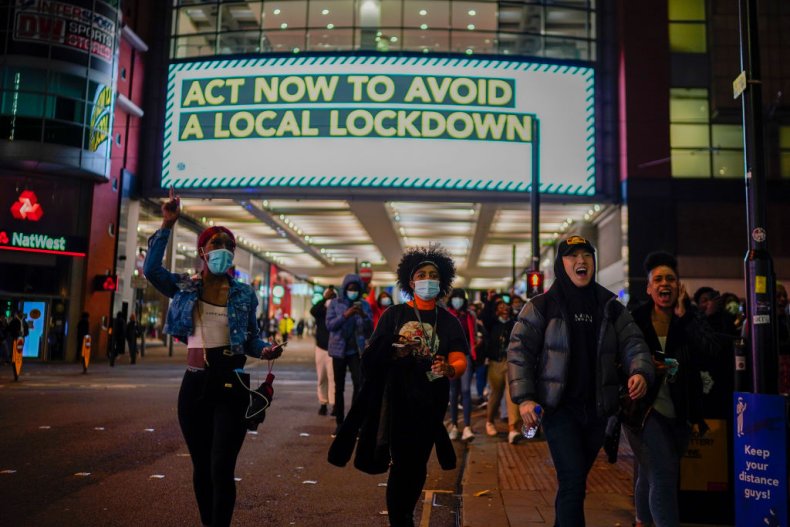 More than eight million people in England will be under the harshest COVID lockdown restrictions by the end of the week under a three-tier system. Despite the regional lockdown measures, Dr. Yvonne Doyle, medical director of Public Health England, warned the rising COVID death toll in the U.K. was likely to "continue for some time".
The grim picture is being projected across Europe, where several countries appear to be on the cusp of new national lockdowns as infections increase to record levels. In Germany, Angela Merkel is said to be drawing up plans for a so-called "lockdown light" in which bars and restaurants would shut but most schools would stay open, with new daily cases approaching 20,000.
French President Emmanuel Macron is also expected to impose a host of new lockdown measures for France that could see curfews banning people from going outside extended and even a month-long national lockdown, local media reports. In Italy, bars and restaurants were ordered to close by 6 pm with gyms, cinemas, and swimming pools closing to slow the second wave of infections across the country - which was the European epicenter of the virus during the first wave in April.