Scientists Warn Trump's Space Force Could incentivize Nations To Build Space Weapons: 'A Profoundly Bad Idea'
Scientists are sounding the alarm on President Donald Trump's plans to launch a Space Force, warning that the U.S. leader's bid to create a military branch dedicated to handling threats in space could effectively trigger "an arms race in outer space."
While tackling potential threats in outer space is a task that had already fallen under the Pentagon's purview, Trump signed an order on Tuesday calling on the Defense Department to draft proposed legislation for establishing a special force dedicated to the mission to "deter and counter threats in space."
Scientists have warned that Trump's Space Force could be a "profoundly bad idea," however, because it could inspire countries around the world to focus on the development of space weaponry.
"If concentrating authority in a Space Force creates an incentive for nations to build space weapons that increase the likelihood of conflict, it would be a profoundly bad idea," Laura Grego, a senior scientist with Union of Concerned Scientists, said in a statement published on the watchdog group's website on Tuesday.
"President Trump has called space a new warfighting domain. Space is important to militaries, that's true, but it is only a small piece of what happens up there" Grego said. "Eighty percent of the nearly 2,000 satellites are civilian, providing critical communications and economic services for humanity's well-being. We need to take care of space."
The graphic below, provided by Statista, illustrates the number of satellites currently orbiting Earth and which nations they belong to.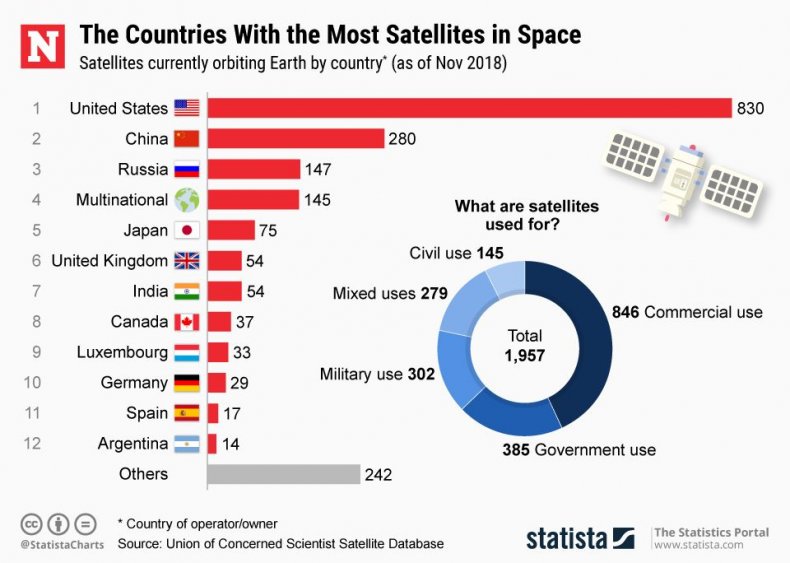 Grego said that when it comes to protecting satellites, "space security cannot be achieved unilaterally or solely through military means. It will require coordination and cooperation with other spacefaring nations. That means diplomacy."
Noting that there have been a number of international efforts in recent years to "prevent an arms race in outer space," including the development of guidelines for long-term space sustainability to the European Union proposal for an International Code of Conduct for Outer Space Activities and a United Nations Groups of Governmental Experts project on practical measures to prevent such an arms race, Grego said the U.S. should be at the forefront of efforts to promote peace in space, rather than militarization.
"There are much better ways to protect satellites," Grego said. "Given that more than 40 percent of satellites are American, the United States should take the lead and help create the conditions for a long-term, peaceful future in space."
Advocates of Trump's Space Force have argued that the U.S. is currently lagging behind other countries in its efforts to counter threats in space, however.
Proponents of the program have argued that the country needs to pay greater focus to outer space, considering that other nations, including Russia and China, are developing their own antisatellite weapons that they say could potentially endanger American satellites.
In order to bring his Space Force plans to fruition, however, Trump will require congressional approval. The U.S. leader had initially hoped for the Space Force to be "separate but equal" to other military services, but both Congress and the Pentagon have suggested that it fall under the Air Force's charge, given that the military branch already oversees space defense.
On its website, the Air Force describes itself as "the world's preeminent force in air, space and cyberspace," and says that those who join the "largest space program in the world" would "be part of a team responsible for everything from tracking satellites to assisting rocket launches."
The Trump administration has yet to provide cost estimates for the development of the president's Space Force. Estimates are expected to be included in the 2020 budget proposal that Trump is set to deliver to Congress next month, however.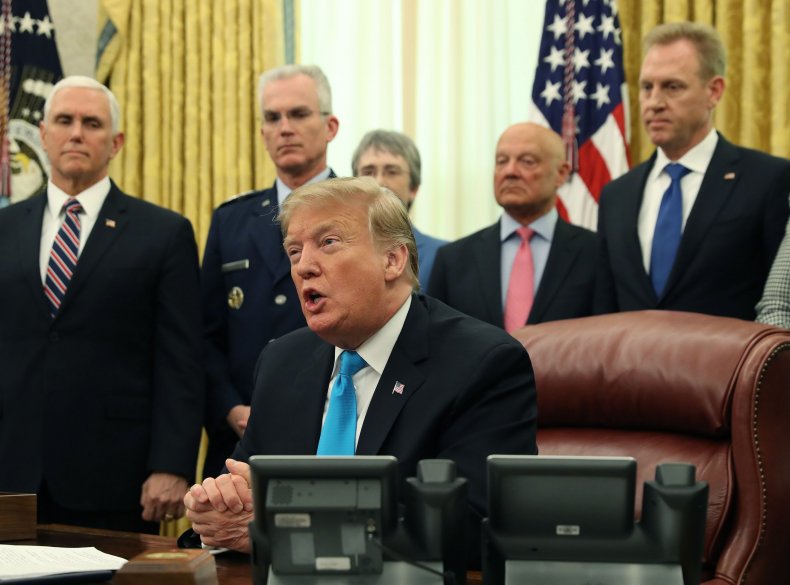 This article was updated to include an infographic.