Mobility Scooter Fugitive Leads Police on Low-Speed Chase
A New Zealand man led police on a slow-speed chase on a mobility scooter, chugging along the sidewalk as bystanders yelled "Go, old man, go!"
On Wednesday, police in the port city of Timaru on New Zealand's South Island spotted Charlie Durham driving his scooter on the sidewalk at what they considered a dangerous speed.
Officers turned their patrol car's lights on and cut across traffic to apprehend Durham, who is a double amputee. But instead of stopping, the 60-year-old motored across the street to the opposite sidewalk and kept on going. When police attempted to block a side road, he swerved around their car and kept going.
"The rider refused to stop and actively avoided the police patrol car," Timaru police said in a statement. "This continued for a period of time with the officer trying to stop the rider multiple times, and the scooter rider actively avoiding the officer's attempts to stop him."
In a Facebook video, you can see the officers signaling for Durham to stop as they slowly keep pace beside him. The people holding the camera can't help but laugh as he continues to elude authorities.
Police eventually managed to box Durham in by pulling their car into a driveway, leaving the scooter with no pavement to cross. The officers then got out on foot and finished the chase.
Durham told TVNZ he thought the police car was an ice cream truck, and he didn't stop because he didn't want dessert,.
In another interview with Newshub, though, Durham claimed he didn't hit the breaks because he was in a hurry to get home and prepare dinner.
"I wasn't laughing or enjoying myself or anything. I just thought, well, I have to get home and get my tea ready or else my whole evening will get stuffed up."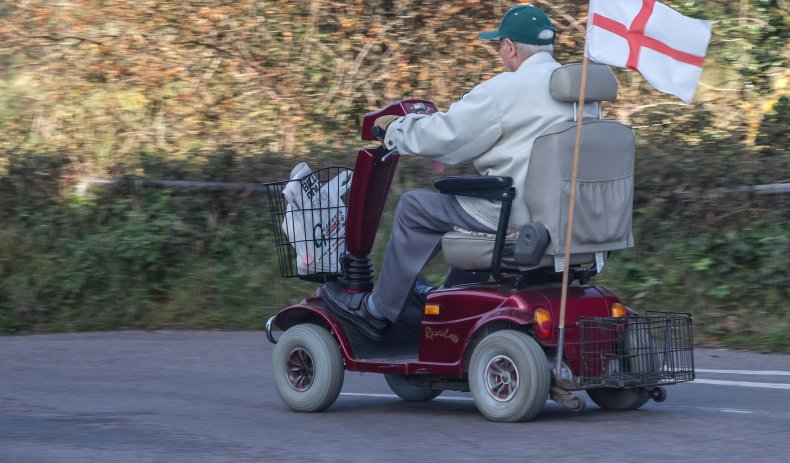 Despite his explanation, Durham was charged with operating a mobility scooter "inconsiderately" and failing to stop for an officer. he was fined NZ$250, or about $390, and issued a list of scooter safety rules to follow.
While police chases are typically high-speed affairs, some criminals do take a more leisurely approach: In May 2018, a motorist suspected of being under the influence eluded police in a slow pursuit that lasted two hours. At one point the suspect, who was driving a stolen car, was driving on four flat tires. According to KABC, other drivers got out of their cars and tried to convince the thief to pull over and give himself up.