Scot Peterson's Attorney: Deputy's Actions Were 'Appropriate' in Waiting Outside During Florida School Shooting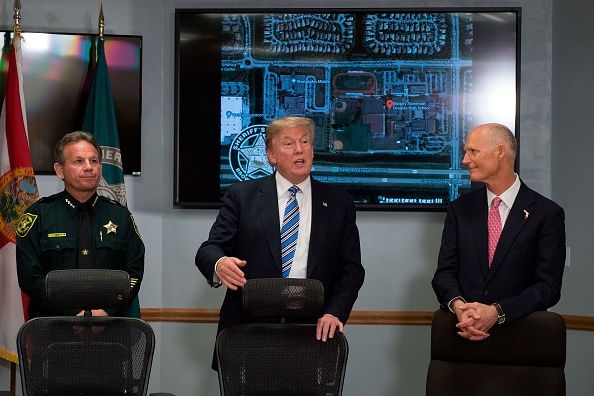 Update | A Broward County deputy who resigned last week amid fierce criticism on how he responded to the school massacre in Parkland, Florida, is defending his actions.
Scot Peterson, who served as Marjory Stoneman Douglas High School's armed resource officer, was the first member of the Broward County Sheriff's Office to answer a report of gunfire at the school on February 14. Video showed him stalled outside of the building for four minutes while Nikolas Cruz, 19, gunned down students inside.
Broward County Sheriff Scott Israel directly addressed Peterson's actions at a news conference last Thursday, maintaining that Peterson should have "went in, addressed the killer, killed the killer."
"What I saw was a deputy arrive…take up a position and he never went in," Israel said. "There are no words. I mean, these families lost their children. We lost coaches."
Such statements are "uncalled-for" attacks on Peterson's character and are "patently untrue," according to a Monday press release by Peterson's attorney, Joseph DiRuzzo III. The two-page release alleges that Israel jumped to conclusions and made a "clear implication" that Peterson failed students, despite an incomplete and ongoing investigation into the Valentine's Day shooting. The Florida Department of Law Enforcement is conducting the investigation into how various deputies responded to the shooting.
The release also offers Peterson's side of the story and outlines the actions he took that day.
The deputy thought the shooting was occurring outside for a variety of reasons. For one, he'd originally received calls of firecrackers, not gunfire, in the area. When he distinguished gunshots, he believed they were "originating from outside of any of the buildings on the school campus," DiRuzzo said. Peterson had also received radio transmissions that there was a gunshot victim in the vicinity of the football field, furthering his belief that the shooting was happening outside.
The sheriff's office trains its officers to "seek cover and assess the situation" in the case of outdoor gunfire, according to the release.
Peterson is "confident that his actions on that day were appropriate under the circumstances" and that further investigations "will exonerate him of any subpar performance," DiRuzzo wrote. He did not respond to Newsweek's immediate request for comment on whether Peterson plans to take further action.
Peterson, 54, had worked for the agency for about three decades and had a "decorated" career, including "glowing" annual performance reviews and being named school resource officer of the year for Parkland in 2014, the release stated. He resigned and then retired on Thursday after receiving mounting criticism and suspension without pay earlier that day.
President Donald Trump said Friday that Peterson "didn't have the courage" and "did a poor job." Broward Schools Superintendent Robert Runcie said last week he was "outraged to no end that [Peterson] could have made a difference in all this." Student Brandon Huff, 18, described coaches "shielding kids and throwing themselves in front of bullets and [Peterson] did nothing," the Sun-Sentinel reported.
The Broward County Sheriff's Office is aware of DiRuzzo's release but is "prohibited from discussing" anything linked to the investigation until it's concluded, according to a statement provided to Newsweek.
This article was updated to include a statement from the Broward County Sheriff's Office.