Scotch Whisky Among EU Goods Set to Become More Expensive, After Being Hit by New Tariffs
Scotch whisky is included on a long list of goods about to experience a steep U.S. price hike, after the Trump administration announced new tariffs on European imports Wednesday.
The U.S. will impose $7.5 billion annually in new tariffs on select European Union (EU) goods later this month. Scotch whisky is among the items targeted with a 25 percent tariff rate. The U.S. is the largest export market for the popular liquor, importing close to 137 million bottles worth $1.3 billion a year.
French wine, Spanish olives, cashmere sweaters, European cheeses and sausages are also among the items likely to become significantly more expensive for American consumers. The largest share of the tariffs are expected to come from a 10 percent rate placed on Airbus aircraft manufactured in Europe. Components of the planes which are assembled in Alabama will not be subject to the new rules.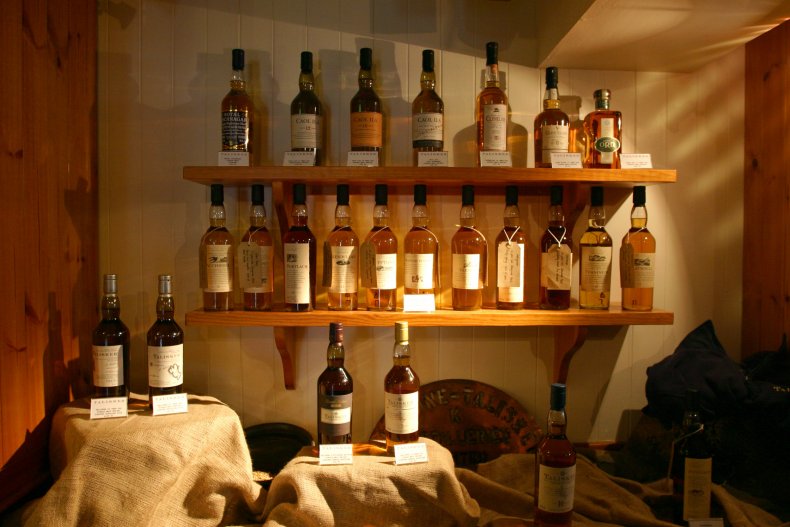 The announcement comes as the World Trade Organization (WTO) ruled that the U.S. could impose tariffs. The ruling is due to the outcome of a 15-year dispute concerning illegal subsidies that Airbus had received from the EU. The case against Airbus was brought by the U.S. in 2004, when American manufacturer and direct competitor Boeing alleged that the EU had supplied Airbus with over $22 billion in government subsidized financing. Boeing has also been accused of receiving illegal subsidies, but the WTO has yet to decide on that case—although an official ruling is expected within months.
The WTO ruled in favor of the U.S. last year, but did not approve the tariffs until Wednesday. Earlier this year, the Trump administration suggested a preliminary list of tariffs worth $25 billion, but the WTO estimated the damage caused by the Airbus subsidies was equal to the smaller $7.5 billion amount.
"Finally, after 15 years of litigation, the WTO has confirmed that the United States is entitled to impose countermeasures in response to the EU's illegal subsidies," said U.S. Trade Representative Robert Lighthizer in a statement. "Accordingly, the United States will begin applying WTO-approved tariffs on certain EU goods beginning October 18. We expect to enter into negotiations with the European Union aimed at resolving this issue in a way that will benefit American workers."
Some experts believe the new tariffs will result in retaliatory tariffs being placed on U.S. exports, as has been the case in the ongoing "trade war" with China. Economists critical of Trump's trade strategy with China warned last month that the policies were likely to result in a weakening of U.S. economic growth not seen since the 2008 recession.