Scotland Beer Company Invites Trump to Try Its 'Tiny Cans for Tiny Hands'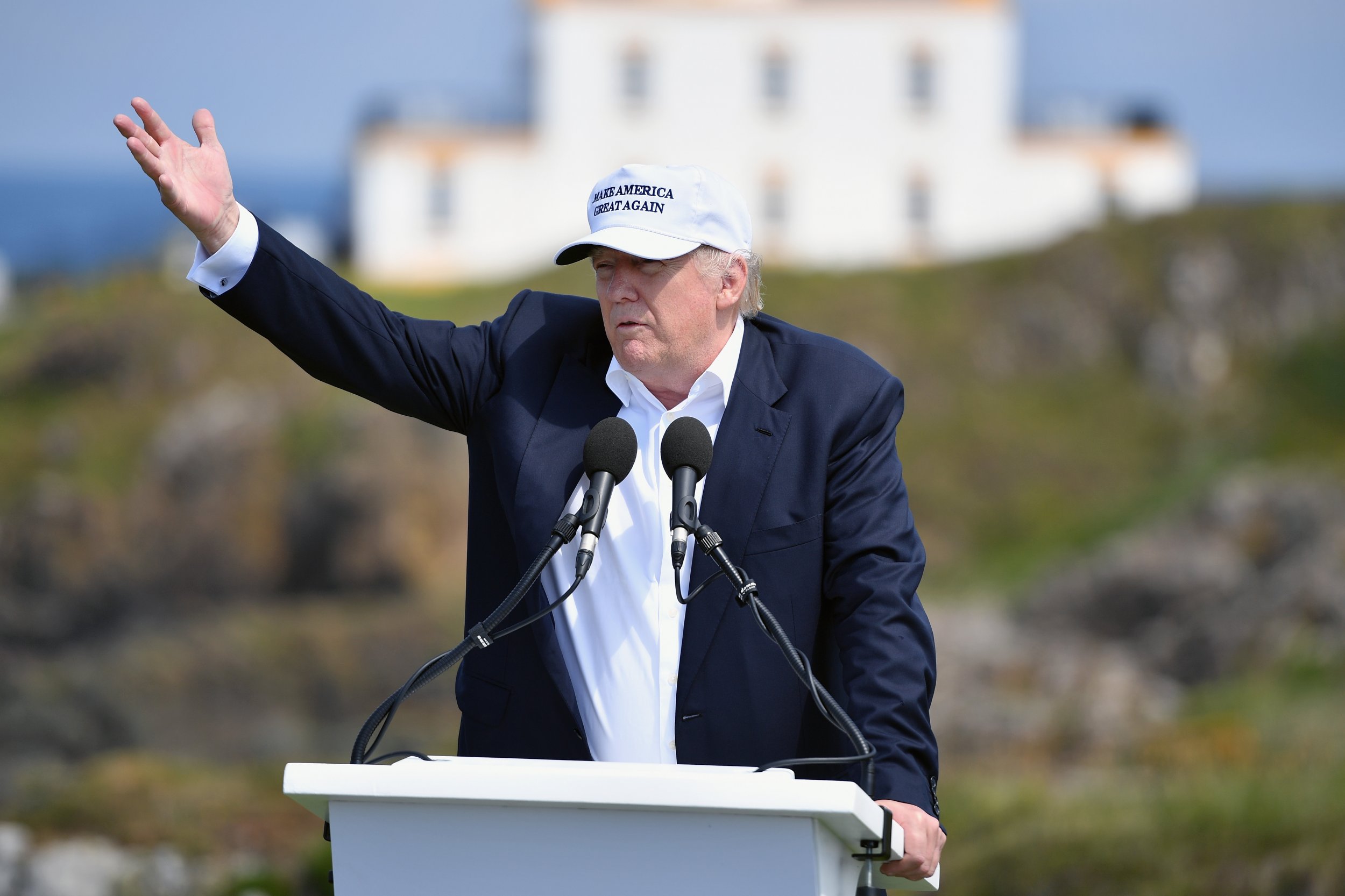 A beer company that dubs itself "Scotland's Favourite pint" is inviting President Donald Trump to drink one of its "tiny cans for tiny hands," making fun of his physical features.
Related: President Will Avoid 'Baby Trump' Blimp, London Protests During U.K. Visit
"Hey @realDonaldTrump There's been a bit of a heatwave in Scotland recently, so if you get thirsty while you're here..." Tennent's Lager tweeted on Thursday morning, ahead of Trump's visit to Scotland on Friday.
The tweet included an image of the new 330-milliliter can with an American flag out of focus in the background and a tiny hand reaching for the can from an oversized suit sleeve.
Trump has said his hand size is normal, but The Hollywood Reporter in 2016 measured a bronze cast of his hand at the Madame Tussauds wax museum and found it to be 7.25 inches. The average American male's hand is 7.61 inches, meaning Trump's hand is in the 15th percentile mark, and smaller than 85 percent of men and one-third of women, according to the Ergonomics Center of North Carolina.
Tennent's Lager's stab at Trump's small hands is not surprising, given Scotland is not the American president's biggest fan. Trump, whose mother was born in the U.K. country, invested in the Trump Turnberry and the Menie estate golf courses long before becoming president, and many people are not happy about his presence.
Last December, Scottish Finance Secretary Derek Mackay stripped the luxury Trump Turnberry of a tax break, in order to provide a relief for the struggling businesses.
When Trump Turnberry banned the country's popular soft drink, Irn-Bru, for fear of future carpet stains, Scottish Twitter users considered it war.
Scottish residents residing near Trump's properties have complained about his business practices.
"We've had a taste of Trump for 11 years. I wouldn't trust him with anything," a local told USA Today last summer, and claimed that Trump's workers harassed her and her husband because they refuse to sell their property to him. "We're going to fight him to the very end,"
Tennent's Lager shouldn't be shocked if Trump doesn't try the tiny beer. Trump doesn't drink alcohol.
"I had a brother Fred, great guy, best-looking guy, best personality, much better than mine, but he had a problem, he had a problem with alcohol, and he would tell me 'don't drink, don't drink,'" Trump said in a speech last October. "And to this day, I've never had a drink. And I've had no longing for it. And I have no interest in it."