Scotland's first minister, Nicola Sturgeon, has said that President Donald Trump is not welcome to visit his Trump Turnberry golf resort in her country due to COVID-19 restrictions prohibiting all non-essential travel.
Sturgeon made her comments amid reports that an American military version of the Boeing 757 sometimes used by Trump had planned to land at the nearby Glasgow Prestwick Airport on January 19, a day before the inauguration, according to The New York Times.
"We are not allowing people to come into Scotland," Sturgeon said, "and that would apply to him just as it applies to anybody else—and coming in to play golf is not what I would consider to be an essential purpose."
White House Press Secretary Kayleigh McEnany has said that Trump has no plans to travel to Scotland. Trump's plans around the inauguration remain a point of intense speculation, especially since he has focused so much on overturning the election's results so that he may serve a second term.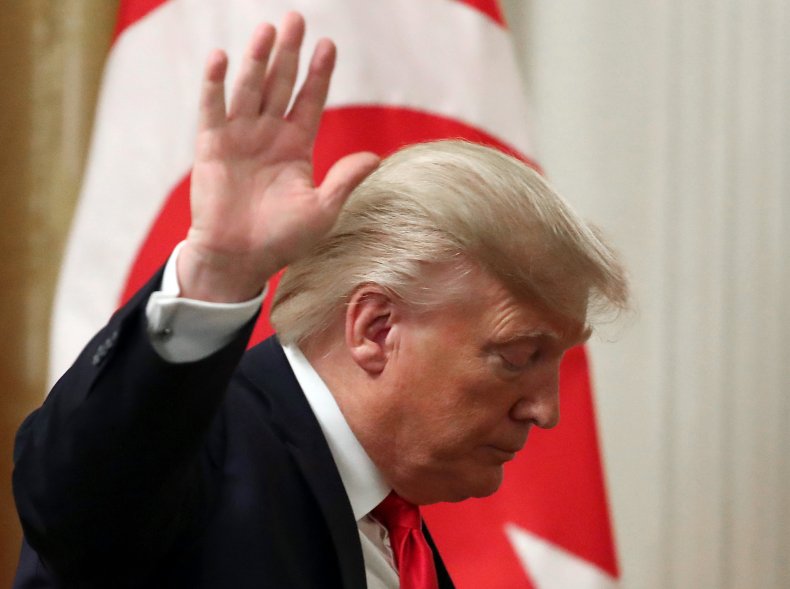 On Monday night, Sturgeon announced that her country would enter a month-long lockdown amid rising cases of COVID-19. The country's new lockdown measures require people to stay at and work from home when possible. People are only allowed to meet with one person from another household, and all houses of worship and schools are to remain closed until further assessment.
In the meanwhile, Sturgeon has said that her administration will do everything it can to increase vaccinations while decreasing new coronavirus transmissions, calling it "a race between the vaccine and the virus."
"We need to act immediately and firmly," Sturgeon said, according to the BBC. "For government, that means introducing tough measures - as we have done today. And for all of us, it means sticking to the rules."
Scotland has experienced a dramatic uptick of COVID-19 cases since early December. On December 1, the country reported 972 new cases. By December 29, that number peaked to 3,141 cases, its highest-ever daily total of newly reported cases. As of January 4, the country's seven-day moving average remains at 2,124 new cases a day.
The number of COVID-19 deaths in the country has also risen steadily since October with the country reporting 20 to 30 COVID-19-related deaths each day since October 25, according to the country's COVID-19 dashboard.
Overall, Scotland has had 136,000 confirmed coronavirus cases and 4,578 related deaths since the start of the pandemic, placing it in last place amongst the four United Kingdom territories with the highest numbers of overall cases and deaths.
Newsweek contacted the White House for comment.