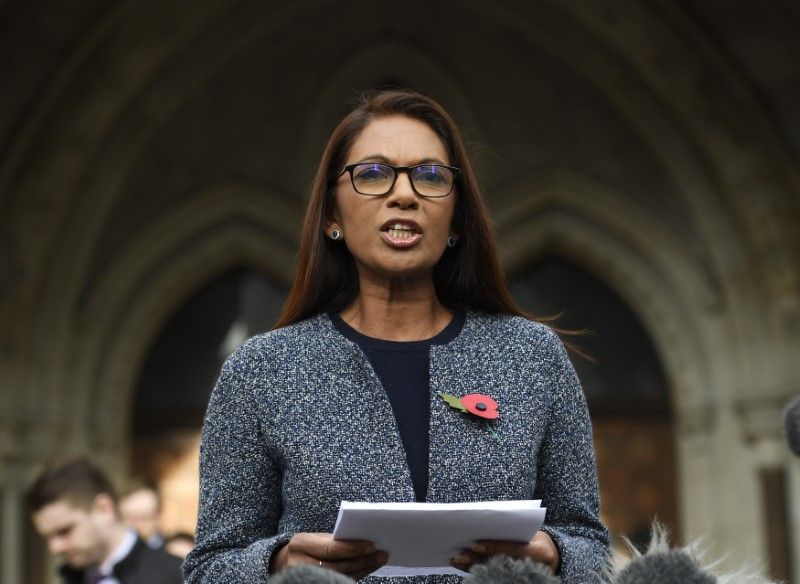 Scotland's devolved government is expected to join a legal challenge against the British government's plans to trigger an exit from the European Union, the lead claimant in the court case said on Sunday.
A British court ruled on Thursday that the government needs parliamentary approval to start the process of leaving the European Union, potentially delaying Prime Minister Theresa May's Brexit plans.
The government said it would appeal against the High Court ruling, and Britain's Supreme Court is expected to consider the case early next month.
"We are expecting a number of governments to join us," Gina Miller, an investment manager leading the court case against the government, told the BBC, indicating Scottish, Welsh and Northern Irish devolved authorities could become involved. "But their case will be different to ours. They will be talking about their own particular interests."
Scottish First Minister Nicola Sturgeon said a decision on her government's involvement had not yet been taken.
"The Scottish government had a representative observing proceedings throughout this case, and we are currently considering whether we should now seek to become participants in the appeal process," she wrote in the Observer newspaper.
A majority of people in Scotland voted to stay in the EU at the June 23 referendum, while a majority in England and Wales voted to leave, setting Britain as a whole on the path to an unprecedented divorce from its biggest trading partner and straining relations between the UK's constituent nations.
"Any decision we make will not be about thwarting the result in England and Wales ... our decision will be about how we best make sure the actions of the UK government properly respect the way in which all parts of the UK voted," Sturgeon said.