Dr. Scott Atlas, an adviser to the White House on COVID-19, has denied pushing herd immunity as a strategy to combat the pandemic.
On Monday, The Washington Post reported Atlas was leading calls for the U.S. to adopt the approach, citing unnamed sources familiar with the situation. Atlas, a neuroradiologist who is not a specialist in infectious disease or epidemiology, was appointed by the Trump administration in August.
Traditionally, herd immunity refers to the use of a vaccine to raise a population's level of resistance to an infectious disease to the point where it can no longer spread. But in the COVID-19 pandemic, herd immunity has also been used to refer to letting the virus spread "naturally" in a population, and has been associated with the relatively hands-off approach taken by Sweden. Last week, a World Health Organization official described seeking herd immunity without a vaccine as "very dangerous."
Atlas allegedly advised the U.S. to take inspiration from Sweden's handling of its outbreak, by having few restrictions on socializing and businesses so immunity builds in healthy members of the population, officials told The Washington Post.
Speaking alongside Florida Governor Ron DeSantis at a news conference at the UF Health in The Villages hospital on Monday, a reporter asked Atlas to comment on the newspaper's report on herd immunity and whether he supported Sweden's approach.
Atlas said: "There's news, there's opinion, and then there's overt lie. And that was never a strategy advocated by me in the administration. The President does not have a strategy like that. I have never advocated that strategy."
He also claimed The Washington Post did not ask him for comment, when the newspaper reported he declined requests for an interview.
White House communications director Alyssa Farah told The Washington Post: "President Trump is fully focused on defeating the virus through therapeutics and ultimately a vaccine. There is no discussion about changing our strategy. We have initiated an unprecedented effort under Operation Warp Speed to safely bring a vaccine to market in record time—ending this virus through medicine is our top focus."
Atlas told The Washington Post in a statement via the White House: "There is no policy of the President or this administration of achieving herd immunity. There never has been any such policy recommended to the President or to anyone else from me."
Newsweek has contacted the White House for comment.
Writing for The Hill In April, Atlas wrote "it is very possible that whole-population isolation prevented natural herd immunity from developing."
"We now need to reenter normal life," he wrote. "Yet, instead of having a population protected by a naturally developed immunity, we are faced with a perilous decision—how to prevent a second wave when people are free to mingle."
The Washington Post article prompted concern from experts. Kristian G. Andersen, professor in the department of immunology and microbiology at Scripps Research, California, who co-authored a paper on the origins of the coronavirus earlier this year, tweeted it was "absolutely absurd" to discuss herd immunity nine months into the pandemic.
"As the most incompetent country when it comes to COVID-19 response is yet again toying with the idea of natural herd immunity (i.e., "The We Gave Up Strategy"), it is worth noting that over the last many months, literally nothing has changed with respect to what needs to be done," he said.
Andersen shared a tweet he posted earlier in the year where he said the key to tackling the virus is to "test, isolate, treat, trace, quarantine. And then test again."
Ashish Jha, director of the Harvard Global Health Institute, tweeted that seeking "'natural herd' immunity" is a "terrible idea."
"We don't do it for other infectious diseases. For a reason. Lots of people will die, millions will get sick. Alternative—protect folks until we have a safe effective vaccine," he said.
Maria Van Kerkhove, the WHO's technical lead on the COVID-19 pandemic, has also warned against this approach. She recently said achieving herd immunity by "just letting a virus run" and "trying to reach herd immunity naturally would be very dangerous because a lot of people would die."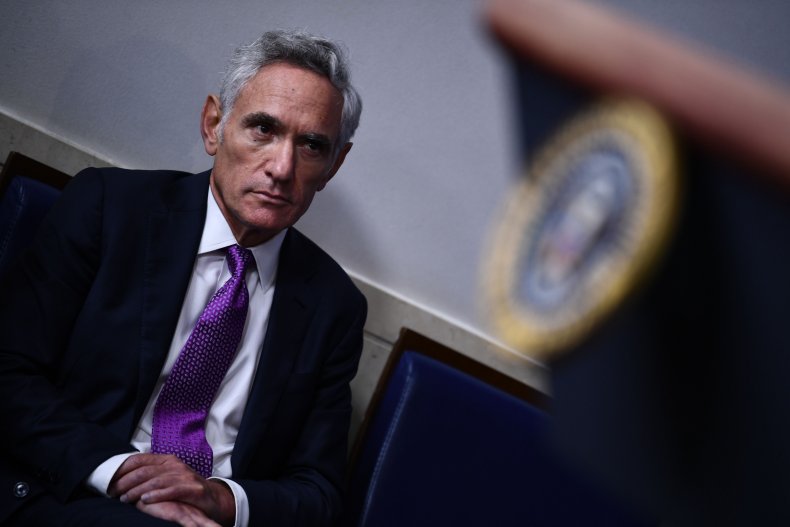 Uncommon Knowledge
Newsweek is committed to challenging conventional wisdom and finding connections in the search for common ground.
Newsweek is committed to challenging conventional wisdom and finding connections in the search for common ground.
About the writer
Kashmira Gander is Deputy Science Editor at Newsweek. Her interests include health, gender, LGBTQIA+ issues, human rights, subcultures, music, and lifestyle. Her work has also been published in the The Independent, The Independent on Sunday, The i Newspaper, the London Evening Standard and International Business Times UK.