A Complete Scott Baio Controversy Timeline — Because Not Everybody Loves Chachi
Happy Days actor Scott Baio has been a social media presence over the years and known for his conservative views. But his recent tweet got him quite a bit of trouble with liberals, particularly comedian Wanda Sykes.
The former Hollywood heartthrob and star of shows like Joanie Loves Chachi, Charles in Charge and Scott Baio Is 45...and Single, Baio picked a fight with Sykes a week ago, pondering her support of presumptive Democratic presidential nominee Joe Biden.
Sykes was late to discovering the tweet, but promptly clapped back at Baio while a slew of folks followed by dragging him through the social media mud and recalling Baio's conservative views.
Newsweek's request for comment from Baio was unanswered at the time of publication.
It's not the first time Baio's comments have landed him in the hot seat. Take a look at some of Baio's most controversial moments below.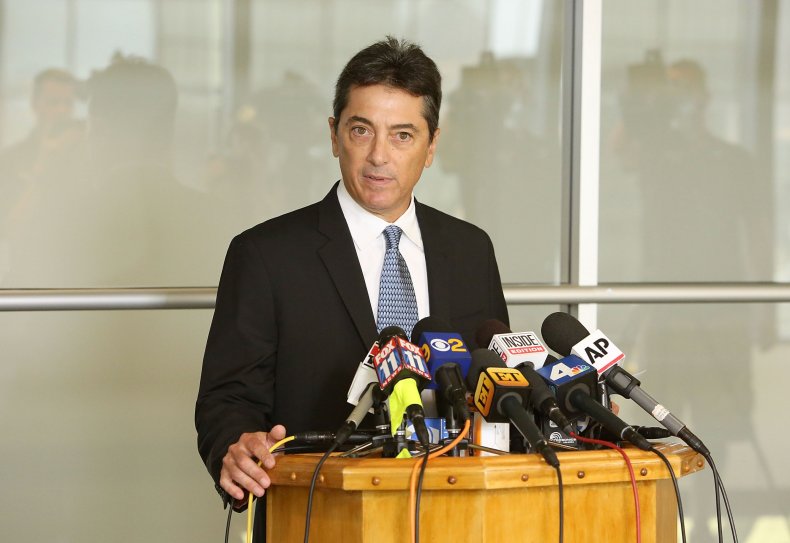 2010
Baio's looks and charm may have landed him the affections of many teenagers in the '70s and '80s. But by the time the mid-2000s rolled around, his divisive views and amplified support of the Republican Party gained him favor with conservatives but lost him the affections of liberals.
Such was the case when Baio tweeted an attempted to make a joke about the then-first lady Michelle Obama in April 2010.
"WOW He wakes up to this every morning?" Baio wrote in reference to President Barack Obama's wife, alongside what appeared to be an unflattering photo of the first lady.
The tweet resulted in a wave of criticism with some people calling Baio racist, while others went as far as making death threats against the actor. Baio intensified matters by insisting that he had no prejudices against black people and could prove it—which he attempted to do by posting a picture of he and his wife Renee Sloan's best friend, who apparently is a black woman.
"I'm NOT racist for posting a pic of M.O. My WIFE'S BEST FRD IS BLACK, HELLO," he wrote.
2016
As a conservative, it should come to no surprise that Baio was an advocate for President Donald Trump when he was campaigning back in 2015 and 2016; the Happy Days star spoke highly of the then-Republican candidate at the July 2016 Republican National Convention. In his impassioned speech, Baio purported that Trump would be the best person to not only keep the U.S. safe but "make America great again."
His speech resulted in some backlash from his Hollywood counterparts. However, Baio later told The Hollywood Reporter that he wasn't concerned with how his support of Trump may affect his career.
"I genuinely, in my heart, do not care if I ever work again. I don't care. I'm comfortable and I've got a great life, but If I don't have a country that is recognizable to me, I've got nothing," he said.
Baio also lent his support to Trump later that year when the soon-to-be president came under fire for his infamous "grab 'em by the p***y" comment.
The 2005 recording of the comment—which Trump said during a conversation with then-Access Hollywood personality Billy Bush—was released by Washington Post in October 2016. And while the audio sparked instant outrage among Democrats, women's groups and liberals, Baio appeared on Fox News in October 2017 and said Trump's rhetoric towards women was "not a big thing."
"I like Trump because Trump is not a politician, he talks like a guy. And ladies out there, this is what guys talk about when you're not around. So if you're offended by it, grow up, ok?" Baio said. "And, by the way, this is what you guys talk about over white wine when you have your brunches. So take it easy with the phony outrage, this is the way the world works. It's not a big thing."
2017
Baio's comments also drew scrutiny during a radio interview one The Bernie & Sid Show in April 2017. The father-of-one appeared on the show in the wake of the death of actress Erin Moran, who played Joanie Cunningham, the love interest of Baio's character on Happy Days and Joanie Love's Chachi.
Explaining that he was "shocked" and "saddened" to learn of Moran's death, Baio went on to speculate if Moran's history of drinking and drug abuse played a role in her untimely demise.
"I feel bad because her whole life she was troubled, could never find what made her happy and content, you know what I mean?" he said. "For me, you do drugs or drink, you're gonna die. And I'm sorry if that's cold, but... God gave you a brain, gave you the will to live and thrive, and you gotta take care of yourself. I'm sorry. You just have to, and I am saddened by what happened. And I don't know if it was drugs that killed her. I read one report that it might have been. And I hope it – you know, I don't know what I hope."
Baio came under fire for his assumptions, and the social media trolling only heightened when Moran's autopsy revealed she died from complications with Stage 4 cancer, causing Baio to issue a lengthy statement on Facebook to explain that his remarks were only in response to the line of questioning on the show.
2018
In February 2018, Baio's former Charles in Charge cast mate Nicole Eggert pressed charges against Baio and alleged that he sexually assaulted her while they were working together on the 1980s hit sitcom; Eggert was underage when she appeared on the show. Soon after Eggert's claims broke, another Charles in Charge star, Alexander Polinsky, came forward with accusations of Baio physically assaulting and mentally torturing him.
Baio denied all the allegations. He did admit to being in a consensual relationship with Eggert. However, the actor said their romance did not begin until she was of legal age.
By June the Los Angeles County District Attorney's Office filed a motion not to file the charges against Baio, explaining that the statute of limitations surrounding the time frame of Eggert and Polinsky's claims had expired.
2020
Baio started somewhat of a Twitter feud with comedian Wanda Sykes in May when he tweeted: "Hey @iamwandasykes why is it okay for @JoeBiden to say something clearly racist but @therealroseanne gets kicked off of her own show that YOU are a writer on, for making a mistake? Is it because you're a full of s**t, hack liberal?"
The actor's recent tweet came following former Vice President Joe Biden's interview with The Breakfast Club, during which he made a controversial remark about black people not actually being black if they couldn't decide to vote for him over Trump.
Sykes later responded by taking aim at Baio's current career.
"Oh! Hey Chachi. Apologies, I didn't see you. I'll keep it short. Joe Biden didn't say, "Then you ain't an ape," she wrote, adding, "Well, let me get back to work...I hope you enjoy whatever it is that you do."
The exchange resulted in some people firing off on Baio and the controversial comments he's made in the past. However, there were some folks who defended Baio's line of questioning by pointing out previous remarks Sykes delivered about Trump and others over the years.