Trump's Envoy to New Zealand Under Fire for Avoiding COVID-19 Quarantine
Former Massachusetts Senator Scott Brown has ruffled feathers in New Zealand, where he serves as U.S. ambassador, after returning from a trip to Washington without going into two weeks' quarantine mandated by the Kiwi government as a COVID-19 measure.
Brown, who has close ties with President Donald Trump, had returned from a visit where he met Secretary of State Mike Pompeo, Deputy Secretary Stephen Biegun, and U.S. Trade Representative Ambassador Robert Lighthizer.
Those entering New Zealand from overseas are required to spend 14 days in managed isolation facilities as part of coronavirus restrictions that have been in place since April.
However Brown and his wife Gail decided to self-isolate at their home in Lower Hutt, a suburb of the capital city, Wellington.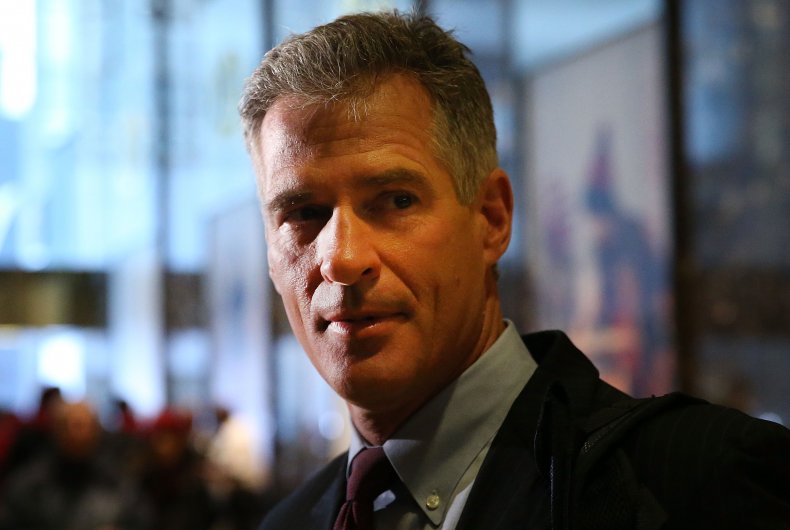 New Zealand's Ministry of Health has said that since June 8, 112 out of 118 diplomats who have arrived in the country had agreed to be quarantined in government-managed hotels.
The Vienna Convention prevents the New Zealand government from forcing diplomats into managed isolation but the decision by Brown upset local staff at the U.S. embassy in Wellington, Stuff reported, especially as most other diplomats arriving in New Zealand have followed the restrictions.
People reacted strongly on social media to Brown's decision. Sarah Hendrica Bickerton tweeted: "goodness what a selfish human being," while Emma Espiner tweeted: "Imagine just rolling with your entitlement rather than taking the opportunity to set a good example."
New Zealand political commentator Phil Quin described the move by Brown as "arrogant as you might expect from a Trump appointee."
"Nobody denies he had a legal loophole, but his decision to exploit it sends a very bad message, especially in light of the sacrifices so many Kiwis, many of whom paid a personal and professional toll by abiding by the rules," Quin told Newsweek.
"It also inevitably highlights the stark difference in COVID management between our two countries, in a way that does not favor the US. It's a bad look, and risks being the only thing Scott Brown's tenure in New Zealand is remembered for," he added.
Brown said in a statement that he and his wife "have been very careful" in wearing masks and observing social distancing and had been screened on arrival.
"Just like everyone else, we will be medically monitored while in isolation and tested again around day 3 and day 12. We will not leave isolation until those tests come back negative."
He said that "even before I left New Zealand, our two governments started exploring how best to manage my return," although the Ministry of Health described it differently, saying officials "were informed that Ambassador Brown would self-isolate."
"Frankly, New Zealand officials deserve huge kudos for how incredibly thorough they have been working with us to come up with processes that keep Kiwis safe," he said, finishing the statement with the Māori phrase: "He waka eke noa. We're all in this together."
New Zealand was praised for its response to the pandemic although there has been a spike of cases and its government is focusing on keeping the border safe.
Earlier this month, Kiwi prime minister Jacinda Arden hit back at Trump's claim that New Zealand was facing a "terrible" surge in cases of the virus, saying that "New Zealand's nine cases in a day does not compare to the United States' tens of thousands."
Brown, a Republican, was senator for Massachusetts before he lost the race to Democratic presidential contender, Elizabeth Warren. He reportedly was offered the pick of diplomatic posts by Trump.